The veterinary medicine tools and templates supplement the UC Davis Brand Communications Guide.
Logos
All fonts, colors, size, and spatial relationships are based on templates and must not be altered. For EPS and PNG file types, background colors are for illustration purposes and serve only as a suggestion. Black logos can be converted to any approved campus publication color. See campus colors.
Available formats:
EPS: (CMYK for 4-color printing) transparent background
PNG: (RGB for Microsoft apps) transparent background
UC Davis Veterinary Medicine left-aligned logo:
This logo may not be modified in any way. The approved color variations are listed below.

Download Zip file containing both the .eps and .png files
UC Davis Veterinary Medicine centered logo:
This logo may not be modified in any way. The approved color variations are shown below.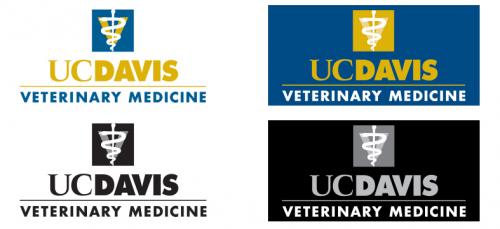 Download Zip file containing both the .eps and .png files
Unit logos:
Each unit logo family includes contains the centered aligned and left-aligned versions of the logo. Select your unit's name from below to download a .zip file that contains all of the logo variations. If your unit's name is not listed, please contact svmwebmaster@ucdavis.edu.

---
Rod of Asclepius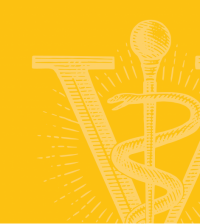 The Rod of Asclepius is an ancient symbol for medicine, and with the V added, it's a symbol of veterinary medicine. Asclepius was the Greek god of medicine, and the snake on his staff was said to have delivered him a healing herb.
This rod illustration was created by UC Davis alumnus and brand illustrator Steven Noble and it is exclusive to the school—external units must ask permission from the communications team to use it if not using it to represent the school. In addition, the following rules apply to its usage within the school:
The rod illustration primarily was created to use as a watermark-style design element to add background visual interest. If you are using it in this way, try screening it back to 10-15% and then adjust the intensity as needed from there.
You may use the illustration as a regular visual element (not screened back) such as on a flyer, but do not use it as a substitute for the Veterinary Medicine logo.
Please check with the communications team with questions or for usage suggestions.
View and download (Kerberos required)
---
Events calendar
The UC Davis Veterinary Medicine Events Calendar is the central calendar for promoting events, important dates, and deadlines. The calendar is managed using Trumba, an event calendar platform.
Promoting events
Would you like to promote your event on the UC Davis Veterinary Medicine calendar?
Creating your own calendar
Would you like a calendar for your own department?
---
Zoom backgrounds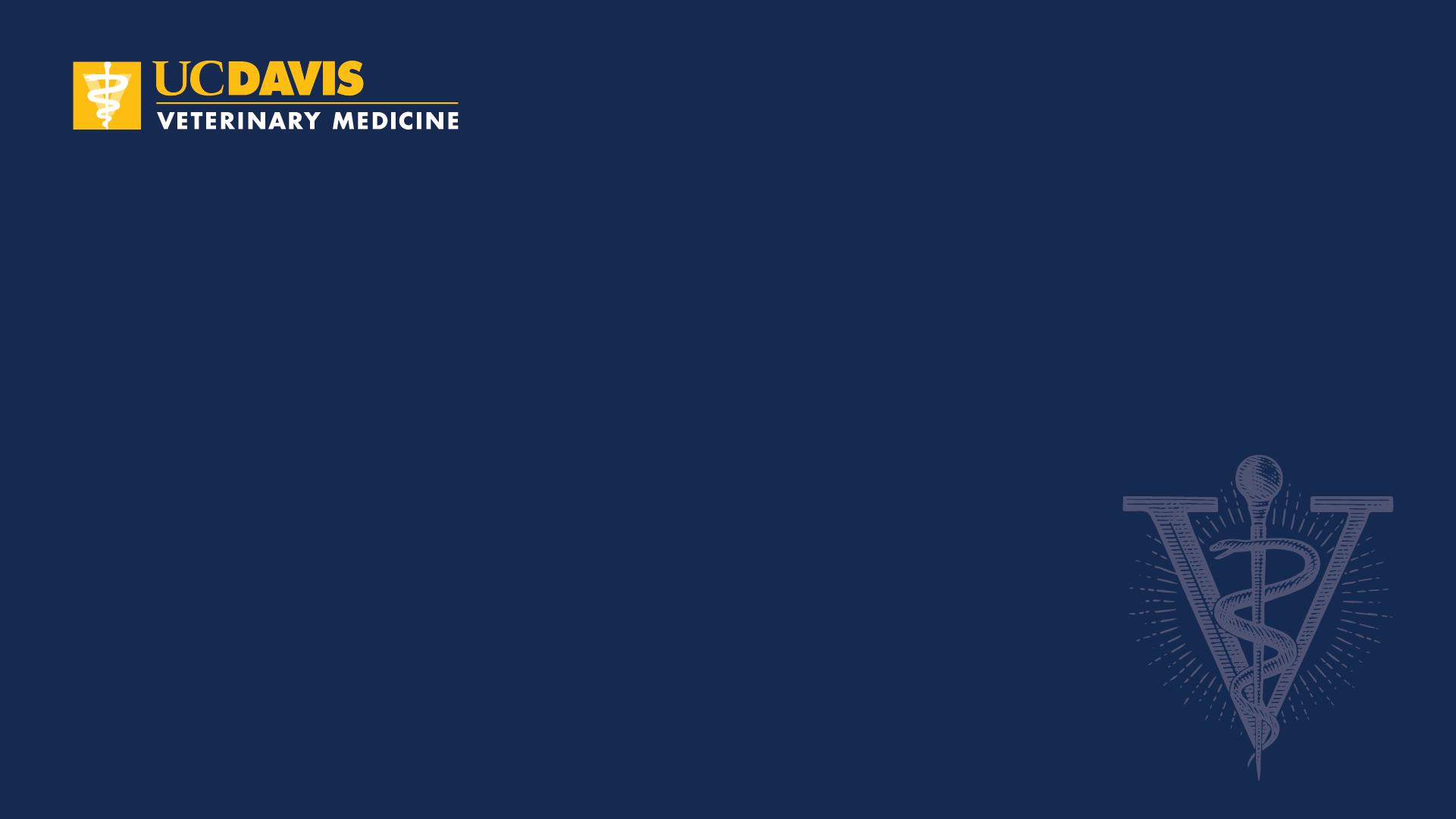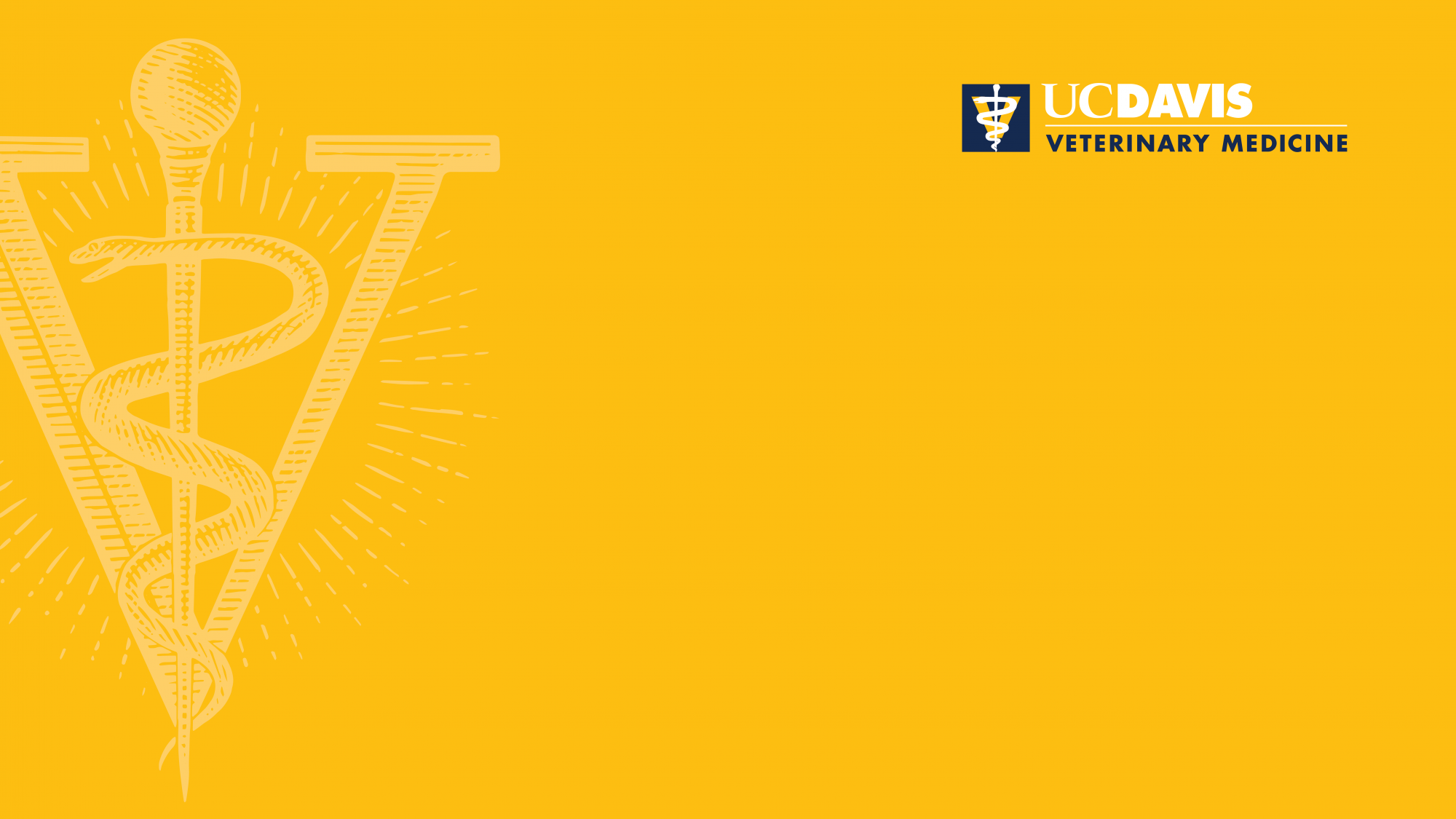 ---
Social media hub
View our directory of social media channels.
Is your social media page missing from our directory?
Add a channel to our directory
---
Photo resources
Please contact us if you have trouble accessing these resources.
---
PowerPoint template
This PowerPoint template is compatible with both Windows and Mac systems.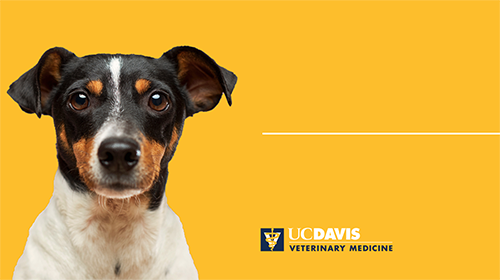 Download the PowerPoint template
---
Letter templates & letterhead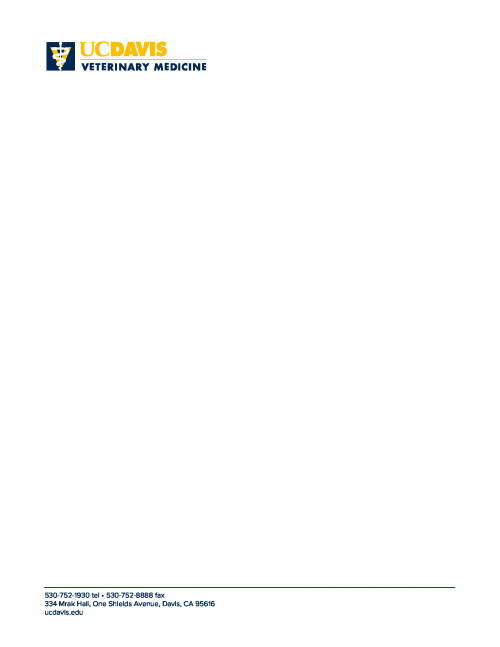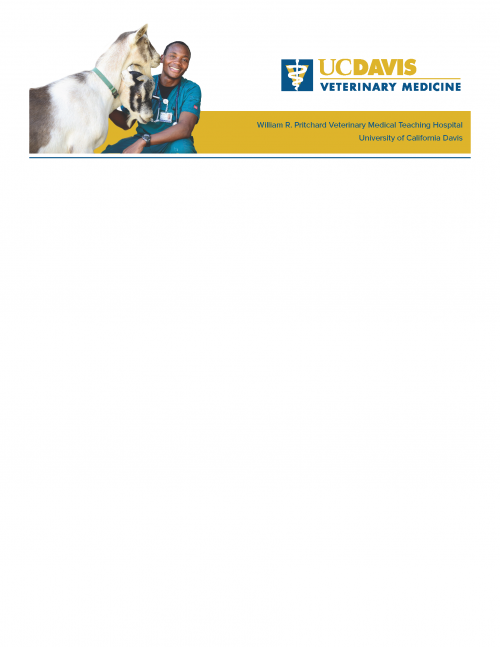 Download UC Davis Veterinary Medicine official letterhead Word template (Kerberos required)
Use and edit UC Davis Veterinary Medicine official letterhead in Canva (subscription required)
View and download UC Davis Veterinary Medicine letter templates (Kerberos required)
View and download UC Davis Development and Alumni Relations (DEVAR) letter templates
---
Business cards
This artwork can be used with Reprographics custom orders. Note: these graphics can only be used with custom orders and are not available in the existing business card templates.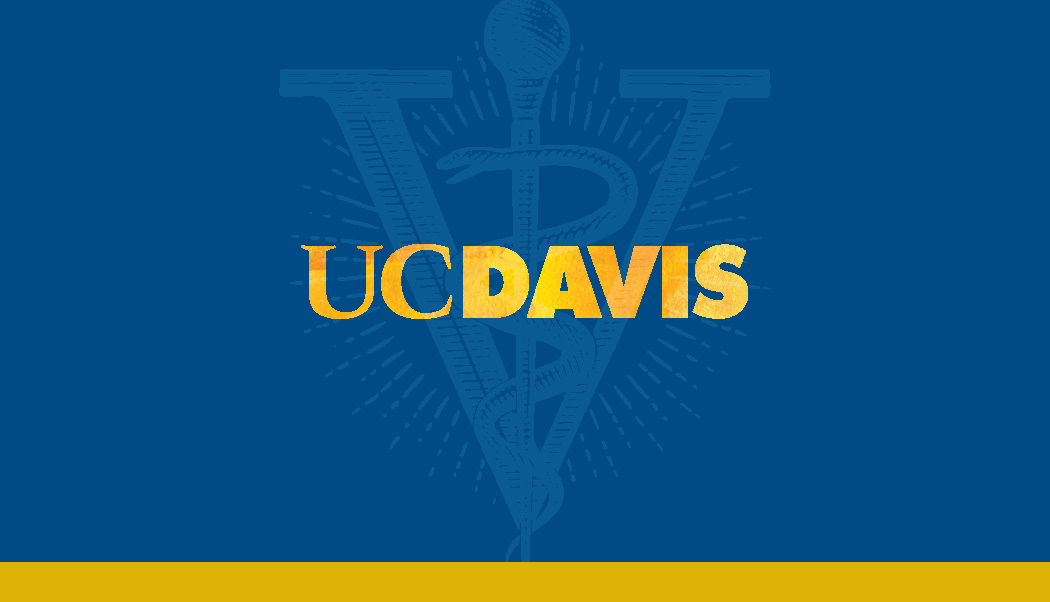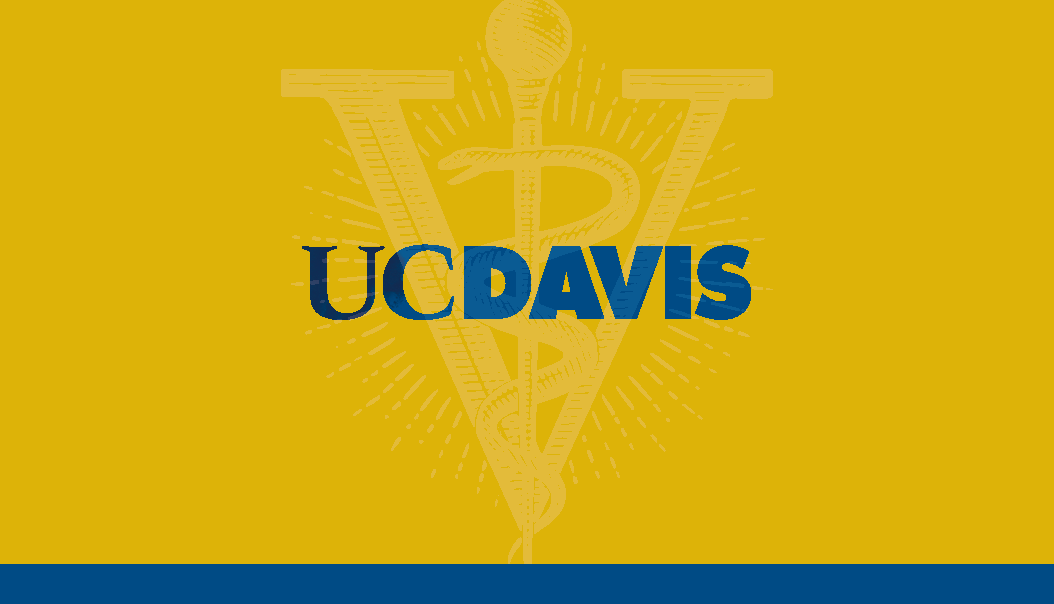 Download custom business card artwork
---
Email signatures
Please use these guidelines to create an email signature in your preferred email application. You may modify the lines of text to suit your individual needs, but please do not alter the font styling or images. If you have any questions, please contact the communications team. Instructions on how to update your email signature for Outlook, Outlook.com, or Gmail.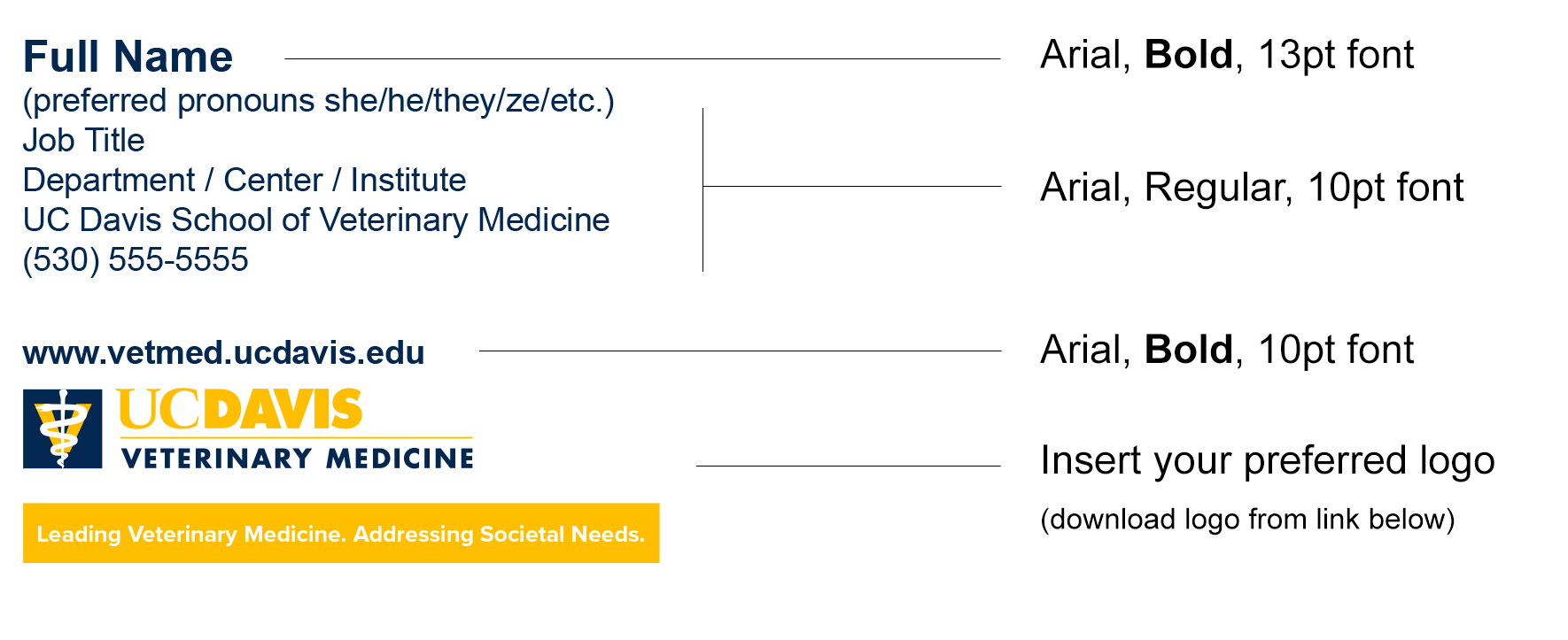 ---
Email banners & templates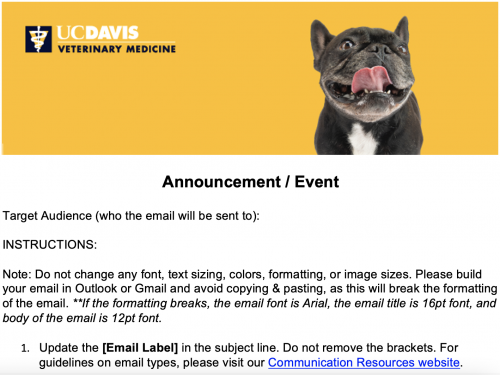 Branded email banners professionalize mass internal communications such as event notices or other announcements that are sent by students, faculty and staff. Please contact the communications team if you would like an email banner that features a particular photo or subject.
These banners are available for use by the school's faculty, staff, and students for official school business, activity, and event communications. The banners can also be used on printed pieces such as flyers or one-page program descriptions. A banner should be used for ALL announcements going out from an SVM unit or program to groups within the school.
View and download email banners
Download Outlook template (PC)
Download Outlook template (Mac)
For users of Outlook 365, copy and paste the template linked below into your "My Templates".
Download Outlook 365 template (Web)
---
Internal email subject line IDs
To help internal audiences identify and sort mass emails quickly, the school has adopted subject line identifiers. These identifiers are placed at the beginning of an email's subject line, followed by the topic. For example:
[Event] Global Programs Day is April 18
[IT Update] Scheduled VMACS Maintenance: December 1
These IDs will evolve over time. If you have suggestions for additions or improvements, please contact the communications team.
General Headers:
Seminar
Event
Special Notice
Message from the Dean
Request for Proposals/Applications (for training, funding opportunities, etc.)
Request for Nominations (for awards)
Welcome (new faculty/leadership/staff)
Health/Wellness Information (these could be under "Special Notice" or "Events" instead)
Safety Information
IT Update
Survey (or these could go under "Special Notice" instead)