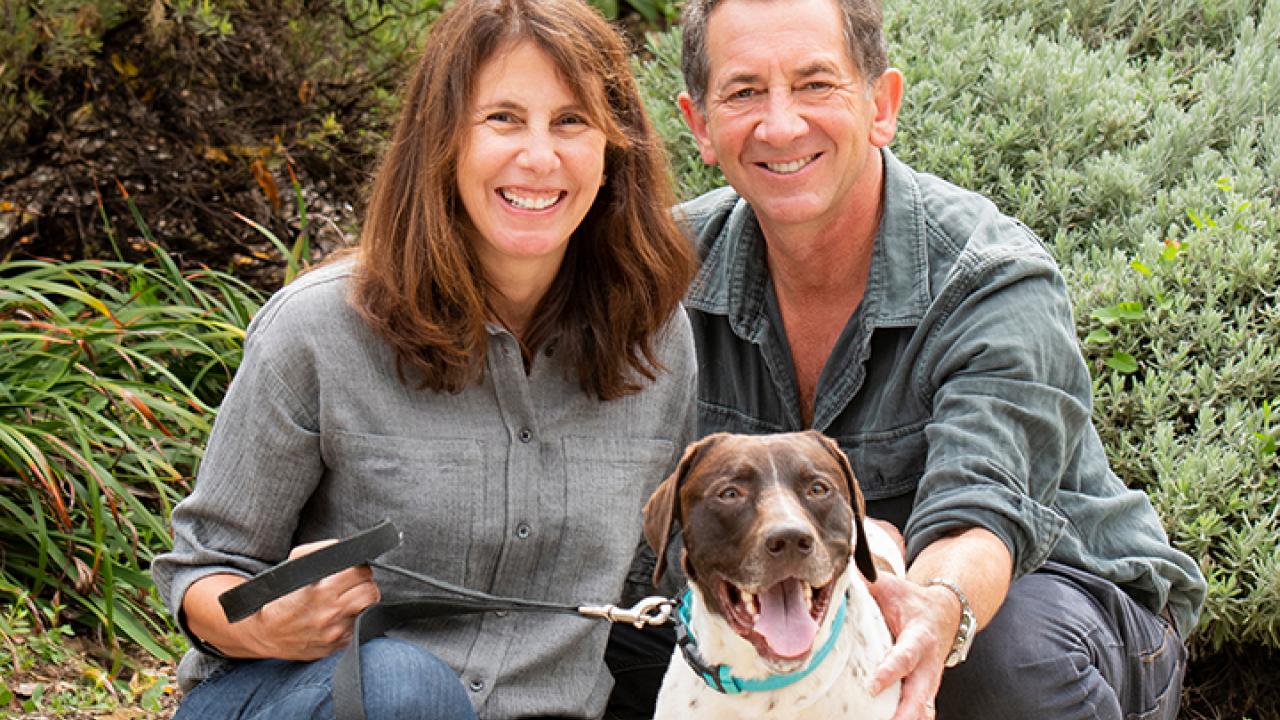 Small Animal Clinic | Veterinary Medical Center
Case Study
Patient: Dexter, a German shorthaired pointer
Owners: Anna and Ken Zankel
Critical team member: Dr. Denis Marcellin-Little
Dexter's issue: Life-threatening complications from an accident and unsuccessful surgery
Diagnosis
When Dexter, a German shorthaired pointer was adopted by Anna and Ken Zankel, it was suspected that he had been hit by a car and was struggling to recover from an unsuccessful hip surgery. Having been clients of the UC Davis veterinary hospital for years, the Zankels called UC Davis and were referred to Dr. Denis Marcellin-Little, who is one of the nation's foremost authorities on hip replacement surgeries.
Due to all the previous complications Dexter experienced with his hip, Marcellin-Little was not optimistic about the best potential outcome. "Beyond Dexter's previous surgical issues, he also had an infection in the bone," said Marcellin-Little. "Once infected, we never trust that the infection goes away. So that could present potential complications with a future surgery."
Resolution
Marcellin-Little's solution was a total hip replacement using a custom, 3D-printed titanium implant that could be coated with silver to try to prevent bacteria from growing and stave off any potential infections.

Utilizing exact measurements of Dexter's anatomy from a CT scan, a biomedical company that manufactures state-of-the-art veterinary orthopedic implants started crafting his new hip. In the meantime, the surgery team also 3D printed exact replicas of Dexter's bones and practiced the procedure in order to best prepare for surgery. It took more than a year before the team could proceed to what ultimately entailed two surgeries and physical rehab.
Now, while not without bumps, his recovery continues to go well. "He's finally out of pain and can play," Anna said. "He's like a puppy again."
"Dr. Marcellin-Little was incredible," said Anna. "When he entered the picture, we immediately thought that Dexter's care was at an entirely new level. It was so incredible to us that this level of care was available."
Small Animal Clinic
As part of the Veterinary Medical Center project, UC Davis will construct an entirely new Small Animal Clinic, expanding the size and scope of the current hospital. This will allow clinicians to expand their cutting-edge procedures and continue to push the limits of veterinary medicine. With the help of benefactors like the Zankels, who have committed to supporting the center, innovators like Marcellin-Little will be able to realize their vision, as they integrate teaching, research, and clinical activities into compassionate care that will transform more lives like Dexter's.
Support the Veterinary Medical Center: Small Animal Clinic
For more information, please contact Hyemi Sevening, Assistant Dean of Advancement, at (530) 752-7024 or hsevening@ucdavis.edu.