Vision Over Visibility: Pushing the Boundaries of Veterinary Medicine to Improve Lives
On the website for their four Grove restaurants in San Francisco, owners Anna and Ken Zankel have lists of things that are important to them. Anna's "Things I love" list includes "Baron's waggy tail and Bubba's meow." Ken's "Things that rock" list includes "people that make other people's and animals' lives better."
It's pretty clear the Zankels love animals.
After Baron passed away two years ago, the Zankels decided to continue making animals' lives better when they adopted Leo and Dexter, a pair of German shorthaired pointers. At the time of adoption, it was suspected that Dexter had been hit by a car, and he was recovering from a hip surgery. It was clear that he would need further medical intervention, and the Zankels were dedicated to continuing his long journey back to health.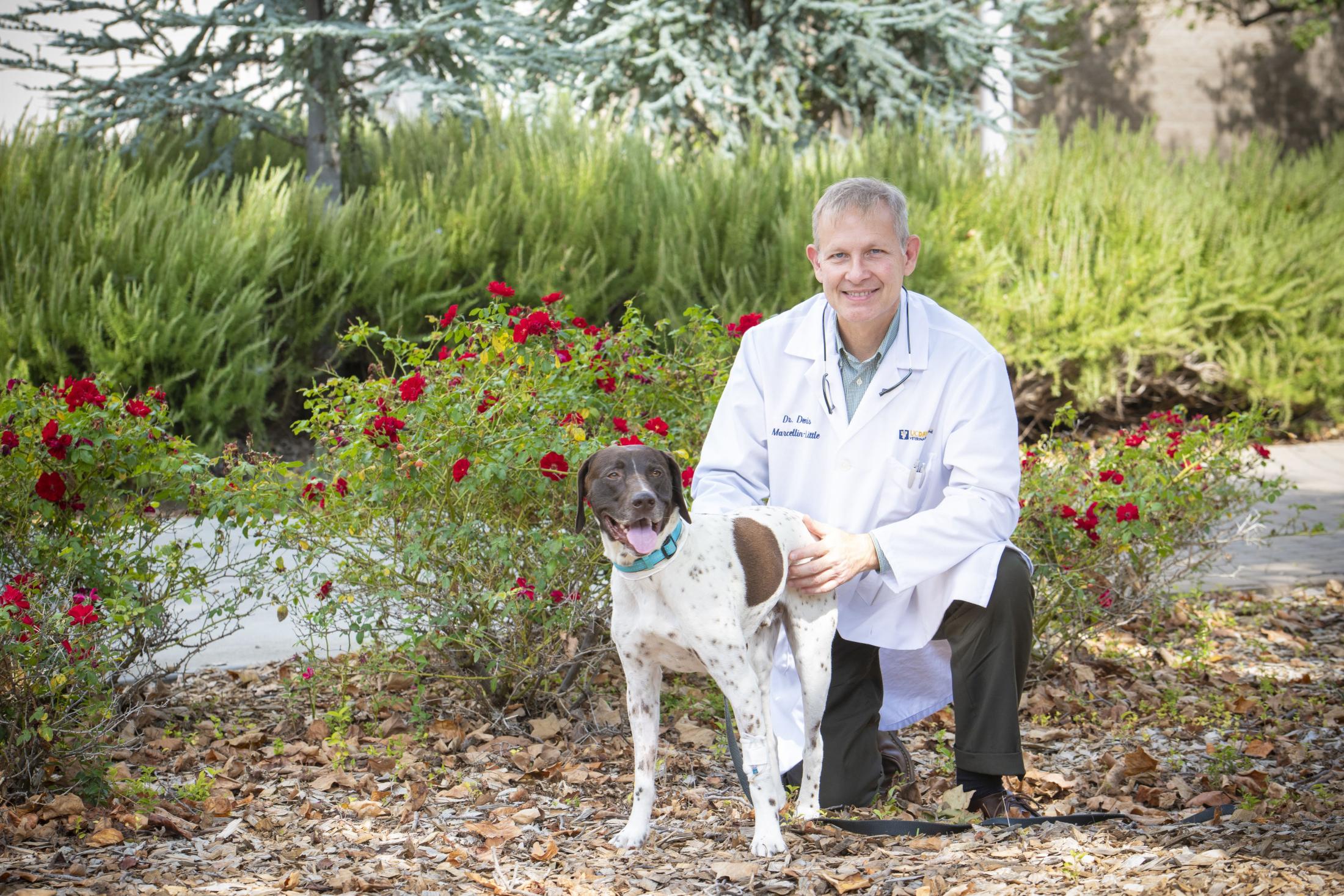 Having been clients of the UC Davis veterinary hospital for years, the Zankels called Theresa Varland, the referral coordinator for the hospital's Orthopedic Surgery Service. Theresa suggested they schedule an appointment for Dexter to see Dr. Denis Marcellin-Little, a newly-acquired surgeon who is one of the nation's foremost authorities on hip replacement surgeries.
"Dr. Marcellin-Little was incredible," said Anna. "When he entered the picture, we immediately knew that Dexter's care was at an entirely new level. He talked us through every possible procedure and every scenario that could arise in the process. It was so incredible to us that this level of care was available. At that point, we knew we were willing to do whatever it took to give Dexter the best life he could have."
Due to all the previous complications Dexter experienced with his hip, Dr. Marcellin-Little was not optimistic about the best potential outcome. Dexter had previously undergone a femoral head ostectomy that yielded suboptimal results.
"Beyond Dexter's previous surgical issues, he also had an infection in the bone," said Dr. Marcellin-Little. "Once infected, we never trust that the infection goes away. So that could present potential complications with a future surgery."
Dr. Marcellin-Little's solution was a total hip replacement using a custom, 3D-printed titanium implant that could be coated with silver to try to prevent bacteria from growing and stave off any potential infections. The silver stays in the body for about six weeks and naturally prevents bacteria from nesting themselves in the implant before the bone can grow into it.
"This was an important detail because in the immediate time around surgery, there's more blood and inflammation – a prime time for infection to set in," Dr. Marcellin-Little said. "We wanted to do everything possible to prevent infection."
The Zankels agreed to the procedure, and Dr. Marcellin-Little started the long process of getting the custom implant created. Utilizing exact measurements of Dexter's anatomy from a CT scan, a biomedical company that manufactures state-of-the-art veterinary orthopedic implants started crafting his new hip. In the meantime, the surgery team also 3D printed exact replicas of Dexter's bones and practiced the procedure in order to best prepare for surgery. During this time, the Zankels also funded new flooring in the ward where Dexter would recover. The cement floors were not ideal for his anticipated long hospitalization. It ultimately took more than a year before the team could proceed to surgery.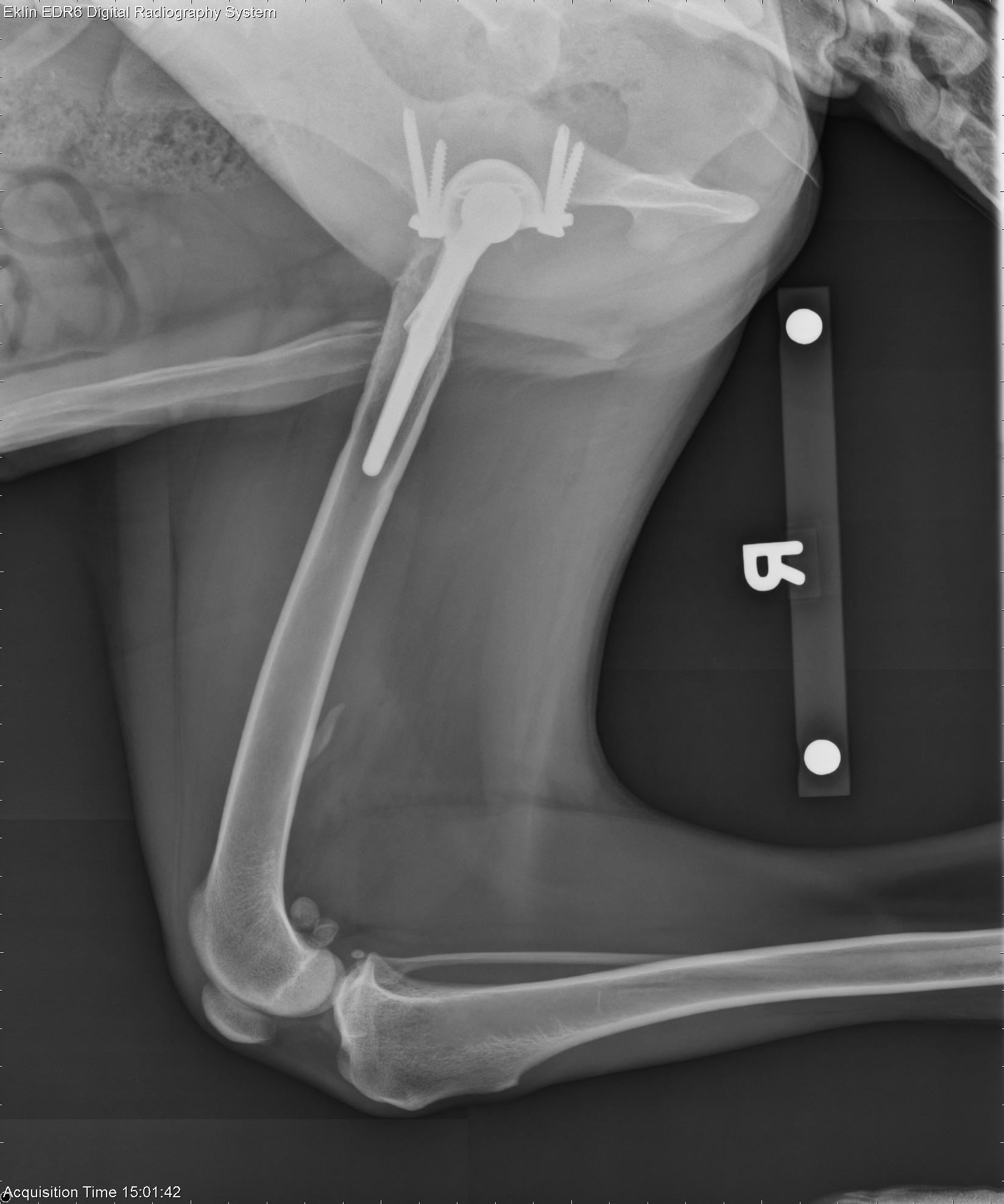 Dexter's hip replacement consisted of a cup affixed to his pelvis using two cortical screws and two locking screws, and a custom stem implanted in the top of his femur. All items were silver-coated.
During surgery, Dr. Marcellin-Little placed antibiotics directly into the wound because of Dexter's previous issues with infection. (Dexter would stay on antibiotics for three months post-surgery.) Another aspect to the surgery was the reattachment and reconstruction of the muscles in Dexter's hip joint.
Dexter's immediate recovery was not ideal. His hip prosthesis dislocated just a few days after the initial surgery, and the hip had to be revised. An open reduction of the prosthetic component was performed. The gluteal muscles were again reconstructed, and the repair was protected with a polyethylene mesh.
Dexter responded well to this second surgery, but his long recovery was just beginning. His limb was protected with a neoprene sling for approximately 24 days, with his foot suspended in a non-weight bearing position. This caused his muscles to atrophy in that leg. With the help of his dedicated care team, Dexter was exercised regularly, and his limb use improved slowly. He steadily showed decreasing signs of pain originating from his hip region.
"Dexter slowly got better and better," said Dr. Marcellin-Little. "Before, he would yelp in pain whenever he moved his leg in the wrong way. That is gone now."
Dexter remained hospitalized for nearly two months. At least two to three times a week, the Zankels would visit from San Francisco bringing him his favorite chicken and other treats. Now, nearly six months post-surgery, his recovery continues to go well.
"He's finally out of pain and can play," Anna said. "He's like a puppy again."
The Zankels remain committed to partnering with the school on philanthropic endeavors. Beyond their contribution of a new ward floor and their commitment to helping the school move the Veterinary Medical Center (VMC) campaign forward, they previously established the Fango Fund, named in honor of their former dog Fango, another German shorthaired pointer they rescued who was also a previous UC Davis patient. The fund provides medical and surgical care needed for older rescue dogs and cats in danger of being euthanized.
The Zankels' generosity also extended directly to Dr. Marcellin-Little's practice with the donation of a 3D printer which will help extend his research and clinical translational care to aid future surgeries like Dexter's.
As part of the VMC project, UC Davis will construct an entirely new Small Animal Clinic, expanding the size and scope of the current hospital. This will allow clinicians to expand their cutting-edge procedures and continue to push the limits of veterinary medicine. With the help of benefactors like the Zankels, innovators like Dr. Marcellin-Little will be able to realize their vision, as they integrate teaching, research, and clinical activities into compassionate care that will transform more lives like Dexter's.
#   #   #
Primary Category
Tags