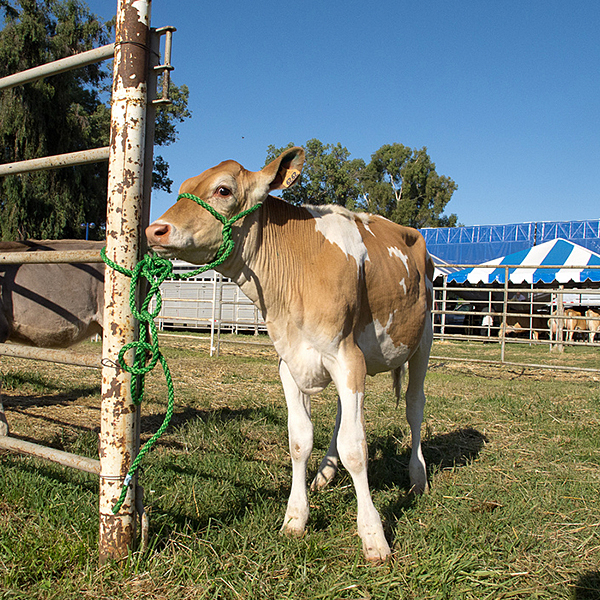 Global Impact
Disease respects no borders. Early veterinary faculty brought expertise to countries with disease outbreaks and brought back new knowledge to share with colleagues, producers and students. Today's programs reach into more than 30 countries and help strengthen global capacity to respond to health challenges.
One of the first examples of the school's international service occurred in the 1940s when a faculty virologist traveled to Mexico to lend expertise during a foot and mouth disease outbreak. The knowledge that he brought home from that experience, as well as contributions of faculty in 1999 in Taiwan and 2001 in the United Kingdom have helped protect US herds from the highly contagious infection.
Academic programs such as Fulbright scholarships, sabbatical projects and other faculty exchanges led to productive partnerships, problem solving and greater scientific understanding. In the 1960s and 1970s, the Convenio agreement sent several veterinary faculty to help producers improve agricultural conditions in Chile while here in California, several school mentors trained PhD candidates. Those graduates returned to their homes and universities to became leaders in Chilean government and academic institutions.
MPVM faculty have trained hundreds of veterinarians to apply the principles of preventive veterinary medicine to public health, food animal health and wildlife conservation in more than 75 countries.
The Office of International Programs, now part of Global Programs, enriches veterinary student experience, raises awareness of universal health issues and broadens career horizons. One student visit to Bosnia and Herzegovina in the late 1990s led to help with treating animal overpopulation, book donations from veterinary students for a veterinary school library destroyed by war, and MPVM training of a Bosnian who became a national leader in veterinary medicine when he returned to his country. Another alumnus traveled to the island of Rapa Nui (Easter Island) and determined the identity of a poisonous plant that was causing serious illness in foraging livestock. 
The work of public health veterinarians enabled them to describe risk factors in animal populations, identify reservoirs and trace infections to their source. One test method for brucellosis was adopted by England, Germany, France, Russia, Turkey, India, Argentina, South Africa and Mexico. Faculty have conducted research concerning African cats and wild dogs, apes, African cattle, marine mammals, fish, giant pandas of China, lemurs in Madagascar, New World camelids (llamas, alpacas) and numerous other species. Veterinary pathologists in the 1990s alerted conservationists about the challenges to the protection of cheetahs.
Today's research and services from Gorilla Doctors are protecting the health of the endangered Mountain gorillas as well as people living in nearby communities. In marine health, SeaDoc program personnel based in the Pacific Northwest cooperate with the US, Canada, Coast Salish tribes and First Nations. Achievements include mapping the sea floor, learning more about marine animals and developing guidelines for maintaining a healthy marine ecosystem. The long-term commitment of faculty to malaria research, including studies in Mali and Southeast Asia, has brought important discoveries about mosquito genetics, drug resistance and other factors, offering hope for curtailing the disease.
Livestock management training offered in China, Rwanda and Tanzania, particularly for dairy operations, includes economic and health benefits in regions people are highly dependent on livestock for survival.
Knowledge influences international trade. Research on the ecology of the bluetongue virus helped ease trade barriers for the cattle industry in the 1990s. In 2012, when the first case of "atypical" bovine spongiform encephalopathy in California occurred, the California Animal Health and Food Safety Laboratory hosted trade delegations from Taiwan and South Korea; demonstrated America's highly effective BSE surveillance program—one of only seven US laboratories approved to perform such testing—and contributed directly to keeping the multi-million dollar markets open to beef exports.
The scope of international veterinary work has grown immensely. Today, the PREDICT program identifies animal diseases with the potential to spread to humans and tracks outbreaks in 23 countries with the goal to preventing the next pandemic. Partners in this massive effort include: