Surgery Saves Award-Winning Heifer
"Case of the Month" – October 2022
Chime, a 1-year-old Holstein heifer, was fresh off a win at a local fair this past spring—with another show just a month away—when she began to show signs of abdominal discomfort or colic, and abnormal fecal production. Owner Case Vlot, of Vlot Calf Ranch in Chowchilla, California, had their primary veterinarian take a closer look at Chime. The veterinarian performed a rectal exam and palpated a mass in the abdomen, causing concern of a potential intestinal blockage. This condition can be very serious, so their veterinarian referred the heifer to the Livestock Medicine and Surgery Service at the UC Davis veterinary hospital for further evaluation and treatment.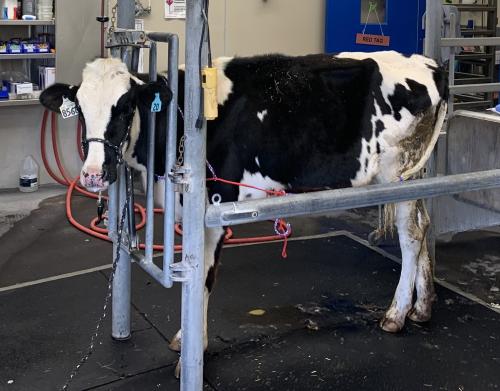 "Colic or abdominal pain in cattle can be really subtle, so it's important to do exactly what the Vlots did – get her seen by a veterinarian right away," said Dr. Sarah Depenbrock, a livestock specialist with the UC Davis Large Animal Clinic. "Their veterinarian correctly determined that Chime had a very serious GI condition that needed urgent surgical intervention."
The Vlot family enjoys participating in local and statewide cattle showing competitions. Case and Darcy Vlot's four daughters all compete in shows through 4-H and Future Farmers of America (FFA), and all have won awards.
"Our daughters enjoy showing, regardless if they win or don't win," said Case. "But we knew this heifer was special – that's why we brought her to UC Davis. We knew she was a winner, so we hoped for the best at Davis."
Once at UC Davis, an ultrasound confirmed an abnormal intestine associated with significant intestinal swelling, which indicated to the specialists that the heifer needed surgery to examine the abnormal intestine and clear the obstruction.
"The mass and the abnormal intestine on ultrasound confirmed an obstructive lesion that was likely an intussusception – when part of an intestine folds into itself," said Dr. Depenbrock.
Resident Dr. Cileah Kretsch, with faculty member Dr. Depenbrock, performed the surgery on Chime, and their initial investigation confirmed the intussusception. The tissue and blood supply to the blocked section of bowel was no longer viable, and a section of intestine had to be removed. Chime tolerated surgery well and was managed with antibiotics, IV fluids, and pain medication during her 4-day hospitalization.
Chime recovered so well that 11-year-old Carsyn Vlot was able to keep her commitment to showing her in the Chowchilla Madera County Fair just a month after surgery, where she and Chime won Supreme Champion in the Yearling Heifer category. Chime's winning streak continued in September when Carsyn led her to another victory at the Madera District Fair.
"Chime just has that look," stated Case. "One look at her and you know that's a nice heifer. She shows a lot of depth and a lot of rib. That's why she stands out from the others."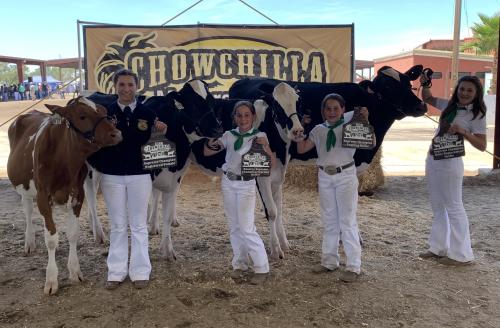 Carsyn and her twin sister Kasey both participate in the Alview Dairyland 4-H, while their older sisters Rylee (14) and Makenna (16) show cattle in the Chowchilla and Golden Valley FFAs, respectively. At the Chowchilla Madera County Fair, Kasey's heifer won Reserve Supreme Champion in the Yearling Heifer category; Rylee's heifer won Supreme Champion in the Dairy Replacement Heifer category; and Makenna's heifer won Supreme Champion in the Registered Female category. Additionally, Makenna was recently part of the winning dairy judging team at the California state championships and is currently competing at the national finals in Indianapolis, Indiana.
It's safe to say that cattle and agriculture are in the Vlots' blood. Darcy is currently one year into a 17-month fellowship as a member of the 51st Class of the California Agricultural Leadership Program, part of a non-profit committed to leadership training and transformational learning experiences in partnership with UC Davis and three other California universities.
Chime will most likely show for one more year as a heifer. After her first birth at 2 years of age, the Vlots will evaluate whether she will continue to show as a cow.
#   #   #
Primary Category
Tags