Cat Burned in Wildfire Discharged After Three Months of Hospitalization
The UC Davis veterinary hospital has treated hundreds of animals over the years that were burned in wildfires. Every year, there is at least one that everyone at the hospital remembers. This year, one of the most memorable was Ned, a semi-feral cat who was rescued from the property he calls home a few days after the LNU Lightning Complex Fire swept through and destroyed everything. This week, Ned was finally discharged after being hospitalized for three months.

Ned was one of 15 cats and several livestock on the property owned by Linda Kearney. Before evacuating, Kearney was able to gather 11 of the cats and leave before the fire came. Ned was one of two others she found a few days later. Only one cat perished, and one remains missing, but Kearney continues to search and works with neighbors who have trail cameras in the area in hopes of still finding her.
Ned was immediately brought to UC Davis and was hospitalized for three months, recovering from burns to his feet, face, ears, hind limb, and tail. Throughout that time, Drs. Elizabeth Montgomery and Karen Vernau—and many staff members of their services—volunteered their time to care for Ned. Donations to the school's Veterinary Catastrophic Need Fund, which supports animals that are injured in natural disasters or other accidents, helped pay for Ned's care.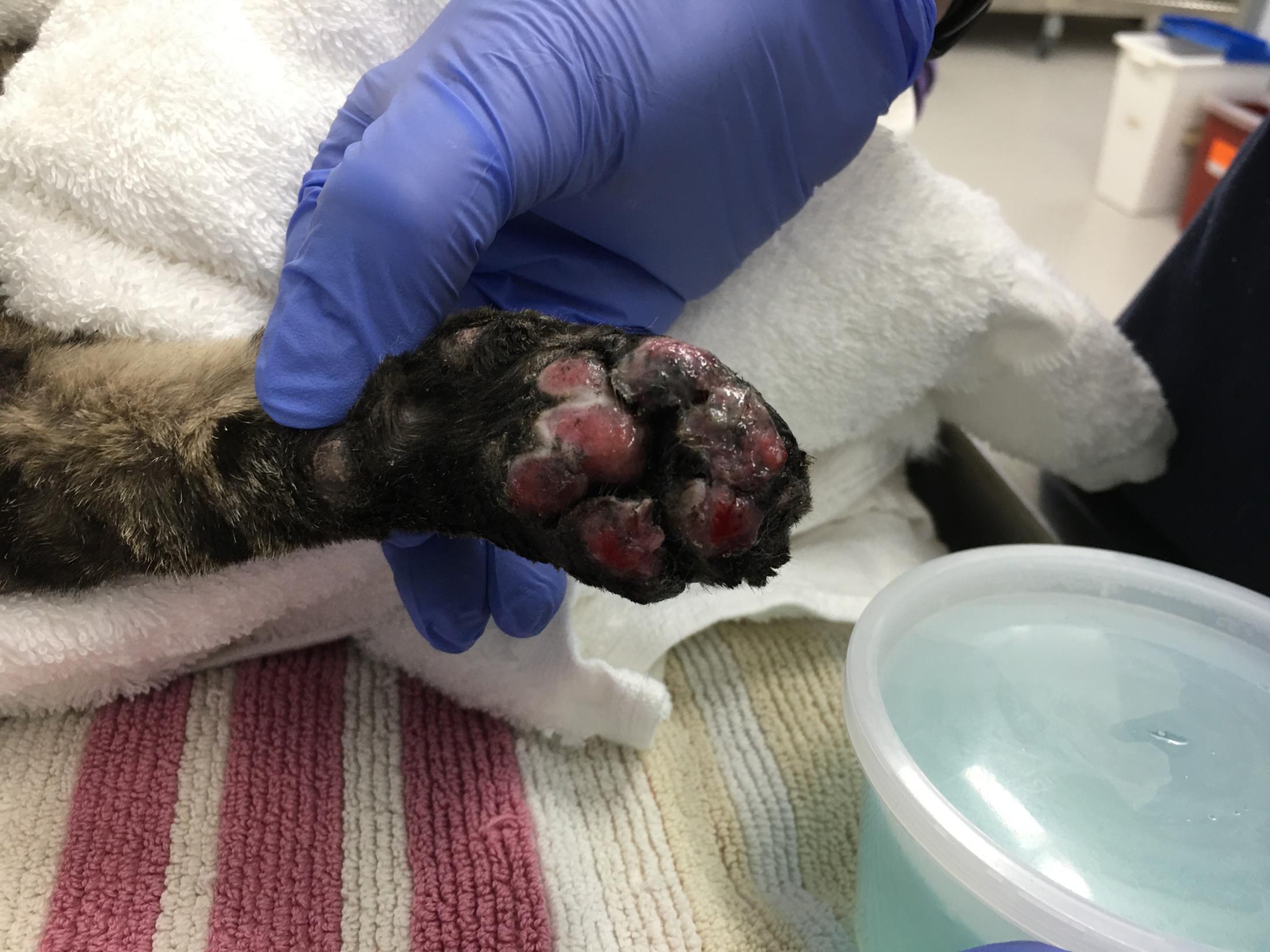 "When I first found Ned after the fire, I wasn't sure where to take him for care," said Kearney. "So, I called a friend at Lucky Ones Ranch, and without hesitation, she told me to take him to UC Davis. I'm so happy I did because Ned has received the best care I could have imagined for him."
Meanwhile, Kearney worked hard to secure housing for the other animals and a home for Ned when he was discharged. Lucky Ones Ranch—which was also destroyed in the LNU Fire but has since moved to a new location in Vacaville—took them in and provided permanent shelter for as long as needed. Plans are for Kearney and her husband to build sheds and other structures for the animals back on their property and to live there in a newly purchased RV. She was thrilled to finally have Ned back with the rest of the animals.
"Ned became such an integral part of our lives over the past few months," said Dr. Vernau. "We're thrilled that he has recovered well enough to go home. I'm so proud of everyone on the team for their dedication to Ned."
It is rare for an animal to be hospitalized for three months and takes a dedicated team to see a severely injured animal through to a successful and happy discharge.
"Being semi-feral, Ned was not always a cooperative patient," said Dr. Kate Hopper, director of the hospital's Small Animal Clinic. "His care team did a stellar job powering through that daily adversity to make sure he fully recovered."
Congratulations to Ned's entire team!
#   #   #
Primary Category
Tags