Collaborative Outreach Saves Kitten with Rare Disorder
"Case of the Month" – January 2021
When Lucy, a female tabby kitten, was not progressing as much as her littermate, her foster group, the Orphan Kitten Club in San Diego, was at a loss as to the problem. So, OKC's founder, Hannah "Kitten Lady" Shaw reached out to Dr. Karen Vernau at the UC Davis veterinary hospital. Dr. Vernau's experience with hundreds of kittens as a faculty mentor of a similar group, UC Davis' Orphan Kitten Project, led her to believe that Lucy may have hypothyroidism.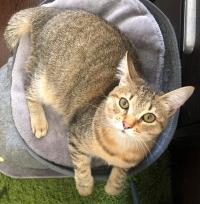 Dr. Vernau worked with Shaw and Orphan Kitten Club's staff, along with their primary veterinarian, to have Lucy's blood samples sent to the UC Davis veterinary hospital's Clinical Diagnostic Laboratory where the hypothyroidism was confirmed.
Hypothyroidism is uncommon in cats. In kittens especially, it is a poorly characterized and rare disorder, and generally only reported in kittens over 6 weeks of age. Kittens with congenital primary hypothyroidism may be lethargic and/or uninterested in their environment and have seizures, constipation, poor growth, dwarfism, and retention of baby teeth. In some cases, the disorder can be fatal. Fortunately, treatment is a readily available and inexpensive oral medication.
Over the past year, Dr. Vernau and a team of UC Davis veterinarians and scientists have diagnosed and treated congenital primary hypothyroidism in seven orphaned kittens between 17 to 42 days of age through two clinical trials. Based on this experience, they hypothesize that hypothyroidism may be more common in orphaned kittens than previously reported, and most importantly, may be an inexpensive and treatable cause of "failure to thrive" and death in kittens. However, normal reference intervals for these hormone levels in kittens do not exist, which severely impairs the diagnosis and treatment of the disorder. In order to establish normal reference intervals for kittens at 4 and 8 weeks of age, and to establish treatment guidelines for managing kittens with hypothyroidism, UC Davis has launched a new clinical trial on hypothyroidism.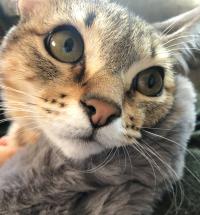 With the proper treatment, most of Lucy's clinical signs of hypothyroidism have resolved. She has since been spayed and adopted.
"Lucy is doing great," said her new owner Julia. "She's very happy, sweet and soft. She weighs about seven pounds now – such a far cry from her (tiny early) days."
Julia continues to work with Dr. Vernau and has Lucy's bloodwork checked regularly, as well as keeping up with her twice daily medications.
#   #   #
UC Davis veterinarians can look forward to more opportunities of these types of collaborations and new discoveries through clinical trials in the school's future Veterinary Medical Center. This new center for discovery will set the gold standard of care while defining advanced clinical research and veterinary education, where more animals like Lucy will be saved by groundbreaking clinical trials and other innovative treatments.
Primary Category
Tags