Dentistry and Oral Surgery Wins National Awards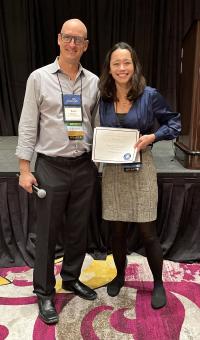 Members of the UC Davis veterinary hospital's Dentistry and Oral Surgery Service won awards at the 36th Annual Veterinary Dental Forum (VDF), held recently in the Reno/Lake Tahoe area. The team also presented lectures and original research at the event, which was co-sponsored by the Foundation for Veterinary Dentistry, the Academy of Veterinary Dentistry, and the American Veterinary Dental College, a recognized veterinary specialty organization of the American Veterinary Medical Association.
Dr. Maria Soltero-Rivera received the Foundation for Veterinary Dentistry Research Scholarship Award and presented a lecture on "The Immune Basis of Feline Chronic Gingivostomatitis."
Other faculty members lecturing at the conference were Dr. Stephanie Goldschmidt presenting "What Is Feline Tooth Resorption and Why Is It So Important?" and "Surgical Planning for Oral Oncologic Procedures in Canines." Dr. Boaz Arzi presented "Ten Years of Mandibular Reconstruction in Dogs Using rhBMP2: What Have We Learned So Far?"
Resident Dr. Janny Evenhuis received the Original Research Best Oral Presentation Award for "Canine Oral Extramedullary Plasmacytoma Over a 15-Year Period: Treatment, Histologic Parameters, and Clinical Outcomes." Other original research presented by residents included "Craniomaxillofacial Trauma in Juvenile Dogs – Etiology, Treatments and Outcomes" by Dr. Elias Wolfs and "Biomechanical Evaluation of Locking vs. Non-Locking 2.0mm Malleable L-Miniplate Fixation of Simulated Caudal Mandibular Fractures in Cats" by Dr. Shirley Kot.
VDF is the largest and longest continually running veterinary dental conference and allows for the advancement of the knowledge, education, awareness, and skills involved in veterinary dentistry among veterinarians, as well as veterinary technicians, students, and staff.
#   #   #
Primary Category
Tags