Dialysis Saves Dog with Acute Kidney Injury
"Case of the Month" – November 2020
Daisy, an 8-year-old female collie/terrier mix, grew up in Malibu, so she loves the beach. She's always been a well-seasoned beachgoer, prepared for anything that might come her way. But a recent trip to Pacifica Beach proved too much to handle after she ingested something that severely upset her system, nearly killing her.
Traveling back home to Davis that night—where she moved a few years ago with her owners Judy Scheffel and Joe Kaplan—Daisy's spirits were high, and she appeared healthy and happy. However, later that night, things took a turn for the worse.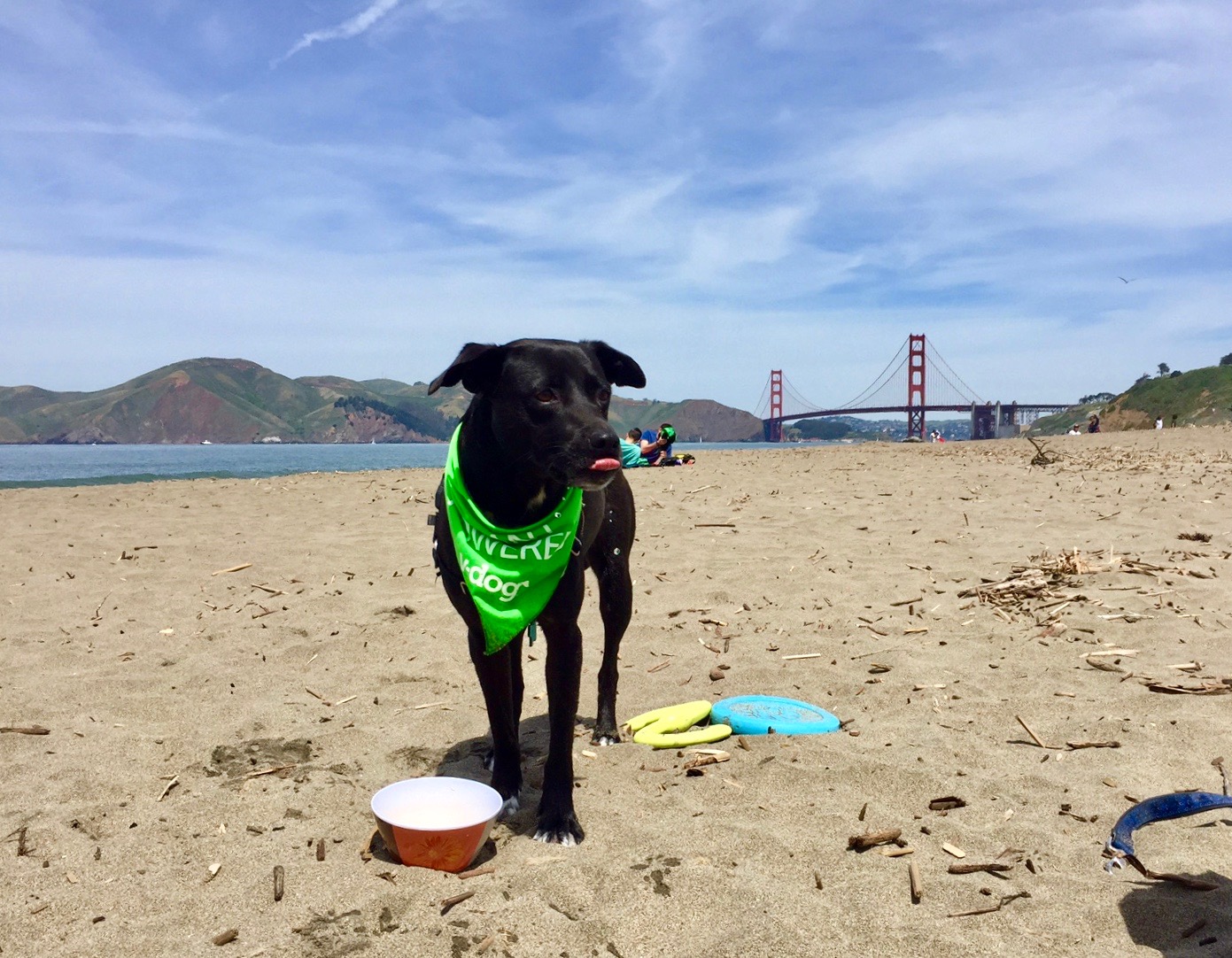 "Toward the end of the evening, Joe told me that Daisy had vomited," said Scheffel. "But it appeared to be only her dinner. That happens a few times a year, and she seemed fine."
However, Scheffel and Kaplan would discover that Daisy vomited several more times throughout the night. When Daisy didn't surface for her usual morning routine, Scheffel found her cold and nearly lifeless, and there was blood with sand in it throughout the house.
They immediately rushed her to the nearby UC Davis veterinary hospital, where Daisy was examined in the Emergency Room by critical care specialists. They suspected that she ate something at the beach that upset her gastrointestinal (GI) tract and caused the vomiting with profuse hemorrhagic diarrhea. Daisy lost massive amounts of fluid through her vomiting and diarrhea which led to a state of hypovolemic shock. During this event, Daisy's kidneys did not receive the proper amount of blood supply and suffered an acute injury. Once her kidneys were injured, she was unable to produce urine normally or filter out toxins from her blood, making her feel sick.
In the ER, Daisy was fluid resuscitated and kept on IV fluids and antibiotics overnight before her transfer to the Internal Medicine Service for ongoing care. Resident veterinarians Drs. Michelle Miller and Dennis Woerde took over the case under the guidance of faculty members Drs. Lynelle Johnson and Carrie Palm. The team knew that Daisy's acute kidney injury (AKI) paired with her active GI bleeding would make it challenging to manage her disease.
Daisy's AKI was not responsive to supportive care after three days, so she went under anesthesia for placement of a dialysis catheter and an esophageal feeding tube. She received her first dialysis treatment that day. After her first dialysis treatment, her red blood cell count dropped low. She required two blood transfusions and a plasma transfusion to replace those red blood cells and supplement clotting factors to try to stop her GI bleeding.
"Daisy's condition went downhill her first week in the hospital," said Scheffel, her voice cracking with emotion. "It seemed like every bad road we could've taken, we did during that first week."
After several days, Daisy's GI bleeding slowed, and her red blood cell count improved. During her 15-day hospitalization, Daisy received four dialysis treatments.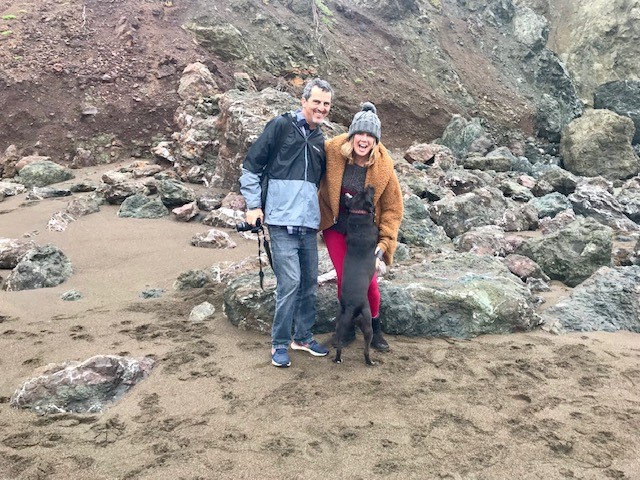 "Dr. Miller did a great job of setting expectations," Scheffel said. "From the very beginning, she said it was going to be a long complex road to recovery for Daisy. She took the time to tell me all the scenarios of what might happen. I asked her all the questions I could possibly think of, and Dr. Miller patiently answered all of them."
Daisy improved significantly in her second week of treatment.
"I started crying out of joy when they told me her levels improved," said Scheffel.
Daisy was well enough for discharge when her renal values plateaued, and she had normal urination.
"I can't say enough great things about the team that cared for Daisy," Scheffel continued. "Drs. Miller, Woerde, and students Caelin and Katrina were phenomenal. They called me at least twice a day to update me. I was also impressed that people who weren't even on Daisy's case knew her name and took the time to talk to her clinicians to see how she was doing."
Daisy's case made Scheffel fully understand the benefits of care at a teaching hospital. Having specialists in critical care, internal medicine, anesthesiology, and diagnostic imaging all under one roof greatly contributed to the success of Daisy's case. UC Davis looks to expand on that collaborative effort with the future Veterinary Medical Center.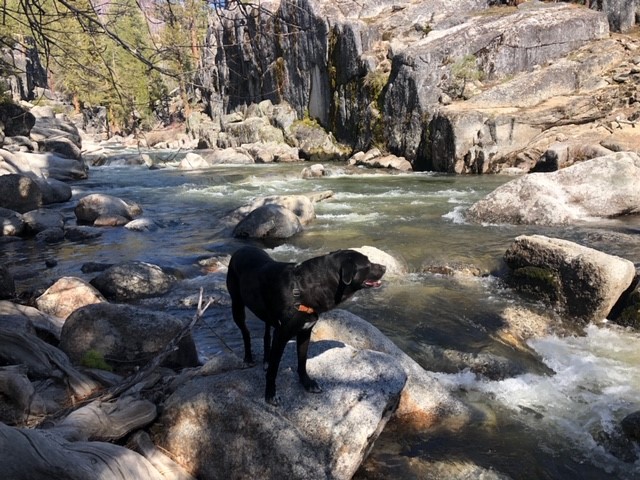 "The connections of everyone in the hospital gave me an appreciation of how much sharing and constant learning there is in the community of a teaching hospital," said Scheffel. "The resources, knowledge base, and equipment available at UC Davis absolutely saved Daisy's life. Through everyone I met, I feel like I now have a greater sense of the knowledge, commitment, teamwork, care and the love of animals at UC Davis."
Scheffel later commented that even Daisy felt that way.
"It warmed my heart to see her giving kisses to Dr. Miller and student Caelin," Scheffel said. "I feel she knew they saved her life,"
At follow-up appointments, Scheffel and Kaplan were thrilled to find that Daisy's levels were sustaining, and she did not need further dialysis. Her veterinarians feel confident of her continued recovery.
#   #  #
Primary Category
Tags