Radiologists Win Awards at National Conference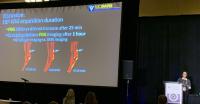 UC Davis radiologists were well represented at the 2022 American College of Veterinary Radiology (ACVR) annual scientific meeting, held recently in Reno, Nevada. Positron emission tomography (PET) research being pioneered at the school was a large part of UC Davis' presence at the conference. Lectures, research abstracts, and awards on the subject were presented and won by faculty and residents.
Faculty member Dr. Mathieu Spriet presented a keynote address at the meeting with a lecture on "Musculoskeletal PET in Horses & Dogs," and also won a Diplomate Abstract Award for "Comparison of 18F-NaF PET and Standing Low Field MRI of the Racehorse Fetlock: Prospective Study in 25 Racehorses." His research in PET over the past decade has enabled the use of the technology in many veterinary settings, including at some of the most prominent racetracks in the country.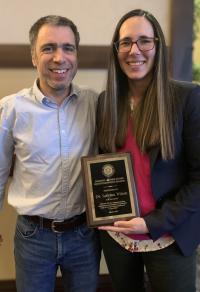 Radiology resident Dr. Nicole Yang won a Resident Abstract Award for "Dual Tracer 18F-NaF / 18F-FDG PET Protocol for Musculoskeletal Imaging in Dogs." Former resident (completed in 2021) Dr. Sabrina Wilson won a Resident Author Award for her manuscript "18F-FDG PET for Assessment of Deep Digital Flexor Tendinopathy: An Exploratory Study in 8 Horses with Comparison to CT and MRI."
Additionally, UC Davis veterinary oncologist Dr. Katherine Hansen presented an abstract of her research on "Outcomes of Stereotactic Radiation for Canine Intracranial Suspected Choroid Plexus Tumors and Ependymomas."
The radiology residency at the UC Davis veterinary hospital is the largest of its kind in the United States. Currently, ten residents are enrolled in the 4-year program which will enable the veterinarians to complete the required specialty training and board certification examinations to become diplomates of the ACVR.
 
Congratulations to all.
#   #   #
Primary Category
Tags