Study Shows Complexity and Treatability of Eye Disease in Kittens
Gratitude, a 7-month-old kitten, was brought to the UC Davis veterinary hospital from the Fieldhaven Feline Center with symblepharon in her left eye. This blinding condition occurs when the conjunctiva—the pink tissue surrounding the eye—fuses with other nearby surface structures of the eye or eyelid soon after birth, likely secondary to a feline herpesvirus infection on the ocular surface. While the disease is seen commonly in feline practices, its clinical significance can vary widely, and outcomes are poorly documented in academic veterinary literature. Over the past 20 years, research on the condition has been described in only five published papers, covering just 20 kittens.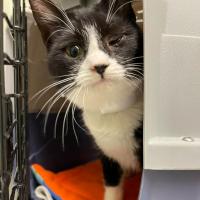 To help better describe the disease and its potential treatments, UC Davis veterinary scientists recently reported on 54 eyes in 40 kittens seen with symblepharon at UC Davis. This study, published in the Journal of Feline Medicine and Surgery, doubles the number of kittens ever described with this condition, and represents a large retrospective study of kittens with this condition all seen at a single institution over 20 years.   
The paper gives a better evaluation of the signalment, medical and surgical treatment options, and outcome for kittens with the disease. One of the biggest takeaways of the study was that symblepharon in kittens does not represent one specific diagnosis, but rather a diverse group of conditions with varying clinical appearances and prognosis for vision and comfort.
"There is a misconception that this disease is not treatable or that it has a high rate of recurrence," said Dr. David Maggs, a professor of ophthalmology at UC Davis. "We were able to separate out that smaller percentage of cases that do recur from those that respond much better to therapy, and to determine that this is not one homogenous disease. Many of these cases were previously being referred for enucleation (removal of eye), but we discovered that almost all these kittens have visual, comfortable eyes that can be saved."
The researchers were able to classify symblepharon into five types and identified some forms of the disease that were more readily amenable to surgical treatment than others. Additionally, they determined that the surgery needed was relatively simple in some cases. The study also introduced a new surgical technique for managing this disease.
"By carefully identifying which type of symblepharon a kitten may have, the surgery to correct two of the types could be performed by a general practitioner," said Dr. Karen Vernau, a clinical professor of neurology/neurosurgery who works with many shelters and rescue groups through the Access To Care Program at UC Davis. "This could allow shelter veterinarians to correct the condition at the time of neutering. In fact, many of the surgeries documented in this study were performed by our Community Surgery Service."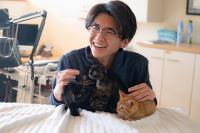 Taking lead on the research paper was UC Davis undergraduate student Hikaru (Ray) Shiraishi, who became acquainted with the Ophthalmology Service through his work with the Vet Aide Club, a student organization that allows undergraduates to gain practical, hands-on experience in a variety of animal care fields. After excelling as a Vet Aide volunteer, Shiraishi was offered a student position as an animal technician with the Ophthalmology Service. Knowing of Shiraishi's desire to become more involved in the veterinary field—and his ultimate goal of attending veterinary school—the ophthalmology faculty suggested this research project.
Looking to improve his chances of being accepted into veterinary school, Shiraishi leapt at the chance to take the lead on the project. He performed all the data mining from UC Davis' extensive electronic medical records, and with Drs. Vernau's and Maggs' guidance, he was able to perform all the data analysis, prepare the figures, and draft the paper. Shiraishi enjoyed the project so much, that he has developed a strong interest in veterinary ophthalmology and is currently taking on another research project related to kitten eyes.
The UC Davis School of Veterinary Medicine has an extensive history of working with shelter animals and is expanding that through its Access To Care Program. Many times, shelter animals' treatments are basic—such as immunizations and spays/neuters—giving them a good start to a healthy life. But Gratitude's needs were extensive, requiring the collaborative nature of specialty care at UC Davis.  
Beyond her successful eye treatment, Gratitude also had a diaphragmatic hernia corrected by the Soft Tissue Surgery Service and recovered in the Intensive Care Unit, where she was cared for by the hospital's Emergency and Critical Care Service. After making a full recovery, Gratitude was adopted by one of the UC Davis staff members who cared for her during her hospitalization.
#   #   #
Funding for this research and some aspects of Gratitude's care was provided by the school's Center for Companion Animal Health, as well as private donations. Please consider supporting these initiatives to continue UC Davis' legacy of groundbreaking research and the advancement of animal health.
Primary Category
Secondary Categories
Tags