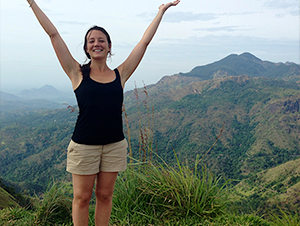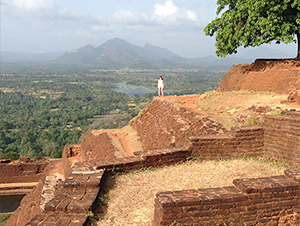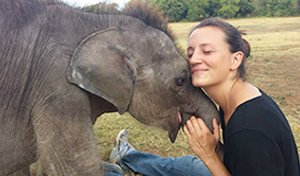 Before this summer, I wouldn't have been able to point out Sri Lanka on a map. It is a small island country off the southern coast of India, easy to miss if you're skimming an atlas. I had no idea how much ancient culture, national pride, natural beauty, and overwhelming generosity it had to offer.
I traveled to Sri Lanka to do research on canine behavior. I performed behavioral assessments on dogs that were to participate in Pet-Facilitated Therapy programs in Sri Lankan prisons. This was a project proposed by Dr. Eranda Rajapaksha of the University of Peradeniya veterinary school. Dr. Rajapaksha had completed his Ph.D. and his behavior residency at UC Davis, which was how I originally connected with him. We performed the Match-Up II temperament evaluation, developed by Dr. Amy Marder at the Animal Rescue League in Boston, on dogs throughout the country. Not only did we work with dogs at the university and at private clinics, but we also worked with police dogs, army dogs, and even some strays.
My project was successful and I was pleased with the results. However, it was everything I did outside my research that was the highlight of the trip! When in Peradeniya, I worked with 2 vet students who were tracking toque monkeys around the school. The monkeys move around campus and destroy everything in their path, so the students were going to install ultrasonic repellant machines to encourage them to live elsewhere.
I also got to spend a lot of time with elephants. Dr. Rajapaksha set us up with a couple of wildlife veterinarians who were working at elephant refuges. At the Pinnewala elephant orphanage I helped shepherd a group down to the river to wash. At the Uda Walawe transit home, I fed, bathed, and walked 3-month-old brother and sister elephants named Cavindi and Anuradha.
Aside from amazing wildlife, Sri Lanka has an incredible amount natural beauty, with the most national parks per area of any country in the world. I went on safaris in Uda Walawe and Yala National Parks and saw wild elephants, crocodiles, boars, and peacocks. The warm, humid climate allows for tropical fruit to grow like weeds all over the cities. I could reach up and pick a ripe mango right off the tree. Even the monkeys would pick avocados and toss them at people walking by. I got to taste fruits I had never even heard of before.
If you are a history buff, you will not find any place richer in ancient culture than Sri Lanka (previously Ceylon). Having in the past been colonized by Portugal, The Netherlands, and England, it has a unique blend of identities that it has maintained to this day. You have to look no further than Kandy, where you see a vast Gothic cathedral next to a wooden Buddhist temple. Galle Fort, located on the southern shore, is a single structure built by all 3 of these European nations. Our tour guide in Galle said her family alone consisted of 70 nationalities.
I have been lucky enough to travel many places, and there is no place more interesting and unique than Sri Lanka. Perhaps the best part of the trip were the kind and welcoming people, whose generous spirits have convinced me that a second trip will certainly be in my future.
Tags