Jennifer Giron - Nicaragua
As I stepped out of the cool Augusto C. Sandino airport, I was greeted by the hot and damp air of Managua, Nicaragua. From there I embarked on some amazing projects that allowed me to grow both as a veterinary student and as a human being in general.
My trip to Nicaragua this past summer 2016 was one of the most amazing experiences of my life. Although I did not travel terribly far from home, my experiences of traveling through hot and humid hills, rainy jungle, and the warm Caribbean coast working on projects made it feel all the contrary. I worked on my personal project in Pearl Lagoon, but I was also fortunate enough to be able to join other student projects in Nicaragua and help them develop as well.
My first stop was for a project with the Students for One Health (SOH) in Sabana Grande where we collaborated with the community in various ways. During this time, I assisted in conducting various poultry health surveys and parasite surveys in Spanish, analyzing fecal samples and teaching the community members how to run their own samples, deworming a cow, and teaching young children during workshops about general disease transmission. Because I speak Spanish, I was able to jump right in and assist with this project and I am extremely glad that I did. The most rewarding part was interacting with the community members and learning from them, as well as hopefully teaching them things that could be of use to them.
After parting ways with the SOH, I met up with a different team of researchers who were conducting a study on a zoonotic equine fungus near Rama. For days we trekked through the hot and humid jungle to get to the homes of horse owners in the community. Here I assisted the team with collecting nasal biopsies from horses in the community, microchipping horses for identification purposes, and other things. On this leg of my trip, I was fortunate enough to work with a Ph.D student, several Nicaraguan vets, and a fellow vet student—and I learned so much from these amazing people! I learned how to safely handle horses in muddy, open fields, I gained wonderful insight about the fungus that they were studying, and overall I had the chance to make some great contacts.
The final leg of my trip was in Pearl Lagoon off of the Caribbean coast. This is where I conducted my pilot poultry project, a project that I was very excited about. After doing some research, I designed a series of questions that would allow me to survey the community and find out what kind of problems, if any, they face regarding their poultry's health. Once I had this survey ready, I headed out into the community with a notebook and pen in one hand and a big hopeful heart in the other. I walked through lightning storms, heavy rain, and tall, thick, muddy grass to interview various poultry owners in Pearl Lagoon, as well as in the surrounding communities of Haulover and Rocky Point. The community was very friendly and cooperative, and I was able to collect valuable information regarding their poultry health. I also took photographic records of the medications and supplements they use for their poultry, if any, as well as of some of the clinical signs that some chickens were displaying. I greatly enjoyed interacting with the members of this community. Overall I believe that this pilot project provided useful information that warrants a return to Pearl Lagoon to provide educational workshops about poultry diseases, and the links between animal and human health. This provides me with the opportunity to continue to grow this project, which is a very exciting prospect that I look forward to carrying onward.
The weeks that I spent in Nicaragua this summer were unforgettable. I learned so much about poultry medicine, equine issues, etcetera, but by far my favorite part was collaborating with the residents of each community I worked in. I experienced a new culture and connected with people on a level that I had not experienced before. I left Nicaragua reluctantly, but with the satisfaction of knowing that I was leaving with gained knowledge and with amazing new friends.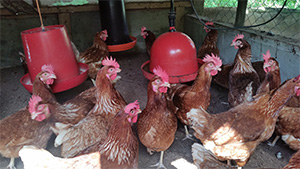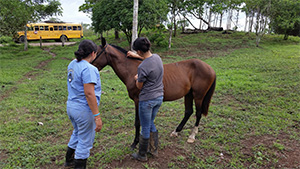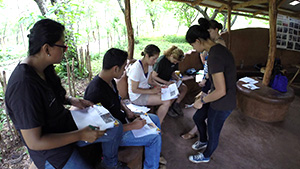 Tags