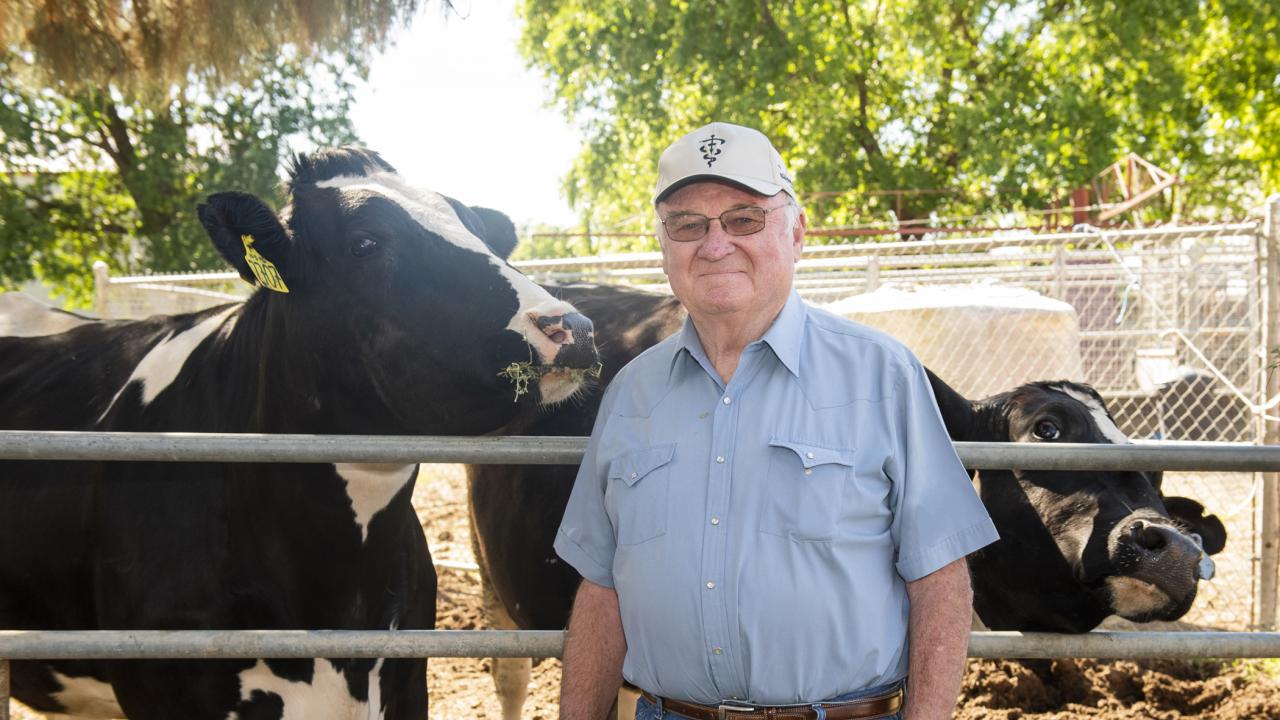 Dr. John Zimmerman, DVM '62 can't thank the UC Davis School of Veterinary Medicine enough for giving him the training to pursue a fulfilling career. After graduation, he worked in dairy production and equine medicine for two years in Los Angeles before establishing the Sonoma Marin Veterinary Service in Petaluma, California, where he has been practicing for 57 years.
"Veterinary medicine has been a great fit for me," he said. "I like cattle and ended up coming back to my home town. It's given me a wonderful life."
Zimmerman grew up on a small dairy farm and has fond memories of helping his family work the farm, learning a strong work ethic and caring for cows. As a kid, he joined the Petaluma Future Farmers of America and judged animals while an undergrad at UC Davis. He knew back then that he wanted to work with cattle and attend veterinary school here.
Looking back, Zimmerman feels that his career has taken him beyond his expectations when he was a veterinary student. In addition to his practice, Zimmerman served on the California Veterinary Medical Association Agriculture Committee for 25 years and on the California Department of Food and Agriculture Cattle Disease Task Force for 12 years.
Looking forward, Zimmerman feels it's important to invest in future veterinarians as they impact the quality of care he and his team provide to equine and livestock in Sonoma and Marin counties. When it comes to hiring veterinarians, he looks first to UC Davis graduates who have proven to be well trained and top-notch.
Zimmerman has been a loyal supporter of the school since the 1980s and most recently pledged a gift to support the Livestock and Field Services Center, a major component envisioned as part of the UC Davis Veterinary Medical Center. In recognition, a philanthropic opportunity honors his remarkable career through the John E. Zimmerman, DVM, Sonoma Marin Veterinary Service open workstation—where faculty, residents, staff and students will work together while providing excellent care.
"I'm proud to be a graduate of the UC Davis School of Veterinary Medicine and grateful for the tremendous impact it has had on my career and life," Zimmerman added. "When it's time to give back, you give back to those who mattered most."  
If you would like to recognize someone special through a naming opportunity at the UC Davis Veterinary Medical Center, please contact us at 530-752-7024 or visit vetmed.ucdavis.edu/giving/vmc for more information.
Tags