June Barerra - Central and East Africa
This summer I had the amazing opportunity to travel to Uganda to not only conduct field research with One Health Central and East Africa (OHCEA), but also extern at the country's only wildlife rehabilitation and zoological facility, Uganda Wildlife Education Centre (UWEC). Given my major interest in global health issues arising from the human-domestic animal-wildlife interface, I established the former externship through Silent Heroes Foundation, a non-profit organization that offers One Health and wildlife veterinary opportunities throughout Africa, and the latter by networking with colleagues of UC Davis' veterinary faculty who specialize in wildlife conservation.
Through my One Health externship, I assisted Dr. Innocent Rwego and OHCEA with a long-term study assessing health issues in livestock communities that live close to wildlife at Queen Elizabeth National Park (QENP) in western Uganda. The primary focus of the study during my stay was to evaluate tick burden in goats in and around QENP. The externship began within several days of arriving in Entebbe, where the project manager and I sat sardined in a 15-passenger taxi van heading to Kampala in order to meet some of the team members—veterinary and business students from Makerere University—and discuss project logistics before heading to the field. Once we set foot for western Uganda, we spent six hours in the car passing numerous fields of papyrus plants and lush banana and tea plantations in the distance. Halfway through our commute, we had an interesting change in scenery when a nursing baboon abruptly jumped onto our slow moving SUV demanding food! We were later greeted by heavy rain drops hitting our windshield and flashes of lightning illuminating the dark, gray sky. This was unusual since Uganda typically exhibits dry season in June and July. Although the wet conditions prolonged our journey, we safely arrived in Kasese (a small town near QENP) by nightfall. The next day, I met the rest of the OHCEA team—a local veterinarian and research assistants—then spent 8 to 9 hours with the team reviewing and refining questionnaires for the study. Sitting in an office for a third of the day was a bit tedious, but the session taught me the importance of designing effective surveys and showed me how to properly develop them.
For the next week and a half, our team woke up at 5 AM each day to prepare for the long, pothole-ridden drive to reach the communities. Spending half the day with each community, our multi-lingual researchers surveyed the goat owners, while I worked with the veterinarian and students to collect tick specimen and blood samples from the goats and perform health checks. With so many diverse individuals on the team, I worked diligently to be a constructive, collaborative member, fostering excellent team rapport. Given the inter–cultural and –disciplinary partnerships inherent in global health work, ensuring a good working relationship was one of my top priorities. Furthermore, our team was so efficient in collecting data that we finished two weeks ahead of schedule!
Based on my past experiences conducting research abroad, I learned to adapt to last minute changes like completing field work early by having a "Plan B." Prior to my departure to Uganda, I connected with Dr. Abdulhameed Kateregga from UWEC to extern at the zoo if my schedule permitted. UWEC was more than happy to accommodate me and provided unique hands-on clinical experience with wildlife species that I never imagined working with as a second year veterinary student. From assisting with hoofstock husbandry to performing fecal analyses to developing a carnivore diet regimen to conducting necropsies, I gained so much more knowledge and skills than I hoped for! Additionally, the frequent discussion about animal health and public safety in our daily staff meetings has taught me to really appreciate and critically think about the challenges the various departments (security, veterinary, human resources, maintenance, animal keeping, and educational) must overcome when working with each other or visitors to promote both human and animal health and safety.
I am extremely grateful that my summer abroad not only helped me build my research and clinical skills, but also lasting friendships and cultural awareness. Traveling to a new place alone, like Uganda, was a bit scary, but staying flexible and positive in the face of difficulties and unfamiliarity definitely made my first solo travel experience much more enjoyable. This summer's externships have reinforced my desire to pursue a career in global health, and I can't wait to address One Health-related issues as veterinarian!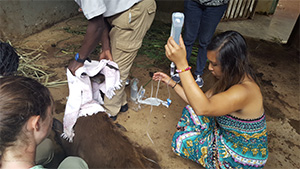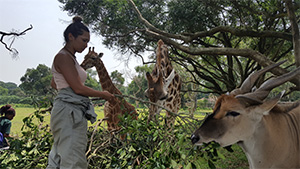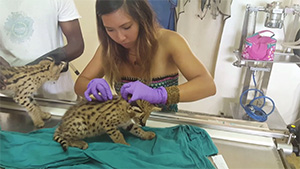 Tags