Champion Show and Breeding Goat Saved from Cancer
"Case of the Month" – November 2021
Social Issues, a 7-year-old Saanen doe goat, has a rich history as a champion show goat and a valuable member of owner Scott Bice's small genetic show herd, Vineyard View Dairy Goats. She has won "Best Udder in Show" at the California State Fair several times and is also a national champion. Her milk has been used for products of Bice's sister's company, Redwood Hill Farms, makers of goat yogurt and kefir. But when Social Issues was recently diagnosed with squamous cell carcinoma (skin cancer) on her udder, her future was in jeopardy.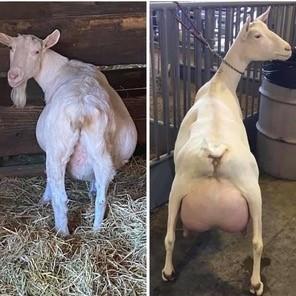 Bice brought Social Issues to the Livestock Medicine and Surgery Service at the UC Davis veterinary hospital's Large Animal Clinic to discuss options—hoping to save her—as she is a valuable production animal for his breeding operation. Dr. Meera Heller recommended a radical mastectomy, removing the udder entirely.
Since this would not affect Social Issues' ability to continue breeding, and Vineyard View already hand raises their kids, Bice agreed to the procedure. They also discussed flushing eggs for future embryo transfer into recipient does.
"She has produced many valuable offspring over the years," said Bice. "So, we wanted to ensure we could continue that line."
Dr. Heller and resident Dr. Cileah Kretsch performed a successful radical mastectomy on Social Issues, removing both mammary glands. She recovered well from surgery and was comfortable enough to be discharged the next day. Due to the extensive amount of tissue which had to be removed, she did run into some common complications during the healing process which were successfully handled by a return visit to UC Davis and impeccable wound care at home.
While it is difficult to determine a long-term prognosis for Social Issues, a transfer of 10 embryos from her to a recipient herd was successful. Of the ten embryos transferred, it appears that 8 have developed and should result in healthy births. Bice received more good news when he recently learned that Social Issues was able to successfully breed on her own again, currently pregnant with a developing litter.
"There was apprehension at first about doing the procedure," Bice said. "She had a very large, capacious udder so we were worried about her losing that. But UC Davis did a great job, and we're very pleased with the result."
#   #   #
UC Davis will expand its livestock services in the coming years with the addition of the Livestock and Field Service Center as part of the future Veterinary Medical Center. The new center will bring upgrades and modifications to livestock facilities and equipment, as well as provide improved student and clinician safety and continue to provide patients with outstanding veterinary care.
Primary Category
Tags