Team of Specialists Save Mare and Foal in Difficult Birth
"Case of the Month" – February 2021
When Bella, a 7-year-old Thoroughbred maiden mare, went into labor last month, her owners Tom and Nicole Bachman were excited and sprang into action. But they soon realized something was terribly wrong. So, the long-time UC Davis clients, who have brought dozens of horses to the school's Large Animal Clinic over the past four decades, knew exactly where they needed to go – and quickly!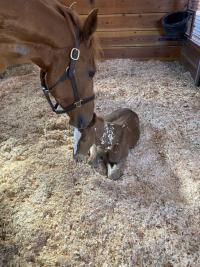 "Bella was in labor for 10 minutes when we realized we didn't have a normal presentation for foaling," said Nicole, a licensed veterinary technician. "We only had a nose and one front foot, not two."
Her veterinary training coupled with Tom's 40 years of breeding Thoroughbreds gave them the experience to know they needed to get to the hospital as soon as possible.
"She was in the trailer and sedated within minutes of us realizing that we had a foal that was malpositioned," Nicole said. "We had a similar case 3 years ago, and luckily that mare and colt survived because they were both strong and healthy, just like Bella and her foal. I think because we were so fast to realize that Bella needed help—and because we can get to Davis within an hour—that played a big factor in being able to save both of them."
Upon arrival at UC Davis, the veterinary hospital's emergency team was just as quick to spring into action. Bella was met by faculty, residents, technicians, and students of five services (Equine Reproduction Service; Equine Surgical Emergency and Critical Care Service; Equine Internal Medicine Service; Equine Medical Emergency, Critical Care and Neonatology Service; and Anesthesia/Critical Patient Care Service) to ensure everything possible was done to safely deliver a healthy foal.
"The team at Davis was incredible," said Nicole. "They knew we were coming, so when we pulled in there were at least 15 people waiting to help us. They were getting oxygen to the (partially delivered) foal as we were walking Bella off the trailer – it was that responsive!"
The team first attempted an assisted vaginal delivery of the foal with Bella standing, however it was clear the foal was unable to be removed. Next, they tried a controlled vaginal delivery, providing general anesthesia and elevating Bella's pelvis with a hoist. After 10 minutes, the team recognized that additional obstetric manipulations could cause damage to the mare and/or the foal, so it was decided that Cesarean section was the best option for a successful outcome. Bella was immediately moved to an operating room, and a C-section was performed.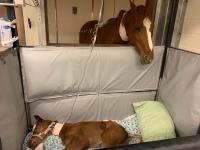 Bella's colt was delivered alive and moved with her to the Neonatal Intensive Care Unit (NICU). They remained in the NICU for four days until both were healthy enough to return home.
For nearly 25 years, Tom ran Pegasus Ranch, a commercial Thoroughbred breeding facility that stood five stallions with 150-200 mares. They routinely produced 40-50 foals every year. Now, the Bachmans enjoy a slower pace, operating Fairview Farm for the past 15 years. At Fairview, they own 15 mares and produce about 10 foals per year – all of which go to a yearling auction.
"It's a great passion and love for us," Nicole said.
The Bachmans co-own Bella with Linda Brown, who purchased a half stake in her when she was a small filly. Brown and the Bachmans enjoyed racing Bella in her earlier life. She won several races over her three-year career, including one at Golden Gate Fields. In total, Bella won more than $240,000.
"She's a wonderful mare," said Nicole. "And we're extremely excited about her colt. He gets after it already."
She explained that the colt weighed 115 pounds at birth and is progressing well.
"He's big and strong," she said. "He looks like a 2-month-old already even though he's not even 1-month-old."
"We can't thank UC Davis enough," Nicole concluded. "They do such an amazing job, and we're lucky to have them so close."
#   #   #
Bella's case provides a tremendous example of the benefits of seeking care at a large teaching hospital, where multiple specialties exist under the same roof and can collaborate on critical cases like hers. This interdisciplinary care will be a hallmark of the future Veterinary Medical Center (VMC) at UC Davis, providing a rich learning environment for veterinary students and the nation's largest veterinary residency program. One of the 10 major projects to be constructed in the VMC will be the Equine Surgery and Critical Care Center, which will advance the school's ability to handle challenging cases like Bella's.
Primary Category
Tags