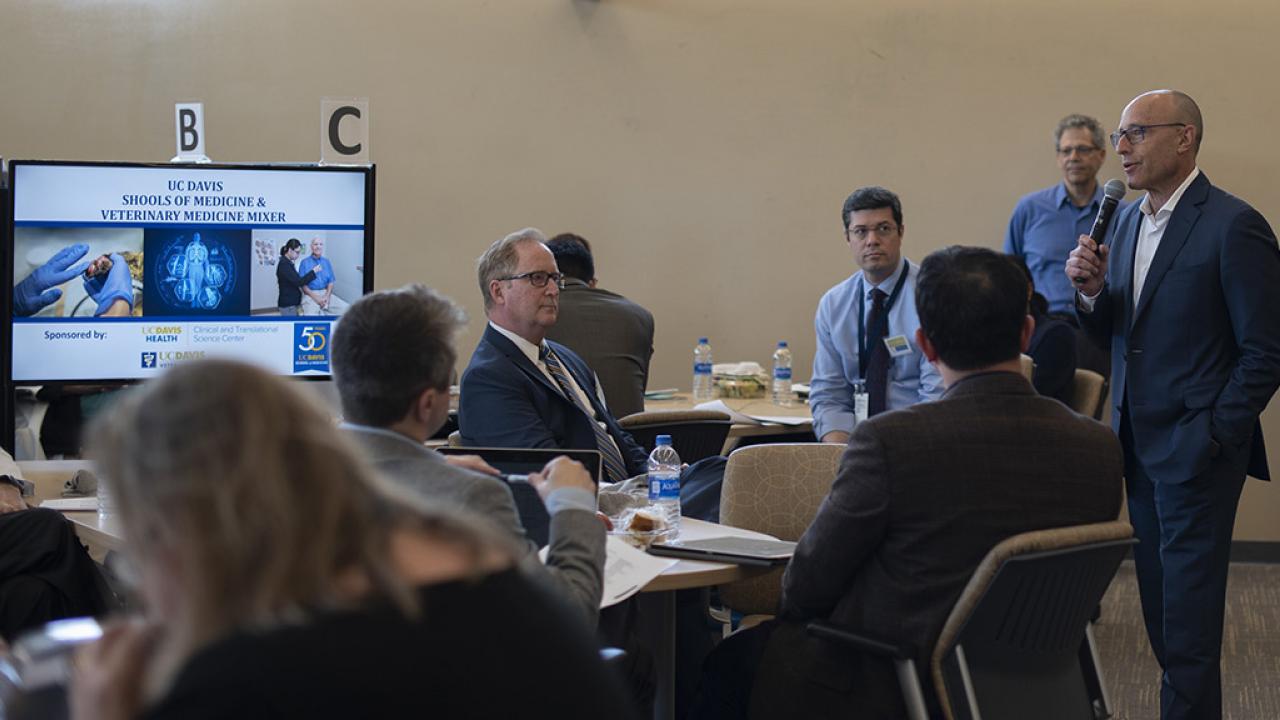 Researchers from the Schools of Veterinary Medicine and Medicine, and the Clinical Translational Science Center (CTSC), gathered last week in a half-day mixer to foster new collaborations. Three areas of focus included: anesthesia/pain, cardiovascular and orthopedic sciences. 
While the two schools have a rich history of interaction in comparative oncology and ophthalmology, SVM Associate Dean Isaac Pessah pointed out these are other areas that could benefit from more integration between the schools. Approximately 35 individuals attended and formed new teams to develop and pursue collaborative research and translational projects in those fields. They were encouraged to submit proposals for interdisciplinary pilot projects sponsored jointly by the CTSC and the SVM. Pilot awards will be announced in approximately eight weeks. 
UC Davis Health Vice Chancellor David Lubarsky, Associate Dean Ted Wun and SVM Associate Dean Isaac Pessah offered opening remarks and introductions. The groups then moved into speed networking sessions comprised of SOM and SVM faculty to discuss, brainstorm and develop one or more priority concepts that would benefit from collaborative projects that cross the human-animal boundary. These were presented to the wider group to encourage cross-cutting approaches that span traditional clinical boundaries. SVM Dean Michael Lairmore offered closing remarks.
"It was rewarding to see that the mixer promoted discussions that normally don't occur; that was our intent for the day," Pessah said. "There was also cross talk among the three areas we identified, so those researchers that were dealing with pain clearly had responses and interaction at the final session with cardiovascular and orthopedic groups. Faculty members identified major challenges in biomedical research and proposed innovative approaches to leverage new collaborations."
Category
Tags