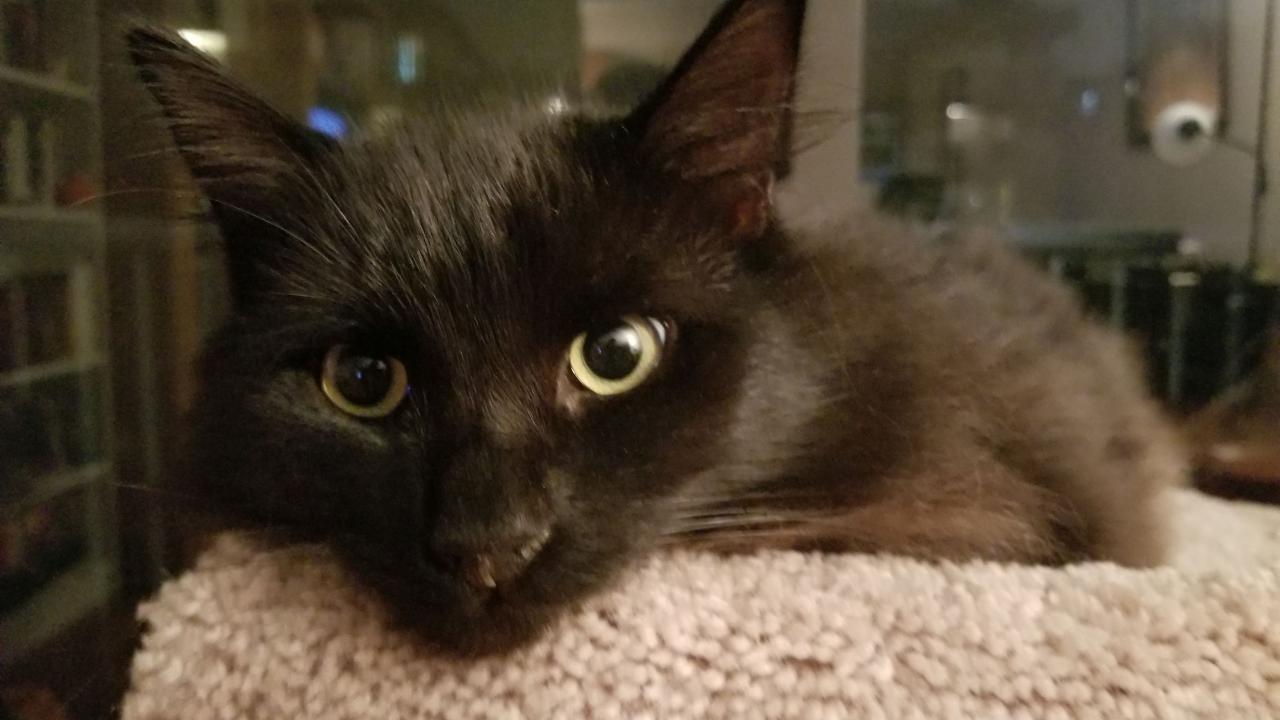 "Case of the Month" – July 2019
Rhyme, a 2-year-old male ragdoll mix cat, was being medically managed for a liver shunt for the past six months. That followed nearly two years of trying to discover the root of his illness, which seemed to have plagued him for as long as could be remembered. When a specialist in Rhyme's hometown of Vancouver, British Columbia finally diagnosed the shunt, he recommended Dr. Bill Culp at the UC Davis veterinary hospital, who has been performing a minimally invasive procedure to correct shunts in dogs for many years. Luckily for Rhyme, Dr. Culp has also recently utilized this technique in cats when presented with a similar scenario.
A shunt—or more formally referred to as an intrahepatic portosystemic shunt (IHPSS)—is a birth defect of the blood vessels that should bring blood to the liver for purification. When an IHPSS exists, the liver does not receive the proper amount of blood, as the liver is being bypassed by the abnormal blood vessel or vessels. A CT scan at Rhyme's specialist in Vancouver provided the diagnosis of a shunt, as well as a smaller than normal liver.
After weighing all their options, owners Dillon and Lindsay Bochon decided to make the 900 mile journey to California to have Rhyme's shunt treated.
"We knew that we weren't going to medically manage Rhyme's disease forever," said Dillon. "We understand that just medications alone results in a shorter lifespan, plus it wasn't offering a complete solution to all of Rhyme's problems. Knowing that no one in BC could perform the surgery, we decided to go see Dr. Culp."
An additional CT scan at UC Davis helped Dr. Culp and his team develop the best approach for treatment. The goal of any treatment with liver shunts is to close the shunting vessel over time, thus redirecting blood flow through the liver, allowing adequate nutrition to reach the liver, as well as for toxins to be removed from the systemic circulation.
Historically, the treatment options for IHPSS included medical management or an open surgery. The outcomes with these treatments were variable, and many animals had poor responses. Dr. Culp has recently published a landmark manuscript prospectively describing the outcomes associated with a new Interventional Radiology (IR) technique, called percutaneous transvenous coil embolization (PTCE). Performed in a minimally invasive fashion, PTCE was shown to be successful in the treatment of IHPSS in dogs. While this disease is much less common in cats, Dr. Culp has utilized this technique in several cats successfully. Treatment of the first four cats was recently described by Dr. Culp and several other UC Davis clinicians with future publication set in the Journal of the American Veterinary Medical Association.
UC Davis remains one of the few clinics offering this state-of-the-art therapy and is a worldwide leader in IR. Using minimally invasive IR techniques to perform Rhyme's procedure, Dr. Culp was able to utilize live x-ray to guide highly specialized equipment through Rhyme's vasculature to the shunt and perform the needed blockage. A metallic stent was placed in Rhyme's vena cava in the region of the shunt. Two coils were placed into the shunting vessel to cause a reduction of blood flow through the shunt. This procedure avoided having to open Rhyme's abdomen and made his recovery much quicker with less discomfort.
"This is a more unique and challenging issue in cats than it is in dogs," said Dr. Culp. "But the use of PTCE as a treatment modality appears to hold promise in feline patients, similar to what we see in dogs."
Rhyme was able to go home just a few days after surgery, and his primary veterinarian in Vancouver will work remotely with Dr. Culp to monitor his recovery. The Bochons report that Rhyme is happier and healthier than ever.
"UC Davis was the best veterinary service we've ever encountered," Dillon said. "They were very communicative every step along the way, telling us everything we needed to know. We couldn't be happier with the service."
#   #   #
A few years ago, the UC Davis veterinary hospital added an Interventional Radiology surgical suite. Utilizing that dedicated space, Dr. Culp and other soft tissue surgeons have been able to pioneer new procedures like the one used to save Rhyme from a lifetime of medications. Advancements like this will be possible throughout the hospital's 34 specialty services with the forthcoming Veterinary Medical Center. Please consider helping us to fulfill this vision to create the foremost veterinary hospital in the world.
Category
Tags