Exotics Care at UC Davis Spans Many Species
--Portions of this article first appeared in Pulse magazine--
It's not uncommon to see students walking a turtle around the grounds of the School of Veterinary Medicine at UC Davis, or to hear about surgery on a koi fish or another exotic pet species. The Companion Exotic Animal Medicine and Surgery Service at the veterinary hospital provides wellness care, specialized diagnostic testing, medical treatments, surgical options, and emergency care for exotic companion animals. Animals commonly seen by the service include birds, turtles, hamsters, guinea pigs, rabbits, snakes, lizards, fish, and many other exotic species of pets.
The service also includes the Richard M. Schubot Parrot Wellness and Welfare Program, which is dedicated to supporting resources, education, and clinical care of companion parrots, providing optimal quality of life and disease prevention and treatment. Maintaining UC Davis' tradition of excellence, this innovative program just for parrots encompasses preventative health, nutrition, behavior, environmental enrichment, pain prevention and management, and pediatric and geriatric care. The program also supports research focused on providing best practices for protecting the health and well-being of parrots kept by private owners, aviculturists, and zoological collections.
Another subset of the service is the Aquatic Animal Health Unit, which works with many local fish owners and distributors, including koi enthusiasts. The team has also pitched in during natural disasters to save fish. During recent California wildfires, the aquatics specialists assisted the UC Davis Veterinary Emergency Response Team in rescuing koi fish that were hastily abandoned in the direness of the moment escaping the fires. The fish were transported back to UC Davis in makeshift transport systems created on the spot in the fire zones using horse troughs and loose plywood. Once the koi were back on campus, they were examined and housed at the UC Davis Center for Aquatic Biology and Aquaculture until they could be returned to their owners.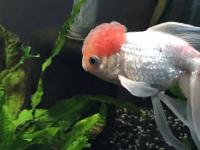 "It was so great the way our case was received," said fish enthusiast Leslie Michel about her experience with the exotics team. "The questions they asked were thorough and thoughtful. The entire process was so welcoming and comfortable."
Michel's 4-year-old oranda goldfish, Trumpy, was seen by the aquatics specialists to have surgery to trim an overgrown wen which was causing him to be lethargic at the bottom of the aquarium. Michel was having a difficult time finding a fish veterinarian near her home in the Bay Area and was relieved to find the help she needed at UC Davis. Trumpy recovered well from his surgery and is thriving once again. Michel enjoyed her visit to UC Davis so much that she made wellness appointments for Trumpy's five tankmates.
Annual wellness examinations are an important part of the health of all pets, and UC Davis employee Evan White is a strong proponent of them for his many exotic pets over the years. His 5-year-old African spiny-tailed lizard Gerald just completed his annual examination, which included a physical examination, complete blood count, chemistry panel, overall health assessment, and an in-depth discussion of his diet, living arrangements, and how to best monitor his well-being going forward.
 "You never feel like you're being rushed," said White of the examination process, including the importance of the student training aspect of appointments. "They're very patient and thorough. It's nice to have such a comprehensive resource so close. Many exotic pet owners have to drive quite a distance to get to a veterinarian who can see exotic animals."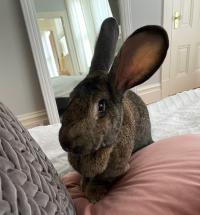 Recently, the exotics specialists also treated Lady Alaia McBiggs, an 8-year-old Flemish giant rabbit. Lady experienced a bulging right eye that was determined to be caused by an abscess growing behind it. With the abscess being in such a vulnerable location, the team consulted with ophthalmology and neurology specialists to determine the best plan of action to drain the abscess. It was decided to perform a zygomatic arch resection and marsupialization. This invasive surgery removed part of the bone structure that surrounds and protects the eye in order to approach the abscess and allow it to heal over time from the inside out. Lady recovered well from the surgery and is back to her old self.
As part of the Veterinary Medical Center expansion project at UC Davis, the Companion Exotic Animal Medicine and Surgery Service recently opened three new examination rooms adjacent to their service suite. These new rooms greatly enhance the service's capabilities for treating patients like Trumpy, Gerald, and Lady and provide dedicated examination space necessary for the best possible quality of exotics care. The new space was configured in ways to create positive workflow environments, allowing for various set-ups consistent with the differences in exotic patients.
To learn more about exotic pet care at UC Davis, please see their website and call 530-752-1393 to schedule an appointment.
#   #   #
Primary Category
Tags