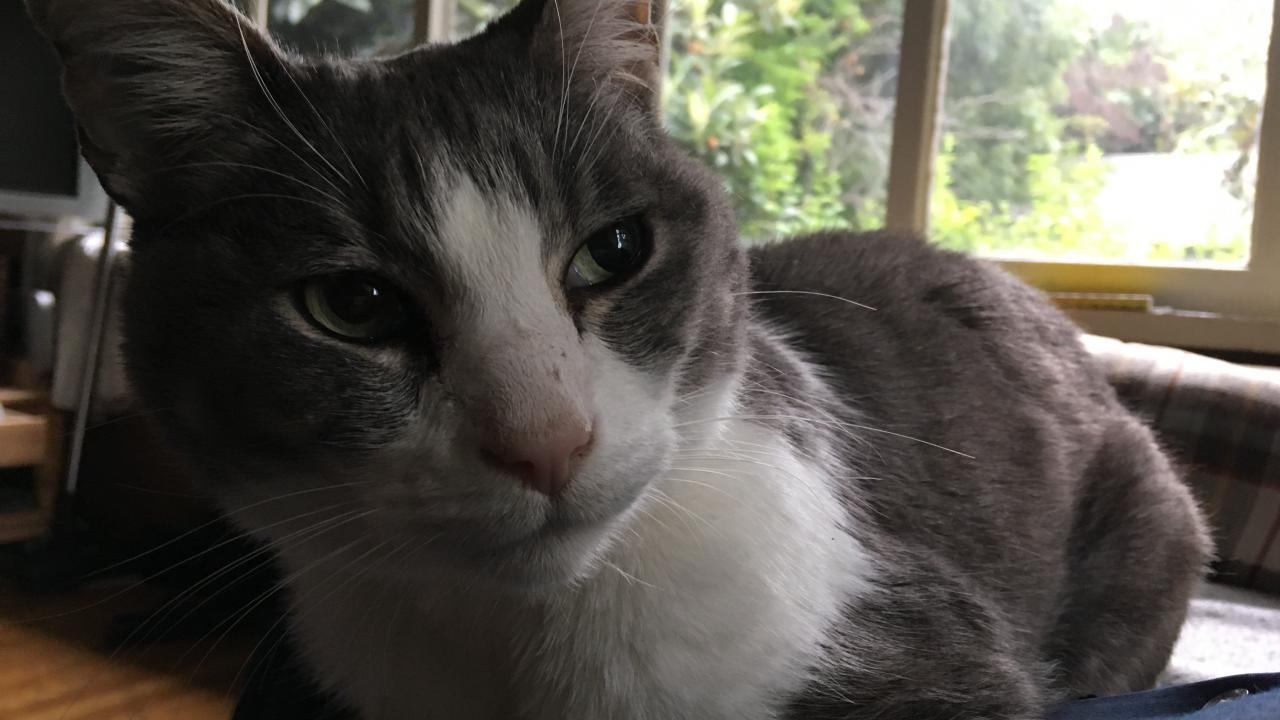 When Martin and Elisa Edwards of Berkeley, California visited an animal shelter ten years ago looking for a cat to adopt, one eager kitten took it upon himself to speed up the process and jumped on Elisa's lap to introduce himself. The Edwards had found their new cat, along with his sister, and adopted them both.
Tilden and Tess, now 10 years old, have enjoyed good lives with the Edwards. That is until about a year ago when Tilden started to get picky about his food.
"At first, we chalked it up to age, but as he started losing weight and becoming less active, we grew increasingly concerned," said Martin.
The Edwards' primary care veterinarian thought the problem might be intestinal. Tilden took courses of antibiotics and steroids to no effect, and when other tests came back inconclusive, the Edwards elected for an ultrasound, which detected a mass in his chest suspected to be a thymoma tumor.
"It was a very sad day, but we decided to research our options," Martin said. "That's when we discovered we had one of the best veterinary hospitals in the world an hour's drive away."
So, the Edwards brought Tilden to the Oncology Service at the UC Davis veterinary hospital for further evaluation of his condition. There, oncologists, surgeons, cardiologists, radiologists, and anesthesiologists worked together to develop the best plan to remove his tumor. Tilden's surgery was successful, and he was able to return home after only two days of hospitalization.
"Our experience with UC Davis has been absolutely brilliant," said Martin. "From our first phone conversation with the referral coordinator to the difficult surgery expertly performed by his care team, we have always felt that Tilden, and our family, was in the best possible hands. In addition to the obviously excellent care, we deeply appreciated the transparency of information, the daily phone updates while Tilden was hospitalized, and the affection shown towards Tilden by all the staff, even when he was feeling a bit 'moody.'"
The Edwards qualified for financial assistance at UC Davis through a generous grant from the Blue Buffalo Foundation's support of the Petco Foundation pet cancer treatment program at the UC Davis veterinary hospital. The grant helps support treatments for domestic companion animals suffering from cancer. The project is designed to support pet parents of modest means or pet parents whose pets provide a service to others.
"We always felt that our priority was to find the best possible care for Tilden, and then figure out how to pay for it," Martin continued. "So, it was a truly wondrous and tear-filled moment when we learned about the Petco grant. We are eternally grateful."
#   #   #
Category
Tags