Ophthalmologists Save Dog's Eye Following Accident
"Case of the Month" – March 2022
On Black Friday of Thanksgiving weekend, Emeline (Eme), a 1-year-old female border collie, and her owner Oliver Wolken went to the park to enjoy a game of fetch. When she slid on the ground to retrieve the ball, Wolken heard a yelp and noticed Eme immediately start to paw at her left eye. The eye soon became red, and Wolken thought there must be something in it. When Eme's pain would not stop, he called his girlfriend and Eme's co-owner Sujata Behera, a physician assistant in the Bay Area. She suggested to flush the eye and use a warm compress to help clean it out. When nothing seemed to work and Eme's eye became even more red, Wolken decided to take her to a 24-hour veterinary emergency room, since their primary veterinarian's office was closed for the holiday weekend.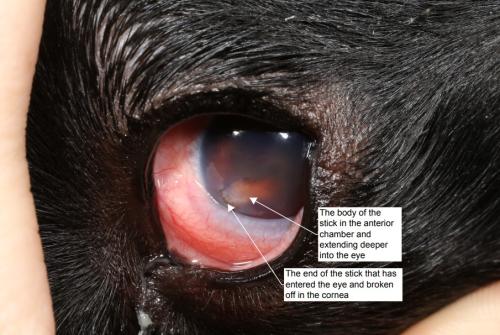 At the ER, veterinarians discovered a foreign body had penetrated her left eye, most likely a sliver of wood from a stick. They informed Wolken that Eme could lose her eye and made an emergency referral to the UC Davis veterinary hospital, where board-certified ophthalmologists and ophthalmology residents could assess and hopefully save the eye. Behera rushed from work to join them, and they made the 90-minute drive to Davis.
By 8 p.m., Eme was in the hands of the UC Davis Ophthalmology Service. Treatment options were then discussed with Behera and Wolken for addressing Eme's situation, including surgical removal of the foreign body and closure of the laceration, as well as medical management or removal of the eye. Unfortunately, medical management was unlikely to be effective in the case of large, organic foreign material within the eye, as it would continue to cause inflammation and likely infection, leading to painful, blinding conditions such as glaucoma. To give Eme the best chance of retaining her eye and vision, surgical removal of the stick was elected.
Working late into the busy holiday weekend, the ophthalmologists along with the Anesthesia Service efficiently prepared Eme for surgery, performing preoperative bloodwork and a physical examination to determine that she was a good candidate to undergo anesthesia.
"Eme went into surgery at about 11 p.m., and they advised us to go home," said Behera. "I left my phone on and was so thankful they called at 2 a.m. to tell us that the surgery went better than they could have ever hoped."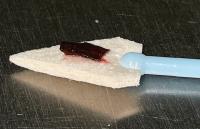 Ophthalmology faculty member Dr. Bianca Martins and resident Dr. Sara Adelman were able to successfully remove the entire piece of wood from Eme's eye. Absorbable sutures were used on her cornea at the surgical entry site and laceration site to close the wound. Eme recovered well from the surgery and was hospitalized for two days, receiving a host of supportive care including systemic and topical antibiotics, topical glaucoma medications, and a topical-anti-melting agent, as well as anti-inflammatory, anti-anxiety, and pain medications.
At the time of discharge, Eme was visual and comfortable in her left eye with normal intraocular pressure. However, with the potential of the eye still getting infected and potentially losing it, Eme required several medications every two hours for the following two weeks. To accomplish this vigorous schedule, Wolken and Behera temporarily moved in with his parents so they could all take turns administering the medications, around the clock.
At three recheck appointments at UC Davis throughout December, Eme's condition improved with each visit. And thankfully for her at-home care team, each visit resulted in a decrease in medication intervals, dropping from every two hours to every four hours, and finally to every eight hours. By her final recheck in February, Eme was fully recovered, and all medications were ceased.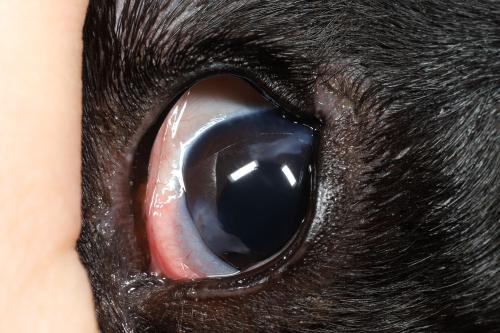 "She bounced back so quickly, you would never know that something so horrible happened to her," said Behera. "Even early on in the injury, she acted like nothing bad really happened."
While there is a small cataract in her left eye now, Eme's sight seems fully functional at this point, and her owners report that even her night vision seems unaffected.
"It was amazing to work with the UC Davis ophthalmologists," Behera acknowledged. "The fact that they got back to us in such a timely manner, each and every time, was so appreciated. Dr. Adelman answered all our questions with patience, and I appreciated her honesty throughout the process (since this was a potentially life-changing injury). You could tell she is very passionate about what she does, and for that we are incredibly thankful."
#   #   #
Primary Category
Tags