UC Davis Veterinarians Successfully Treat K9 Officer's Mysterious Illness
UC Davis Veterinarians Successfully Treat K9 Officer's Mysterious Illness
Aero, a 7-year-old German shepherd-Belgian Malinois mix, is back in action with the Anderson (CA) Police Department as a narcotics-detecting K9 officer. Four years ago, however, he was forced to prematurely retire after a mysterious illness caused his energy levels to plummet and his muscles to atrophy. His handler, Officer Mike Hallagran, did not think Aero would survive.   
After a training session in 2015, Aero's muscles were extremely rigid and pronounced, according to Hallagran. After the condition did not subside the next day, Hallagran took Aero to his primary veterinarian. A suspected autoimmune disease then brought them to a specialist. In order to stop his immune system from attacking healthy cells, Aero was placed on immunosuppressant medication. While on that medication, though, he developed an infection due to his immune system being low. Aero started to deteriorate quickly, so he was referred to the UC Davis veterinary hospital.

Internal medicine specialists at UC Davis performed blood work, a urinalysis, a urine culture, chest x-rays, an abdominal ultrasound, and ordered a neurology consultation. Aero's blood work showed persistently elevated white blood cells with a moderate anemia. His liver values were also elevated. On abdominal ultrasound, there were a number of different changes including an enlarged and abnormal appearing prostate with inflammation of the ureters that could be consistent with urinary tract and prostate infections. Additionally, there was a small amount of free abdominal fluid that could also indicate infection – this was also analyzed and cultured. The neurology consultation showed muscle weakness and back pain.
UC Davis veterinarians were concerned that Aero had a systemic infection that either could have been exacerbated by immunosuppressive medication or by acquiring a secondary infection. While still uncertain of the exact cause of Aero's illness, an immune-mediated disease was possible. Additional diagnostics were needed, including additional infectious disease testing. That further testing revealed specific bacteria in his system. Patients with weakened immune systems can be more susceptible to bacterial infections, which can often be resistant to many commonly prescribed antibiotics. With better knowledge of the origin of Aero's illness, UC Davis veterinarians were able to address the situation with the proper medication.
Throughout the process, Aero was taken out of commission on the police force, with his partner not knowing if he'd recover from his mysterious illness, let alone ever serve with him again. The following year was an emotional roller coaster ride for Hallagran.
"I went from preparing for Aero to die, to him gradually getting better," said Hallagran, describing the year. "(After Aero's decommission) I went to the narcotics taskforce for about eight months because I was without a K9 partner. But then he made his amazing turnaround, and I was able to go back to patrol with Aero."
Before Aero was able to return to active K9 duties, he had to be recertified in patrol, apprehension, tracking, building searches, and narcotics detection. He passed all with flying colors, and Hallagran and Aero have been back to patrolling the streets for three years.
K9 Officers Recently Treated at UC Davis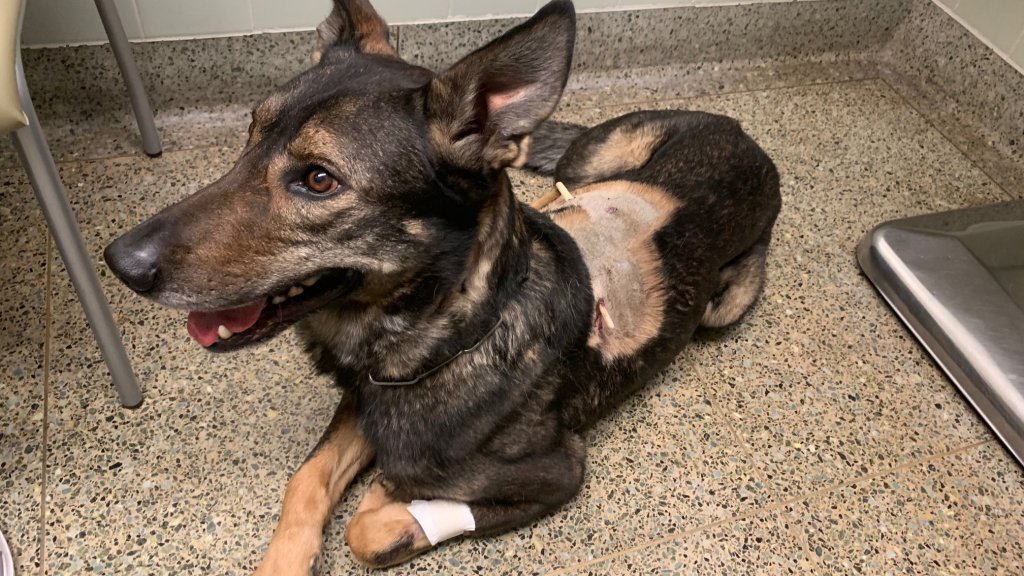 K9 Cort
K9 Cort, of the Fairfield (CA) Police Department, was airlifted to the UC Davis veterinary hospital after suffering from multiple stab wounds while apprehending a suspect. Thanks to the swift work of the UC Davis Emergency Room, K9 Cort made a full recovery and was later honored by the City of Vacaville.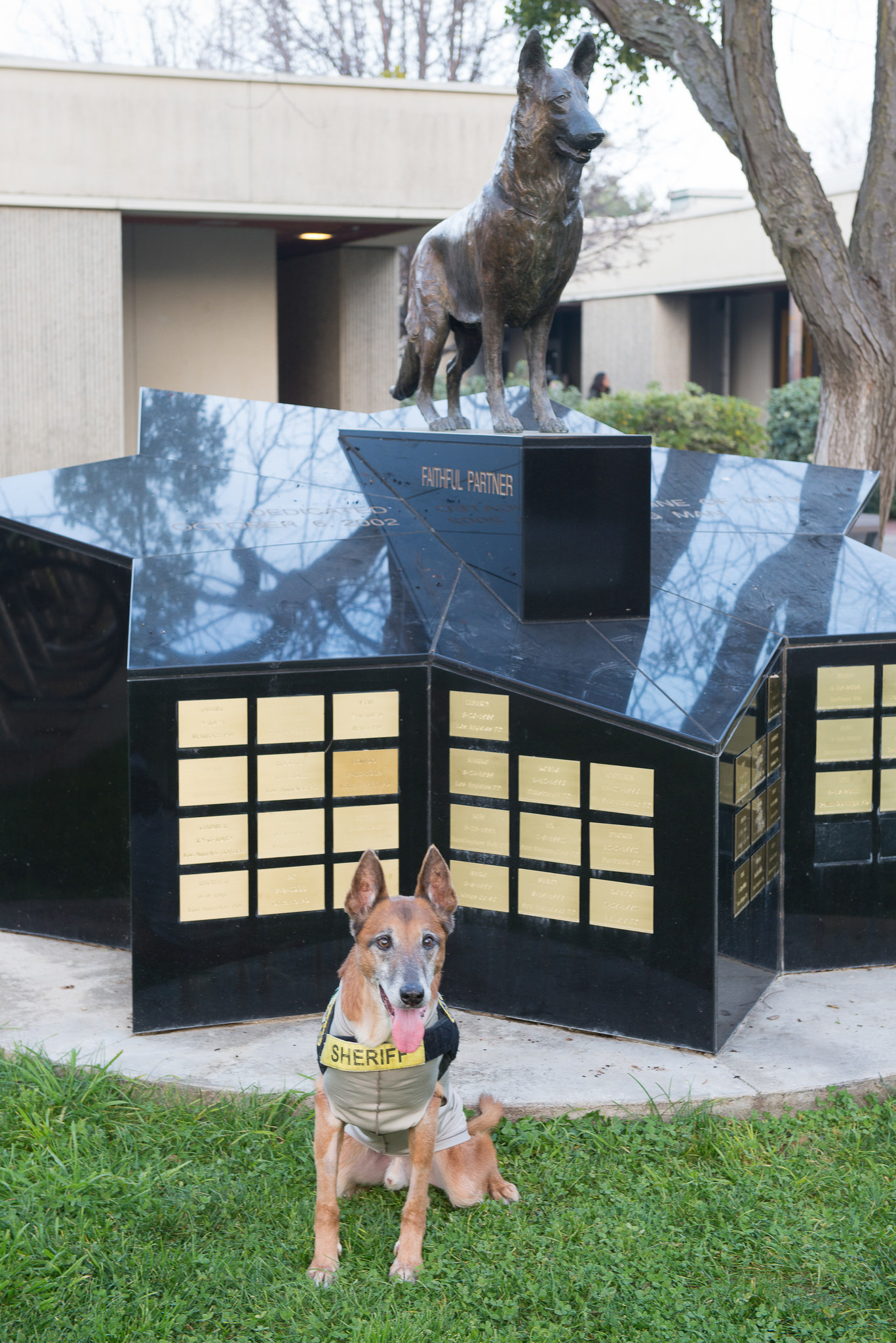 K9 Kopper
K9 Kopper, of the Blount County (TN) Sheriff's Office, traveled 2,500 miles to be treated for prostate cancer utilizing prostatic transarterial embolization, a treatment that is emerging as a minimally invasive alternative to other prostate cancer therapies. The therapy cuts off blood supply to the tumor in hopes of decreasing its size.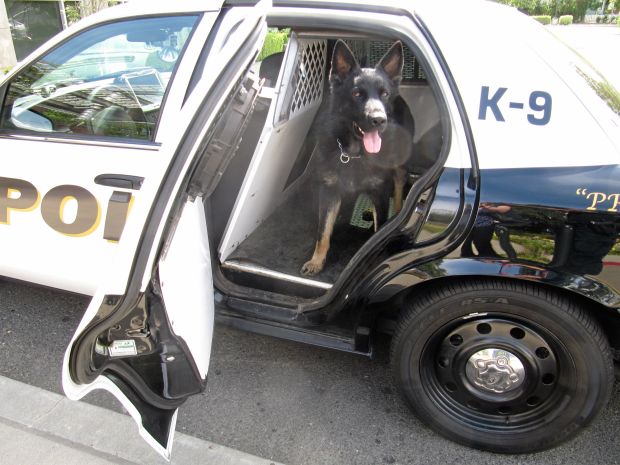 K9 Peydro
K9 Peydro, of the Woodland (CA) Police Department, was rushed to the UC Davis veterinary hospital after being struck by a car while chasing a suspect. K9 Peydro sustained extensive damage to his vertebrae and required neurosurgery. Pins were placed in his lower back during a 4-hour surgery. K9 Peydro was able to walk following surgery, but required months of rehabilitation.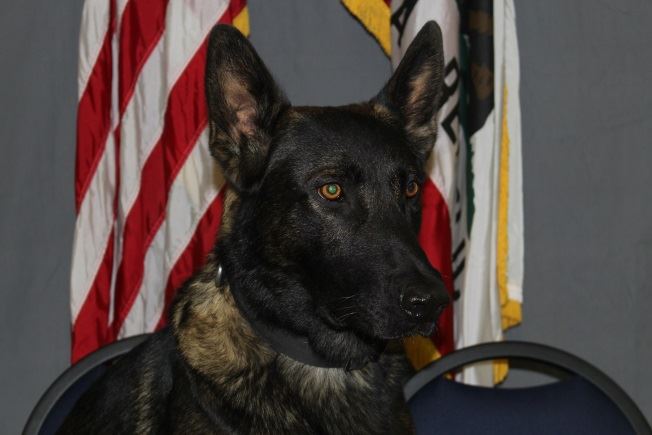 K9 Blitz
K9 Blitz, of the Sanger (CA) Police Department, caught his eye socket on a car tailpipe while performing routine training exercises, causing extensive damage. UC Davis ophthalmologists performed emergency surgery to repair his upper and lower eyelids and surrounding tissue. K9 Blitz's sight was saved and he recovered well from surgery.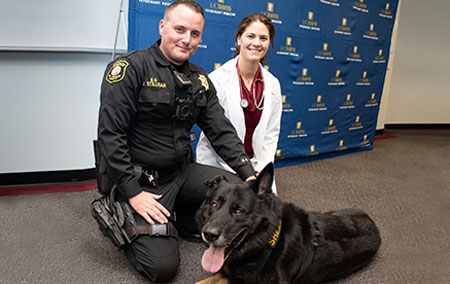 K9 Haakon
K9 Haakon, of the San Joaquin County (CA) Sheriff's Office, was saved by the UC Davis veterinary hospital after suffering a ruptured bladder. Surgeons repaired the bladder and K9 Haakon was soon able to return to duty. The sheriff and several deputies honored the surgical team with a plaque and a donation to the hospital's Faithful Partner Fund.
How to Support Police and Other Service Dogs

Faithful Partner Fund
The Faithful Partner Compassionate Care Fund provides financial support for medical treatment at the UC Davis veterinary hospital. It is available to dogs on active duty in California law enforcement and search and rescue units, including police and sheriff departments, California Highway Patrol, military and federal agencies. Preference will be given to dogs needing emergency care for injuries sustained in the line of duty, as well as dogs suffering from serious illnesses or conditions.
Learn more and contribute
Bella's Fund
The Bella's Fund for Assistance Dogs of Wounded Veterans provides financial support for medical treatment at the UC Davis veterinary hospital for assistance dogs of veterans who have sustained disabilities during their U.S. military service.
Learn more and contribute
#   #   #
Primary Category
Tags