Agricultural Experiment Station (AES) Faculty Research
At the School of Veterinary Medicine, there are several faculty with Agricultural Experiment Station appointments.
AES Faculty are eligible to receive internal seed grants through Center for Food Animal Health (CFAH). These funds are federal capacity funds allocated annually by the National Institute for Food and Agriculture (NIFA). The following funding has been given out in recent years: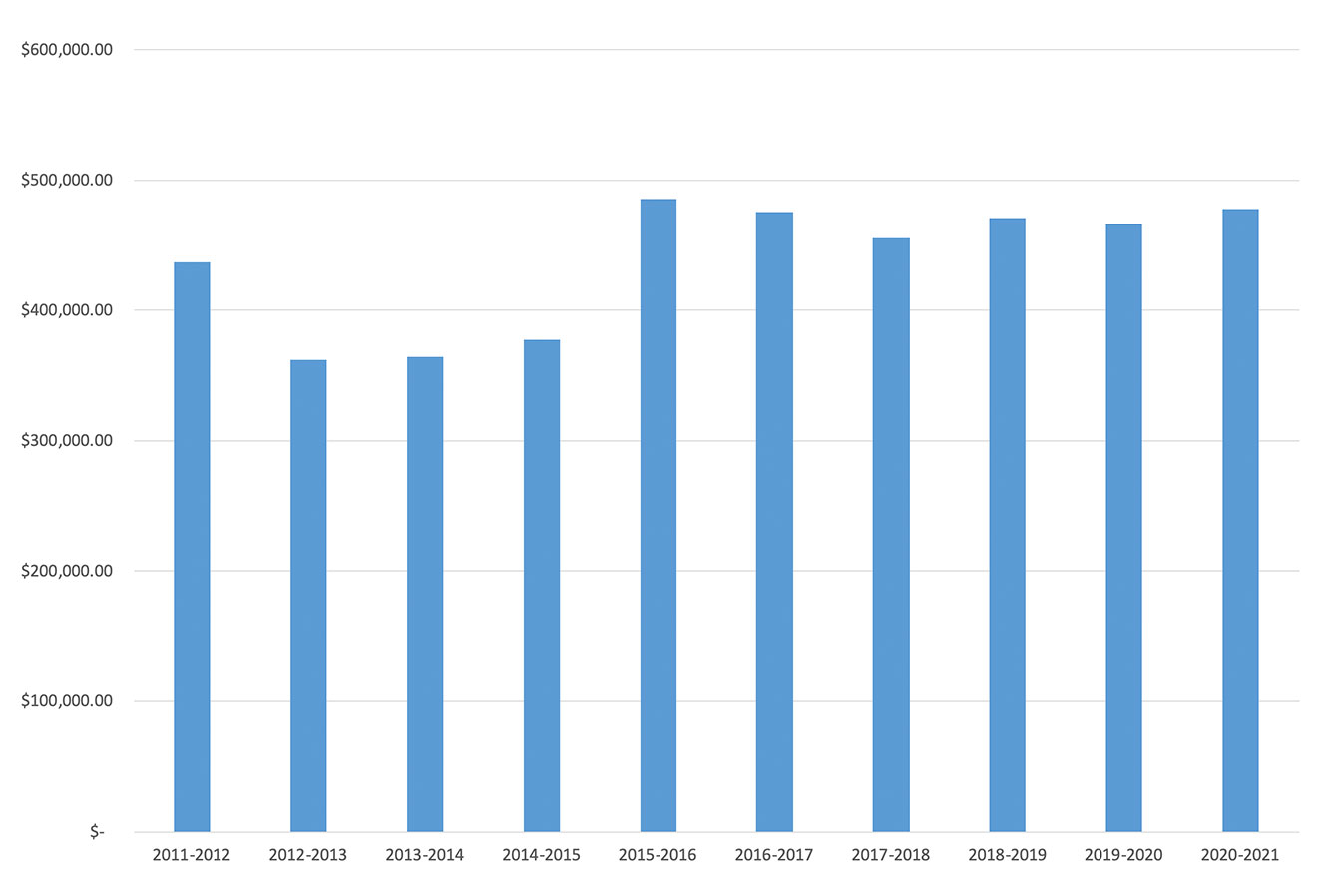 NOTE: 2020-2021 is the most recent final allocation received.
Additionally, AES Faculty obtain contracts and grants from outside agencies. In fiscal year 21-22, AES faculty were awarded $18,889,979.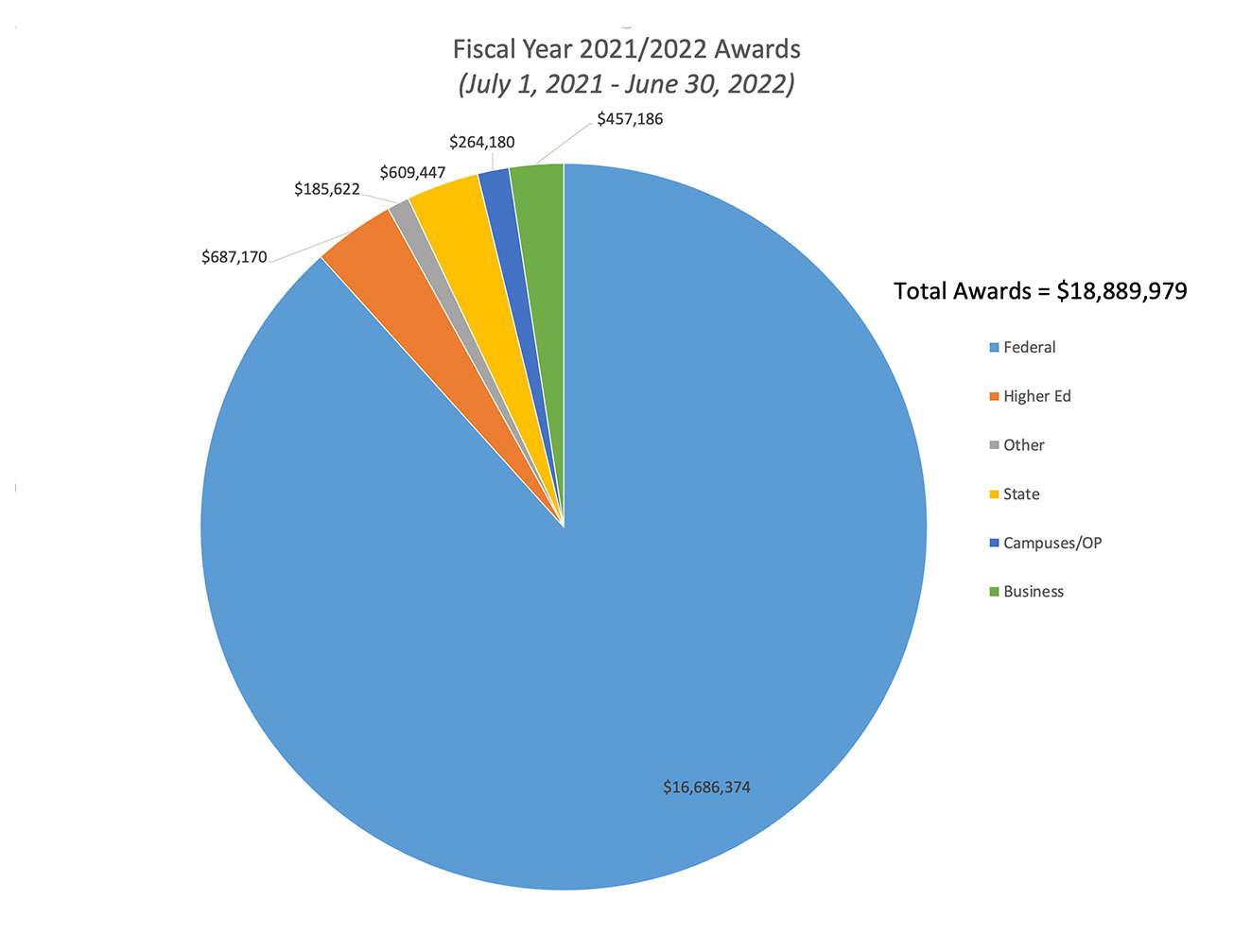 External Contracts and Grants
| | | | |
| --- | --- | --- | --- |
| PI Name | Sponsor | Project Title | Total |
| Rumbeiha, Wilson | PHS Food and Drug Administration (FDA) | ISU VDL Capacity Buidling and Methods Development Grant | $63,550 |
| Murphy, Brian | EveryCat Health Foundation | Feline peritoneal- and ascites-associated macrophages in health and in cats with feline infectious peritonitis: leveraging an anticoronaviral clinical trial | $25,000 |
| Rossow, Heidi | Chr Hansen | Effect of probiotic treatments on growth and development of calves up to 180 days | $181,595 |
| Lima, Fabio | Kemin Industries | Effects of Optimizing Rumen Protected Choline Bioavailability on Milk Production Efficiency, Health, and Immunity of Dairy Cows | $150,008 |
| Martinez Lopez, Beatriz | National Science Foundation (NSF) | BIGDATA: IA: A multi-level approach for global optimization of the surveillance and control of infectious disease in the swine industry |  $16,000 |
| Atwill, Edward | PHS Food and Drug Administration (FDA) | Western Center for Food Safety |  $1,500,000 |
| Smith, Woutrina | United States Agency for International Development (USAID) | One Health Workforce: Next Generation |  $5,562,890 |
| Aly, Sharif | National Academy of Sciences | Reducing antibiotic resistance using a novel machine learning algorithm for selective dry-cow treatment in dairy cows |  $25,593 |
| Rumbeiha, Wilson | NIH National Institute of General Medical Science (NIGMS) | ToxMSDT: An Innovative Toxicology Pathway mentoring program targeting underrepresented STEM students |  $478,227 |
| Martinez Lopez, Beatriz | National Science Foundation (NSF) | Ecology to Economics and Health: Health and agriculture sustainability through interdisciplinary risk mapping and assessment platform of important zoonotic diseases (Eco2Health) |  $30,486 |
| Kol, Amir | NIH National Institute of Child Health & Human Development (NICHD) | Multi-pronged therapy for immune system regeneration and recovery in a FIP model of MIS-C |  $235,500 |
| Kol, Amir | EveryCat Health Foundation | PPARa as metabolic target to restore intestinal permeability is an intestinal organoid model of feline diabetic enteropathy |  $29,530 |
| Martinez Lopez, Beatriz | UC San Francisco | University of California Global Health Institute Program for Fellows and Scholars |  $244,549 |
| Martinez Lopez, Beatriz | National Science Foundation (NSF) | Track-D: Data-driven Disease Prevention and Control in Animal Health | $2,993,882 |
| Martinez Lopez, Beatriz | UC San Francisco | University of California Global Health Institute Program for Fellows and Scholars | $10,980 |
| Smith, Woutrina | United States Agency for International Development (USAID) | One Health Workforce: Next Generation | $3,505,370 |
| Soto Martinez, Esteban | Mississippi State University | Investigation the Epidemiology of Edwardsiella piscicida-Septicemia in Hybrid Catfish and Other Commercially Important Fish Species in the Southern United States | $6,500 |
| Chigerwe, Munashe | Ross University School of Veterinary Medicine | Investigating the minimum individual cow colostral immunoglobulin G concentration required for pooling to achieve adequate passive immunity in dairy calves | $6,120 |
| Smith, Woutrina | United States Agency for International Development (USAID) | One Health Workforce: Next Generation | $400,001 |
| Smith, Woutrina | United States Agency for International Development (USAID) | One Health Workforce: Next Generation | $351,758 |
| Soto Martinez, Esteban | Mississippi State University | Identification of novel Flavobacterium columnare vaccine candidates for catfish and other aquaculture fish species in the Southern region | $19,479 |
| Rossow, Heidi | National Science Foundation (NSF) | I-Corps: Prognostic test for dairy heifer selection | $50,000 |
| Rossow, Heidi | California Dairy Research Foundation (Independent) | Feed industry fellowship with a focus on dairy feeding systems | $81,792 |
| Shapiro, Karen | USDA National Institute for Food and Agriculture (NIFA) | 2nd Environmental Toxoplasmosis workshop - Environmental transmission of Toxoplasma gondii from land to sea: implications for foodborne toxoplasmosis | $25,000 |
| Shapiro, Karen | California Department of Fish and Wildlife | Determinants of black near health, conflict, and encephalitis | $143,783 |
| Smith, Woutrina | United States Agency for International Development (USAID) | One Health Workforce: Next Generation | $600,000 |
| Chigerwe, Munashe | Association of American Veterinary Medical Colleges (AAVMC) | Blended and hybrid learning: Adoption of cognitive, social, and teaching presence elements on clinical rotations beyond the pandemic | $5,550 |
| Chigerwe, Munashe | Association of American Veterinary Medical Colleges (AAVMC) | Tending to Those who Teach: Promoting Veterinary Educator Wellbeing: Coordinated by the Educator Wellbeing Initiative | $10,200 |
| Soto Martinez, Esteban | California Department of Fish and Wildlife | CDFW Research Contract 2022-2025 | $110,288 |
| Smith, Woutrina | United States Agency for International Development (USAID) | One Health Workforce: Next Generation | $300,000 |
| Pereira, Richard | California Department of Food and Agriculture | Evaluation of an Antibiogram Framework from Commercial Dairy Farms in California for Bovine Respiratory Disease Bacterial Pathogens. | $13,406 |
| Gallardo, Rodrigo | USDA Animal and Plant Health Inspection Service (APHIS) | Newcastle disease quality assurance program linked with vaccination | $350,000 |
| Rumbeiha, Wilson | PHS Food and Drug Administration (FDA) | ISU VDL Capacity Buidling and Methods Development Grant | $63,550 |
| Soto Martinez, Esteban | University of Washington | Western Regional Aquaculture Center: Emerging and Re-emerging Flavobacterial Pathogens in Aquaculture | $53,104 |
| Martinez Lopez, Beatriz | UC San Francisco | University of California Global Health Institute Program for Fellows and Scholars | $8,651 |
| Coffey, Lark | Eydis Bio Inc. | Efficacy of HS-276 (TAK1 inhibitor) in SARS-CoV-2 infected K18-hACE2 mice | $67,858 |
| Soto Martinez, Esteban | Phycovax LLC | Development and Testing of Diatom-Based Self-adjuvanting Antigen-Adjuvant Fusion Subunit Protein Oral Vaccines against Piscine Francisellosis in Nile Tilapia | $57,725 |
| Atwill, Edward | PHS Food and Drug Administration (FDA) | Western Center for Food Safety | $159,999 |
| Rumbeiha, Wilson | PHS Food and Drug Administration (FDA) | ISU VDL Capacity Buidling and Methods Development Grant | ($118,128) |
| Soto Martinez, Esteban | Mississippi State University | Mitigating antimicrobial use in aquaculture through vaccination: Development of inactivated and live attenuated vaccines against Edwardsiella piscicida for use in farmed fish | $351,967 |
| Rumbeiha, Wilson | USDA Animal and Plant Health Inspection Service (APHIS) | IDD FY22PPA Inorganic Bromide | $92,695 |
| Murphy, Brian | EveryCat Health Foundation | EIDD-2801 (Molnupiravir): establishing an oral dose and evidence for efficacy in cats with FIP | $33,550 |
| Martinez Lopez, Beatriz | Texas A&M University - College Station | User-friendly online dashboard for the assessment of the risk of African swine fever virus introduction, exposure and potential spread into the United States | $250,000 |
| Chigerwe, Munashe | California Department of Food and Agriculture | Preweaned dairy calf health management on conventional and organic dairies in California: Determining management practices that require intervention | $341,970 |
---