Agricultural Experiment Station (AES) Faculty Research
At VetMed, there are several faculty with AES appointments. In addition to their instruction and research responsibilities, these faculty engage various stakeholders groups in order to disseminate science based information to California farmers and other interested parties.
AES Faculty are eligible to receive internal seed grants through Center for Food Animal Health (CFAH). These funds are federal capacity funds allocated annually by the National Institute for Food and Agriculture (NIFA). The following funding has been given out in recent years: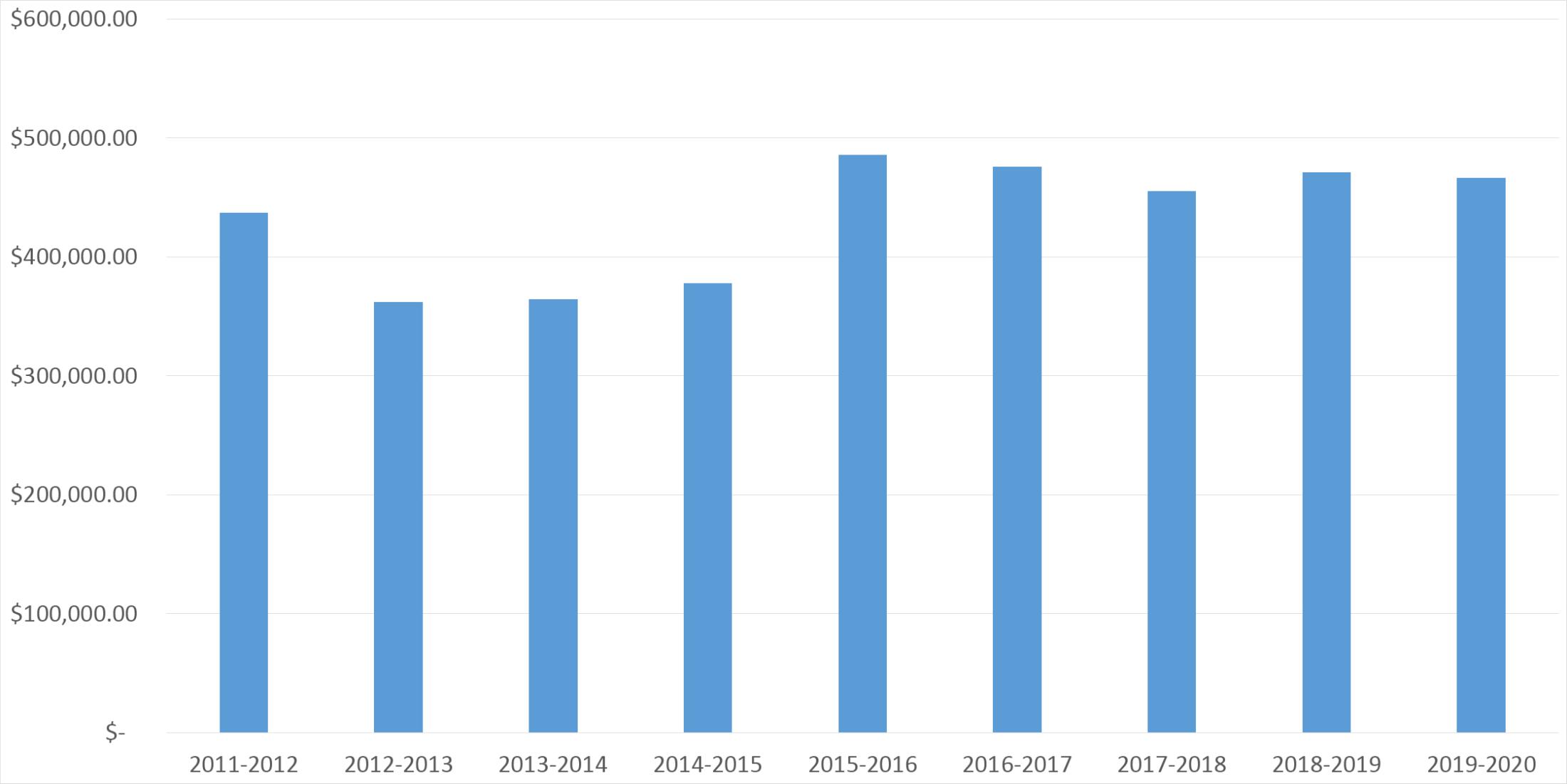 Additionally, AES Faculty obtain contracts and grants from outside agencies. Last year, AES faculty were awarded $12,095,776.
External Contracts and Grants
| | | | |
| --- | --- | --- | --- |
| PI Name | Sponsor | Project Title | Total |
| Lima, Fabio | USDA National Institute for Food and Agriculture (NIFA) | Integrating host genome and rumen microbiome to improve milk production efficiency in dairy cattle | $471,902 |
| Rumbeiha, Wilson | USDA Animal and Plant Health Inspection Service (APHIS) | CA 19 PPA Inorganic Bromide | $20,000 |
| Tell, Lisa | USDA National Institute for Food and Agriculture (NIFA) | FARAD, aka Food Animal Residue Avoidance Databank | $845,000 |
| Martinez Lopez, Beatriz | National Science Foundation (NSF) | NSF Convergence Accelerator- Track D: Data-driven disease control and prevention in veterinary health | $944,875 |
| Rossow, Heidi | California Dairy Research Foundation (Independent) | Precision and accuracy of cow side tests for quarter SCC | $38,200 |
| Shapiro, Karen | Association of American Veterinary Medical Colleges (AAVMC) | AAVMC FFAR Veterinary Research Fellow to Address Global Changes in Food and Agriculture | $16,000 |
| Atwill, Edward | PHS Food and Drug Administration (FDA) | Western Center for Food Safety | $1,999,000 |
| Smith, Woutrina | United States Agency for International Development (USAID) | One Health Workforce: Next Generation | $1,298,159 |
| Rumbeiha, Wilson | NIH National Institute of General Medical Science (NIGMS) | ToxMSDT: An Innovative Toxicology Pathway mentoring program targeting underrepresented STEM students | $482,584 |
| Soto Martinez, Esteban | Mississippi State University | Investigation the Epidemiology of Edwardsiella piscicida-Septicemia in Hybrid Catfish and Other Commercially Important Fish Species in the Southern United States | $6,500 |
| Lima, Fabio | Zoetis | Determining bioactivity of nerve growth factor-? purified from Bull seminal plasma in bovine in theca and granulosa cells | $39,211 |
| Pandey, Pramod | California Department of Parks and Recreation | Contract C1670803 | $1,700,000 |
| Gallardo, Rodrigo | USDA Animal and Plant Health Inspection Service (APHIS) | Newcastle disease quality assurance program linked with vaccination for game bird owners | $349,834 |
| Aly, Sharif | UC Agriculture and Natural Resources | Demonstration and outreach for control of stable flies and cattle bunching on California dairies | $1,668 |
| Rumbeiha, Wilson | NIH National Institute of General Medical Science (NIGMS) | ToxMSDT: An Innovative Toxicology Pathway mentoring program targeting underrepresented STEM students | $3,234 |
| Gallardo, Rodrigo | Iowa State University | False layer syndrome in hens, prevention strategies and their long-term effects | $120,000 |
| Shapiro, Karen | USDA National Institute for Food and Agriculture (NIFA) | Viable Protozoan Pathogen Dynamics In Oysters And Associated Risk To Shellfish Consumers | $480,000 |
| Coffey, Lark | Coachella Valley Mosquito and Vector Control District | Evaluating mosquito excreta as an early warning system for arbovirus surveillance in remote locations | $37,210 |
| Shapiro, Karen | USDA National Institute for Food and Agriculture (NIFA) | Simultaneous Detection, Viability Discrimination, and Quantitative Risk Assessment of Shellfish-Borne Protozoan Pathogens | $480,000 |
| Depenbrock, Sarah | California Department of Food and Agriculture | Prevalence of in-vitro phenotypic antibiotic resistance in respiratory bacterial isolates from weaned dairy heifers in California with and without respiratory disease and the association with farm level management variables and enteric bacterial minimum i | $7,200 |
| Tell, Lisa | Thornton S. Glide, Jr. and Katrina D. Glide Foundation | UC Davis Hummingbird Health and Conservation Program: Sample Collection and Freezer Storage of Carcasses for Hummingbird Health and Conservation Studies | $16,000 |
| Conrad, Patricia | UC San Francisco | University of California Global Health Institute Program for Fellows and Scholars | $12,019 |
| Rossow, Heidi | California Dairy Research Foundation (Independent) | Feed industry fellowship with a focus on dairy feeding systems | $77,606 |
| Conley, Alan | North Dakota State University | Role of placental and fetal pregnanes and their metabolites in parturition and extra uterine survival | $249,658 |
| de Andrade e Pires, Alda | USDA Animal and Plant Health Inspection Service (APHIS) | Capacity Building Using Train-the-Trainer Approach to Improve Biosecurity and Reduce Disease Spread in Small-scale and Backyard Livestock and Poultry Premises | $397,409 |
| Shapiro, Karen | University of Southern California | Interaction between microplastics and pathogen pollutants in marine ecosystems: Implications for seafood safety | $55,335 |
| Martinez Lopez, Beatriz | USDA National Institute for Food and Agriculture (NIFA) | Development of a Precision epidemiology web-based tool for livestock disease management | $1,000,000 |
| Pereira, Richard | California Department of Food and Agriculture | Evaluation of an Antibiogram Framework from Commercial Dairy Farms in California for Bovine Respiratory Disease Bacterial Pathogens. | $270,821 |
| Soto Martinez, Esteban | California Department of Fish and Wildlife | Testing of Viral Samples for California Department of Fish and Wildlife Fish Health Laboratory | $468,195 |
| Aly, Sharif | California Department of Food and Agriculture | Antimicrobial Resistance Genotype in Adult Cattle on California Dairies | $12,000 |
| Soto Martinez, Esteban | University of Washington | Western Regional Aquaculture Center: Emerging and Re-emerging Flavobacterial Pathogens in Aquaculture | $61,751 |
| Tell, Lisa | California Department of Food and Agriculture | CDFA: Veterinary Feed Directive Online Training | $132,000 |
| Pereira, Richard | Cornell University | A systems approach to improve quality and shelf life of organic dairy products for domestic and export markets | $2,406 |
---