Surgery and Follow-Up Chemotherapy Saves Dog with Unusual Tumor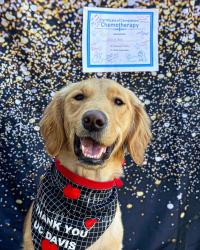 Neva, a 1-year-old female golden retriever, was diagnosed with an unusual mast cell tumor on her lip and referred to the Oncology Service at the UC Davis veterinary hospital. A series of tests were performed to stage the tumor and determine the best course of action.
"At the time of Neva's diagnosis, I knew that she would have the best chance at a long life if I was able to get her to UC Davis for care," said owner Laura Allen.
Multiple imaging procedures and diagnostic tests at UC Davis showed no evidence that the tumor had spread to other parts of her body, so surgical resection was chosen as the appropriate course of action to treat Neva's lip. With surgery, the goal is to remove as much of the primary tumor as possible, but given the location, the surgeons felt they may not be able to achieve the margins around the tumor that would be optimal.
The Soft Tissue Surgery Service team successfully removed the tumor in her mouth and a few lymph nodes in her neck. While the tumor was removed with good margins, one lymph node had a small cluster of mast cells present, so follow-up chemotherapy was scheduled.
Neva underwent four rounds of weekly chemotherapy sessions, followed by four bi-weekly sessions until her treatments were complete.
Allen qualified for financial assistance through a generous grant from the Blue Buffalo Foundation's support of the Petco Foundation pet cancer treatment program at the UC Davis veterinary hospital. The grant helps support treatments for domestic companion animals suffering from cancer. The project is designed to support pet parents of modest means or pet parents whose pets provide a service to others.
"I am so appreciative for the excellent treatment that Neva received at UC Davis and even more thankful for the funding provided by the Petco Foundation," said Allen. "My family's business was greatly impacted by the pandemic, and the funding provided by the Petco Foundation helped save Neva's life. I will forever be grateful to UC Davis and the Petco Foundation for saving my golden girl."
Allen plans to have Neva certified as a therapy dog so she can share her hugs and love.
Primary Category
Tags