Finno Laboratory
Equine Genetics
Our laboratory investigates the molecular basis for genetic diseases in the horse and other companion animals.
Vitamin E-associated Neurodegeneration
One of the translational focuses of the laboratory is to investigate the role of vitamin E in neurodegeneration using a well-established mouse model and a naturally-occurring model of neuroaxonal dystrophy in the horse.
Dr. Carrie Finno received her veterinary degree from the University of Minnesota. Following graduation, she completed a one-year internship in Large Animal Medicine and Surgery at Minnesota, before coming to UC Davis to complete a three-year residency in Large Animal Medicine and Surgery. Dr. Finno went on to complete a PhD in Comparative Pathology at UC Davis, and then returned to Minnesota to join their faculty as an Assistant Professor. After two years on their faculty, she once again returned to UC Davis as a faculty member in genetics and a clinical role with the Equine Medicine Service. Dr. Finno's research is focused on companion animal genetics, particularly the genetic and environmental risk factors associated with equine neuromuscular diseases.
---
Awards
2012 James M. Wilson Award, Center for Equine Health, UC Davis
2011 Merial/NIH National Veterinary Scholars Symposium Young Investigator Award, 2nd place
2010-2011 Ann Bowling Scholarship for Equine Genetics
2010 American Association of Equine Practitioners Young Investigator Award
2009 California Thoroughbred Foundation Louis R. Rowan Fellowship
2007 House Office Seminar Day Award, Large Animal Research Study
2004 Dr. Colin Krog Class of 1978 Memorial Scholarship
2003 Joseph E. Salsbury Veterinary Medical Scholarship
2003 Points of Pride Research Day Poster Award
2002 Minnesota Horse Council Scholarship
---
Professional Societies
2008 American College of Veterinary Internal Medicine
2001 American Association of Equine Practitioners
---
CBS Grad Group Affiliations
Integrated Genetics and Genomics
Animal Biology
---
Graduate Groups not Housed in CBS
Integrative Pathobiology (Vet Med)
---
Publications
1. Firshman AM, Valberg SJ, Bender JB, Finno CJ. Epidemiologic characteristics and management of polysaccharide storage myopathy in Quarter horses. Am J Vet Res 2003;64(10):1319-27.
2. McKenzie EC, Valberg SJ, Godden SM, Finno CJ, Murphy MJ. Effect of oral administration of dantrolene sodium on serum creatine kinase activity after exercise in horses with recurrent exertional rhabdomyolysis. Am J Vet Res 2004;65(1):74-9.
3. Finno CJ, Pusterla N, Aleman M, Mohr FC, Price T, George J, Holmberg T. Streptococcus equi meningioencephalomyelitis in a foal. J Am Vet Med Assoc 2006;229(5):721-4.
4. Finno CJ, Valberg SJ, Wunschmann A, Murphy MJ. Seasonal pasture myopathy in the Midwestern United States: 14 cases (1998-2005). J Am Vet Med Assoc 2006;229(7): 1134-41
5. Finno CJ, Packham AE, Wilson D, Gardner IA, Conrad PA, Pusterla N. Effects of blood contamination of cerebrospinal fluid on results of indirect fluorescent antibody tests for detection of antibodies against Sarcocystis neurona and Neospora hughesi. J Vet Diagn Invest
6. Pusterla N, Wilson WD, Mapes S, Finno CJ, Isbell D, Arthur RM, Ferraro GL. Characterization of viral loads, strain and state of equine herpesvirus-1 using real-time PCR in horses following natural exposure at a racetrack in California. Vet J 2009;179(2): 230-9.
7. Finno C, Pusterla N, Aleman M. Equine Protozoal Myeloencephalitis associated with Neosporosis in 3 horses. J Vet Int Med 2007; 21(6):1405-1408
8. Finno CJ, Spier SJ, Valberg SJ. Equine diseases caused by known genetic mutations. Vet J 2009;179(3):336-47.
9. Finno CJ, Spier SJ. Prevention and treatment of equine atypical myopathy. Vet J 2008;178(2):163-4.
10. Finno CJ, Eaton JS, Aleman M, Hollingsworth SR. Equine Protozoal Myeloencephalitis due to Neospora hughesi and Equine Motor Neuron Disease in a mule. Vet Ophtho 2010;13(4):259-265
11. Overmann JA, Finno C, Sharkey LC. What is your diagnosis? Elevated bicarbonate concentration in a foal. Vet Clin Path 2010;39(4):515-516.
12. Pusterla N, Conrad PA, Packham AE, Mapes SM, Finno CJ, Gardner IA, Barr BC, Ferraro GL, Wilson WD. Endogenous transplacental Neosporosis in broodmares originating from a California farm with high prevalence of antibodies to Neospora hughesi. J Parasitol 97(2);2011:281-285.
13. Finno CJ, McKenzie E, Valberg SJ, Pagan J. Effect of fitness on glucose, insulin and cortisol responses to diets varying in starch and fat content in Thoroughbred horses with recurrent exertional rhabdomyolysis. Equine Vet J 2010 42(Suppl 38):323-8.
14. Aleman M, Finno CJ, Higgins R, Puschner B, Gericota B, Gohil K, LeCouteur RA, Madigan JE. Evaluation of epidemiological, clinical, and pathological features of neuroaxonal dystrophy in Quarter Horses; J of Vet Med Assoc 2011;239(6):823-833.
15. Finno CJ, Higgins R, Aleman M, Ofri R, Hollingsworth S, Bannasch DL, Riley C, Madigan JE. Equine Degenerative Myeloencephalopathy in Lusitano horses. J Vet Inter Med 2011 Nov- Dec;25(6):1439-46.
16. Finno CJ, Aleman M, Ofri R, Hollingsworth S, Madigan JE, Winfield L, Bannasch DL. Electrophysiological Studies in American Quarter horses with Neuroaxonal Dystrophy. Vet Ophtho 2012;15(Suppl2):3-7
17. Finno CJ, Valberg SJ. A comparative review of vitamin E and associated equine disorders. J Vet Intern Med 2012;26(6):1251-66
18. Finno CJ, Famula T, Aleman M, Higgins RJ, Madigan JE, Bannasch DB. Pedigree analysis and exclusion of -tocopherol transfer protein as a candidate gene for neuroaxonal dystrophy in the American Quarter horse. J Vet Intern Med 2013;27(1):177-85
19. Safra N, Johnson EG, Lit L, Foreman O, Wolf ZT, Aguilar M, Karmi N, Finno CJ, Bannasch DL. Clinical presentation, response to treatment and outcome in Weimaraner dogs diagnosed with Hypertrophic Osteodystrophy: 53 cases (2009-2011). J Am Vet Med Assoc 2013;242(9):1260-6.
20. Draper, A and Finno CJ. Cervical Spondylosis Deformans in Two Quarter Horses. Equine Vet Educ 11 MAR 2014 DOI: 10.1111/eve.12167. [Epub ahead of print]
21. Finno CJ, Bannasch DL. Applied Equine Genetics. Equine Vet J 2014 May 6. doi: 10.1111/evj.12294.
---
Laboratory Members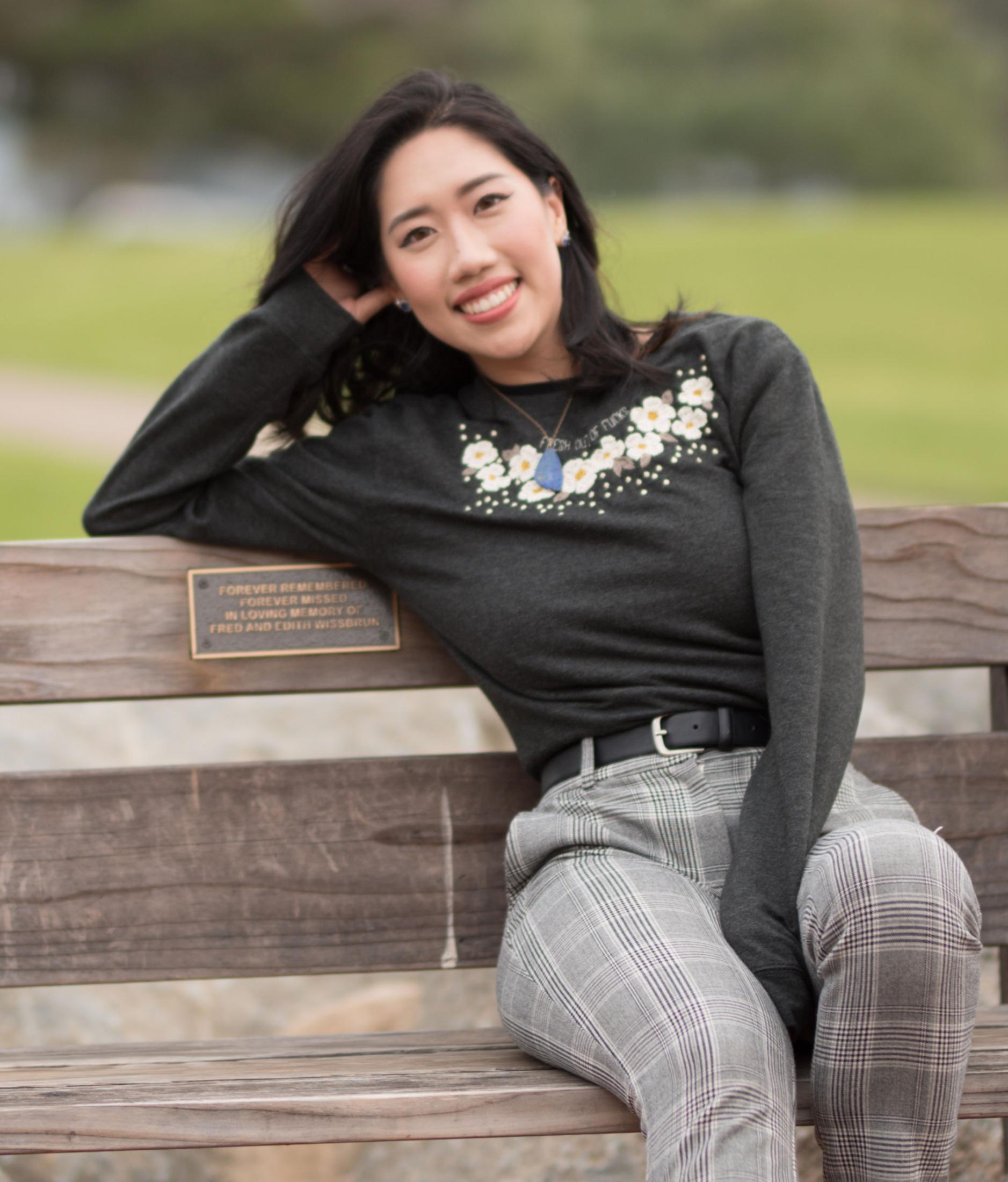 Annee Nguyen (Lab Manager)
Annee graduated magna cum laude from UC San Diego in 2017 with a degree in Human Biology and double minors in Psychology and Theatre, as a proud member of Phi Beta Kappa's Sigma Chapter of California. From 2017 to 2018, she pursued her Masters in Biology, with subspecialties in Neuropathology and Scientific Communication, from UC San Diego. She focused on characterizing peripheral neuropathy in a novel mouse model of prion disease with her mentors Dr. Nigel Calcutt and Dr. Christina Sigurdson. To further cultivate her fervor for veterinary science and expand her experience with animal models of neurodegenerative disorders, Annee relocated to Davis, California upon graduating. Ultimately, Annee discovered her niche in Dr. Finno's equine genetics laboratory. As lab manager, Annee oversees and supports ongoing laboratory projects and the transgenic mouse colony.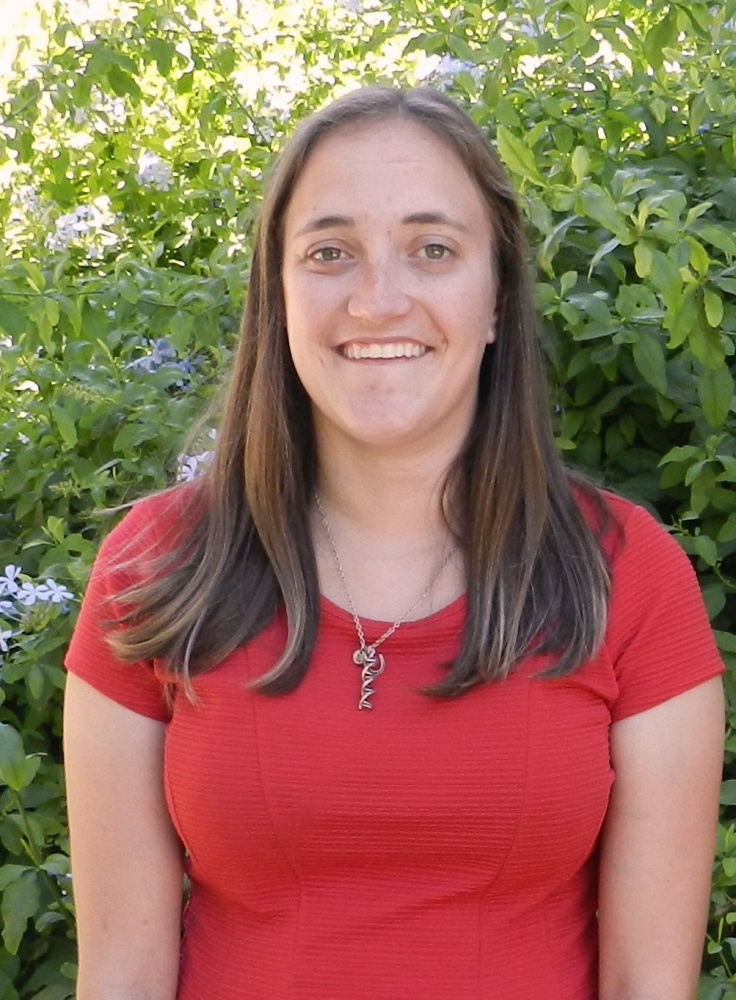 Erin Burns (PhD Candidate)
Erin double-majored in Biology and Equestrian Studies at Rocky Mountain College in Billings, MT, where she graduated summa cum laude in May of 2015. During her undergraduate career, Erin realized she was not willing to follow just one passion in life; she needed two. As she worked through both of her majors, Erin was drawn to the disease genetics that afflict our equine counterparts. She acknowledges the importance of breeding practices to ensure the production of high quality offspring. Her current work is on the genetic etiology of Equine Neuroaxonal Dystrophy (eNAD) and Equine Degenerative Myeloencephalopathy (EDM) as well as collaborating in the equine Functional Annotation of Animal Genome (FAANG) .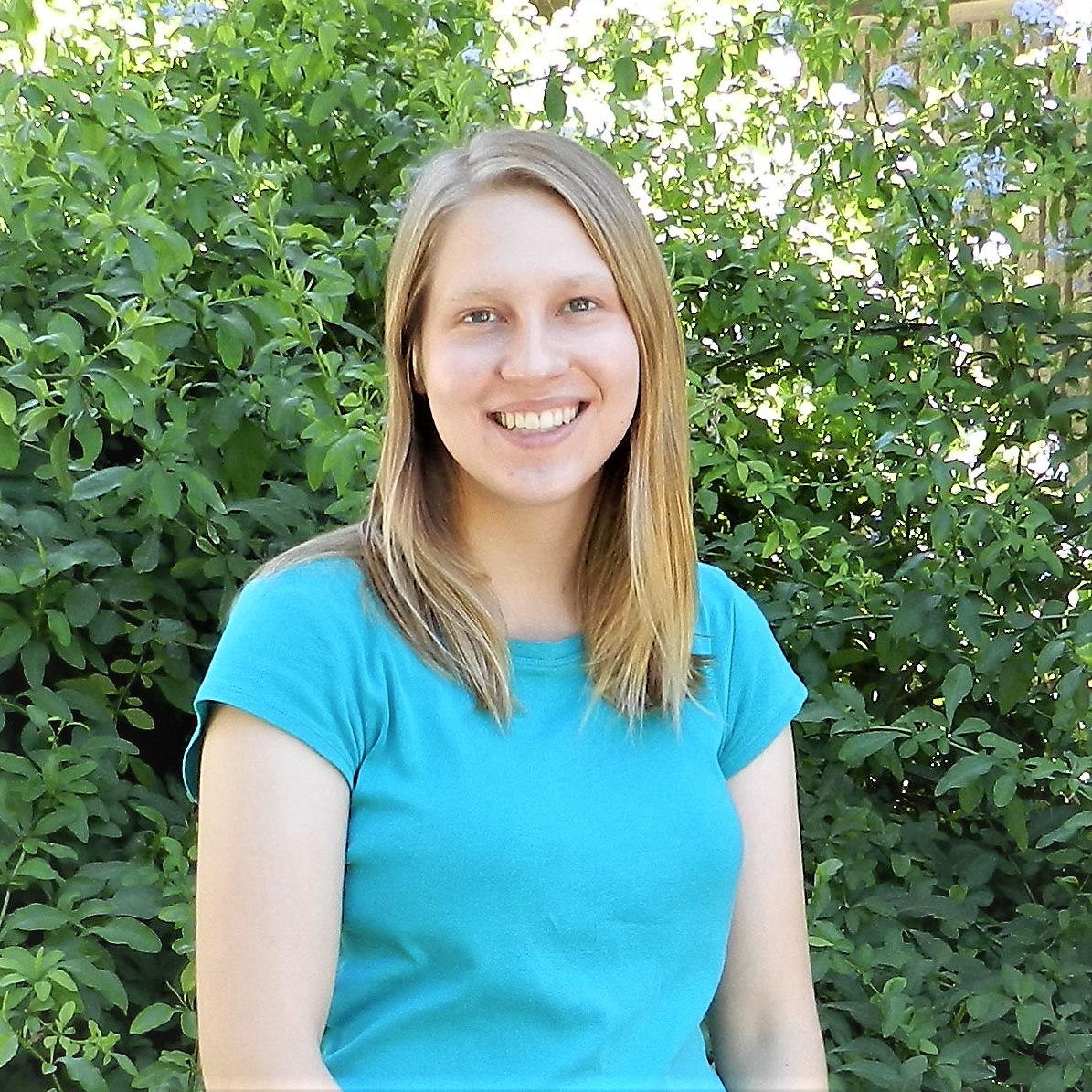 Anna Dahlgren (PhD Student)
Anna graduated with her Bachelor of Science degree in Biochemistry/Molecular biology from Bethel University in St. Paul, MN. During her undergraduate career, she accepted summer internships at the University of Cincinnati and the University of Iowa working in a cancer biology lab and a multiple sclerosis immunology lab, respectively. She was also part of a year-long project in a Bethel University biochemistry lab looking at protein localization. She presented her work at both local and international conferences. Due to her fascination with genetic diseases, she is pursuing a PhD in the Genetics and Genomics graduate group at UC Davis. Anna is currently investigating the underlying genetic mechanism of Atypical Equine Thrombasthenia, a platelet disease that prevents Thoroughbred racehorses from clotting normally, in collaboration with Dr. Fern Tablin. To support this important study, Anna has been awarded the Ann. T Bowling Fellowship and the Louis R. Rowan Fellowship. Upon completion of her PhD, Anna is planning on pursuing a career in academia to continue mentoring young scientists and contributing to the field of animal genetics.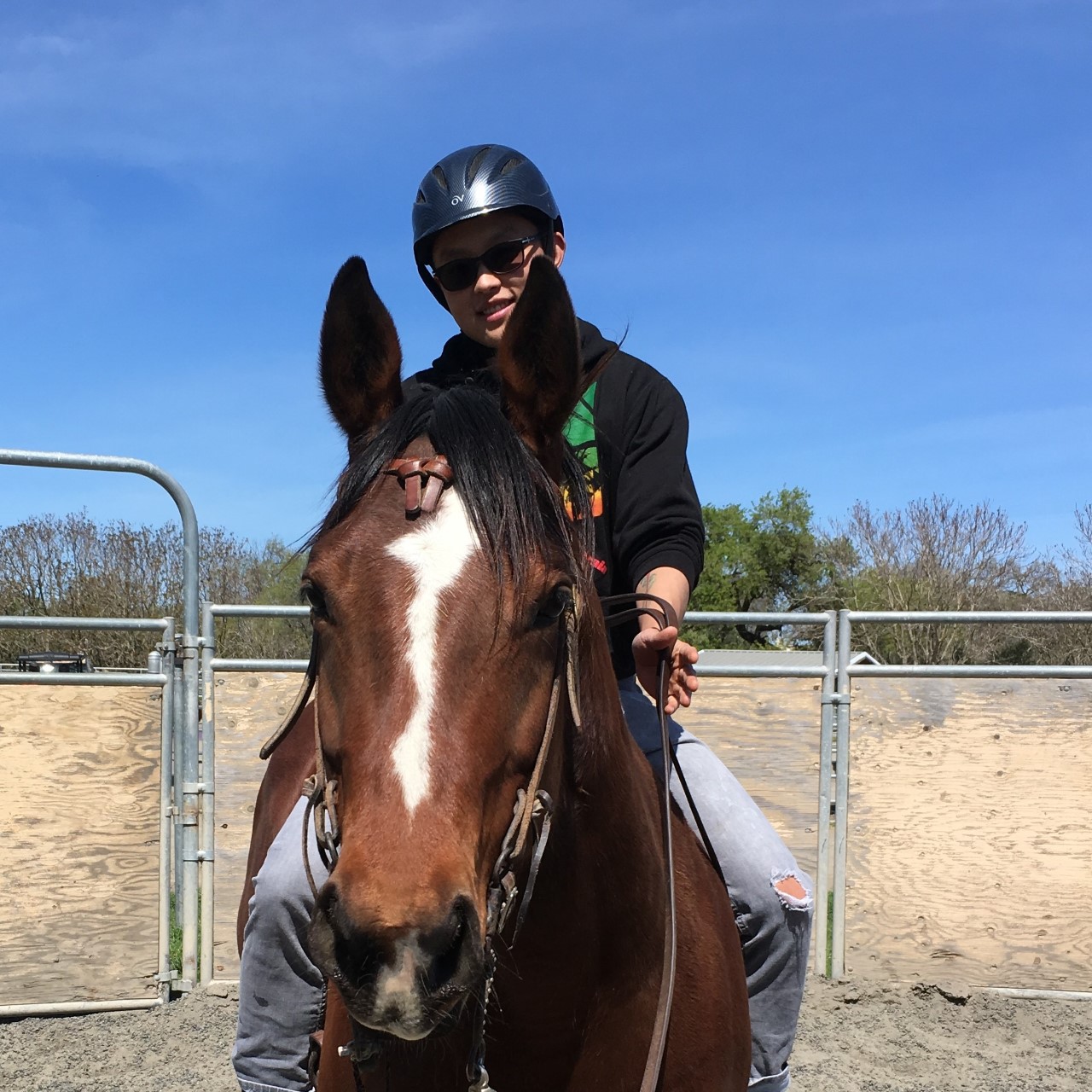 Sichong Peng (PhD Student)
Sichong received his bachelor's from the University of Science and Technology of China in 2015 and his master's degree in Forensic Science from UC Davis in 2017. After excluding a significant number of SNPs from being associated with eNAD while working in the Finno Lab, Sichong was convinced to pursue a PhD. He has now been accepted into the Integrative Genetics and Genomics graduate group as a PhD student in Bioinformatics, where he can combine his love for both genetics and computers.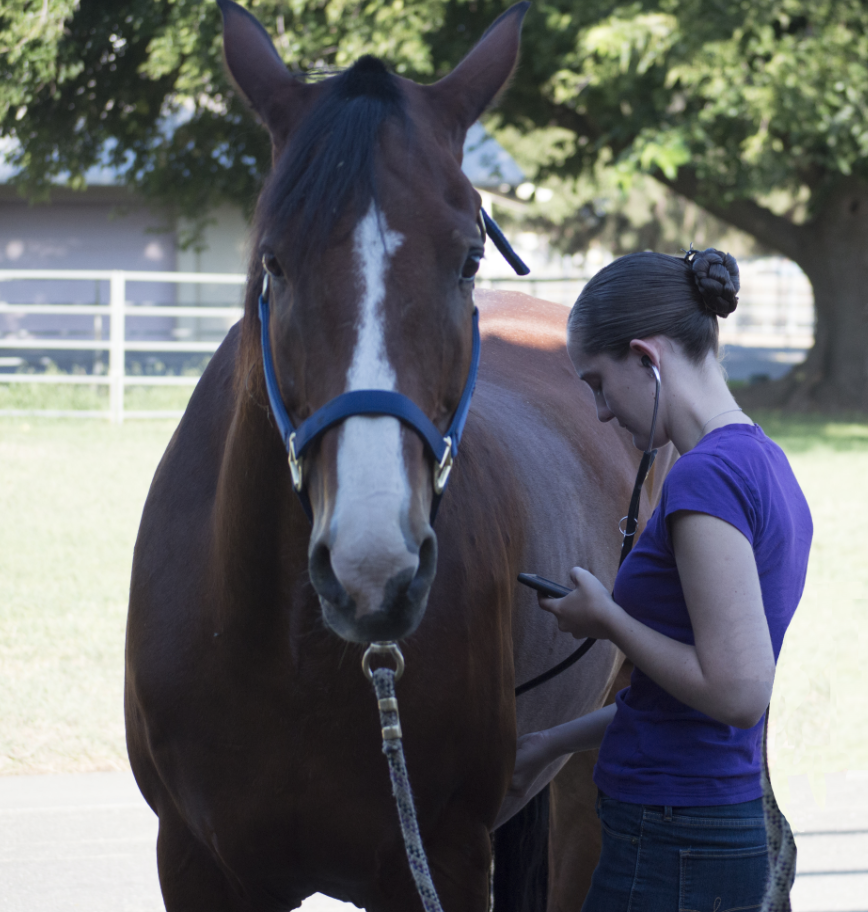 Giuliana Gianino (Veterinary Student)
Giuliana graduated summa cum laude from UC Davis in 2016 with a bachelor's degree in Animal Science and is now a student in the School of Veterinary Medicine (Class of 2020). Avid to be at the forefront of equine healthcare to improve diagnosis and treatment of her future patients, Giuliana decided to pursue a dual career in medicine and research. With a special interest in both reproductive physiology, including genetic transmission, and anatomic pathology, she plans to earn a PhD in Integrative Pathobiology after receiving her DVM. Giuliana is currently exploring the genetic basis of equine immune-mediated myositis (IMM) in American Quarter horses. In collaboration with Dr. Stephanie Valberg at Michigan State University, she has worked to help develop and validate a diagnostic test for a genetic variant hypothesized to confer susceptibility to IMM in this breed. In addition to studying IMM, Giuliana also contributes statistical and pedigree analyses to other projects in the Finno Lab.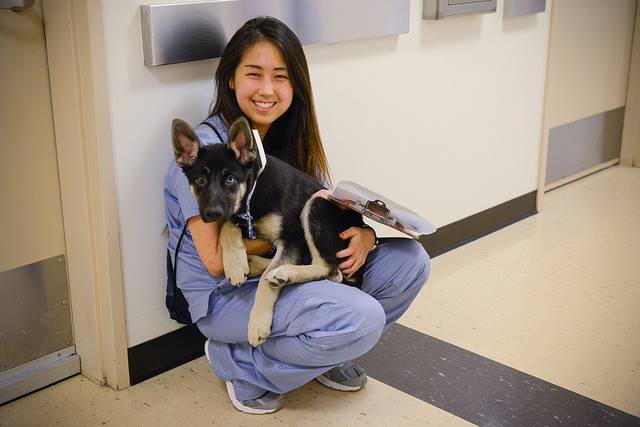 Yeonji Cho (Veterinary Student)
Yeonji is a third year veterinary student at UC Davis. She was born in Korea and grew up in Northern California. She graduated magna cum laude from UC Berkeley in 2015 with a B.S. in Molecular Environmental Biology. She started working at the Finno Lab in summer 2017 as a STAR (Students Training in Advanced Research) scholar. Her research focuses on a potential association between eNAD (Equine Neuroaxonal Dystrophy) and a liver enzyme. She is tracking small animal medicine, but her veterinary interest and background range widely from shelter medicine and exotics medicine to wildlife rehabilitation. She hopes to specialize in the future.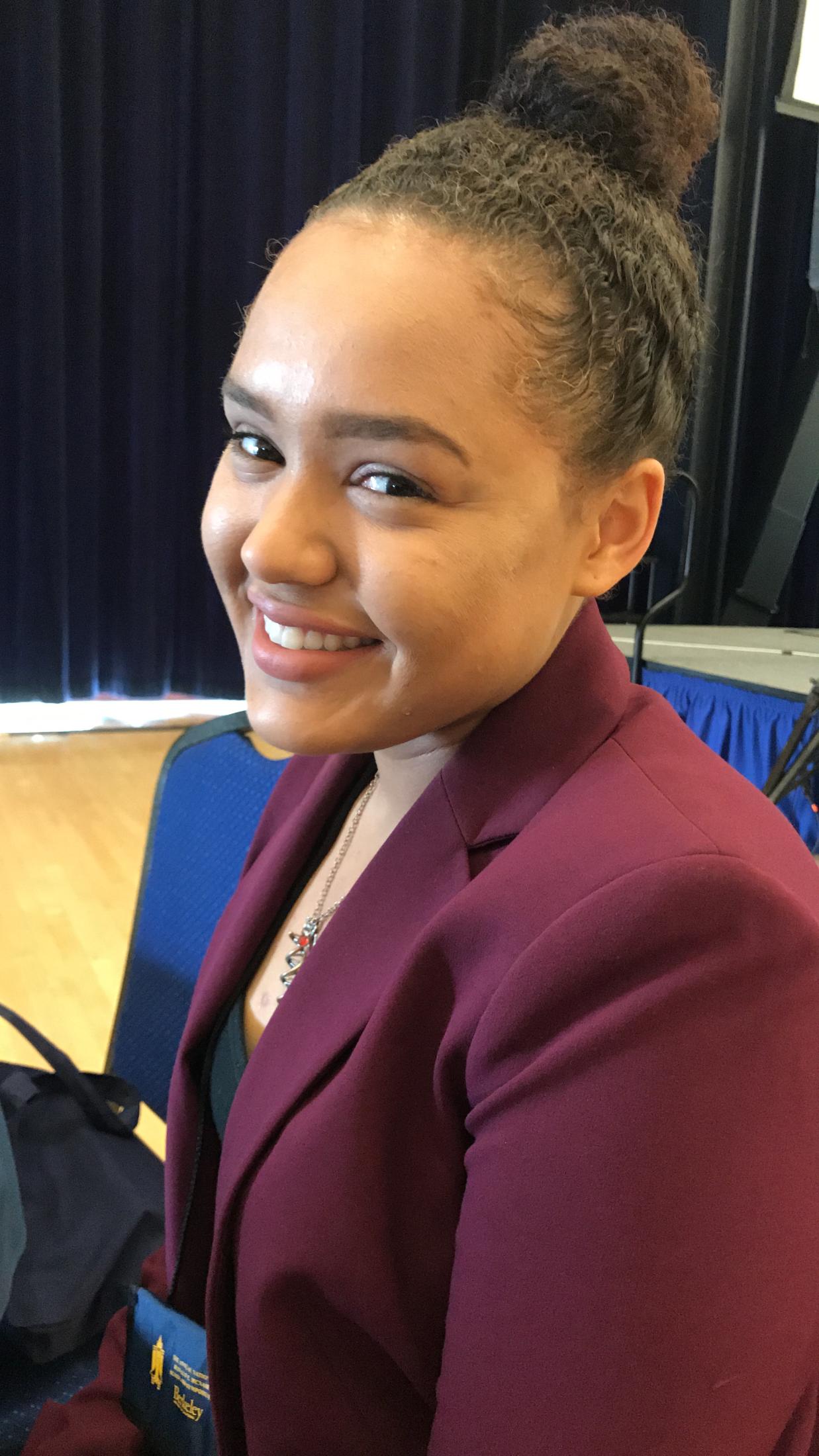 Brittni Ming-Whitfield (Undergraduate Student)
Brittni is a senior Animal Science major, Biological Undergraduate Scholars Program (BUSP)-Honors Scholars, and McNair Scholar at UC Davis. She is currently investigating Juvenile Idiopathic Epilepsy in Egyptian Arabian foals, in alliance with Dr. Monica Aleman. She was one of eight McNair scholars selected to be a plenary speaker and present her research at the 2017 Ronald E. McNair Conference at UC Berkeley. Brittni will be pursuing her PhD in genetics at Texas A&M this coming Fall of 2018.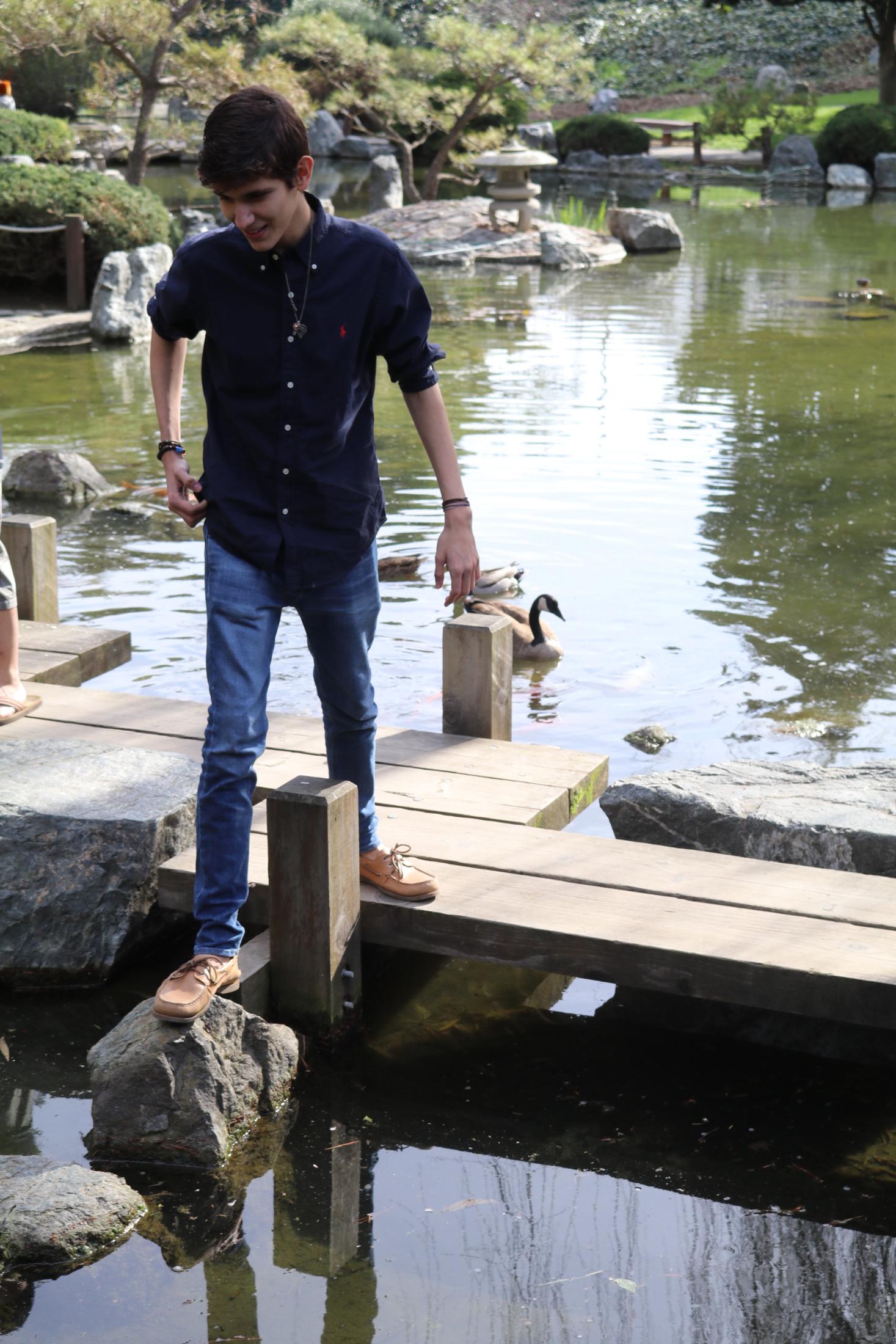 Victor Rivas (Undergraduate Student)
Victor is a fourth year Animal Biology major at UC Davis, born from a first-generation Nicaraguan family. Nicaragua's underdeveloped secondary STEM education, combined with his interest in functional genetics motivated him to move at the age of sixteen to the US to pursue a higher degree. Victor is part of UC Davis's Honors Program, Biological Undergraduate Scholars-Honors Program (BUSP), and McNairs Scholars Program; as well as other international honor societies. In joint effort with Dr. Gary Magdesian, Victor is currently analyzing whole-genome sequencing data to identify an underlying genetic variant associated with Idiopathic Hypocalcemia, a disease found in only Thoroughbred foals. Victor aspires to obtain a dual DVM and PhD degree at UC Davis upon graduation.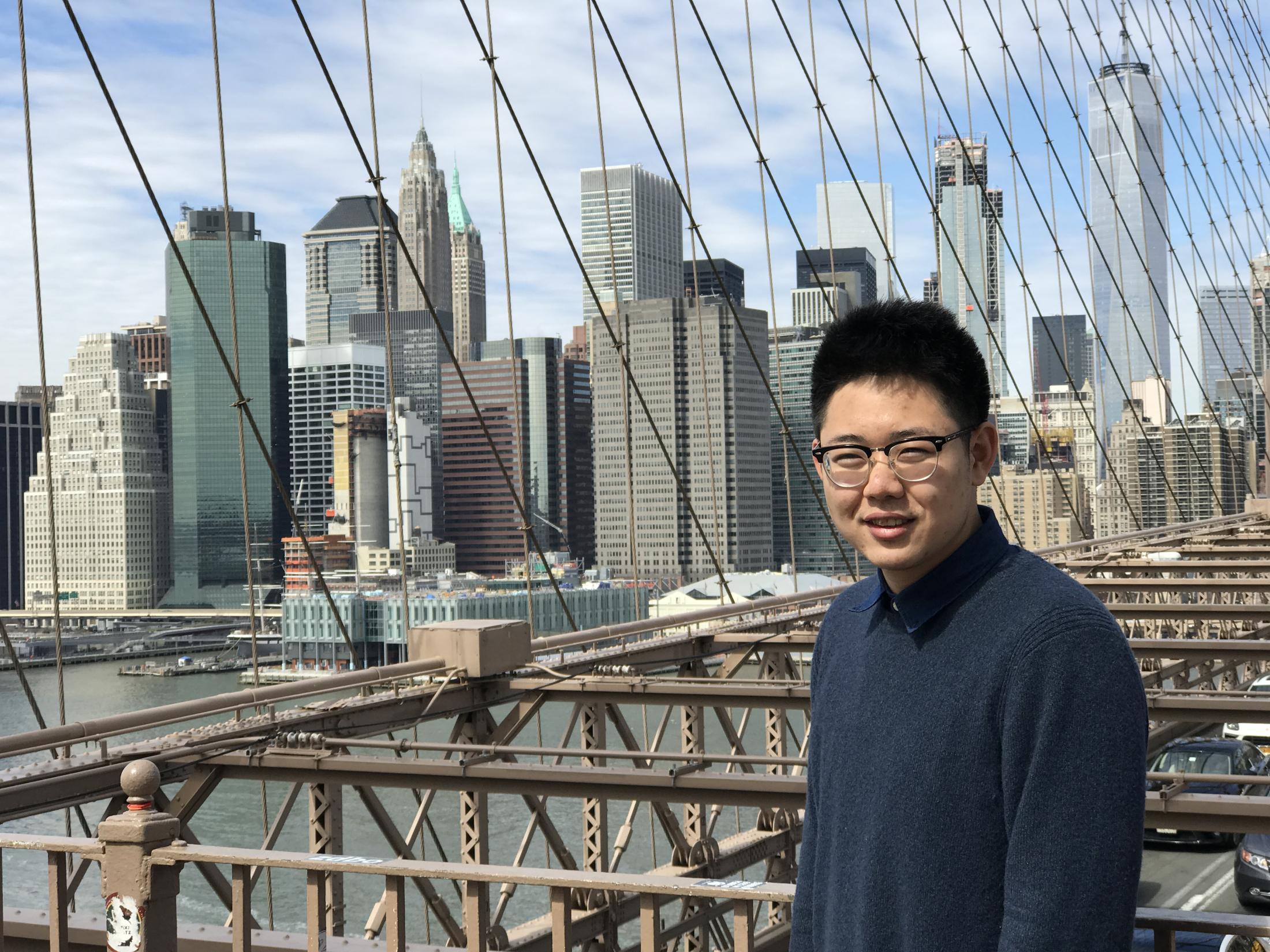 Zicheng Zhao (Undergraduate Student)
Zicheng is a fourth year Cell Biology major, originally from Beijing, China. Zicheng is currently collaborating with Dr. Heather Knych in finding Single Nucleotide Polymorphisms associated with metabolic rate variation in Thoroughbred horses. After graduation, he plans to pursue a PhD in genetics.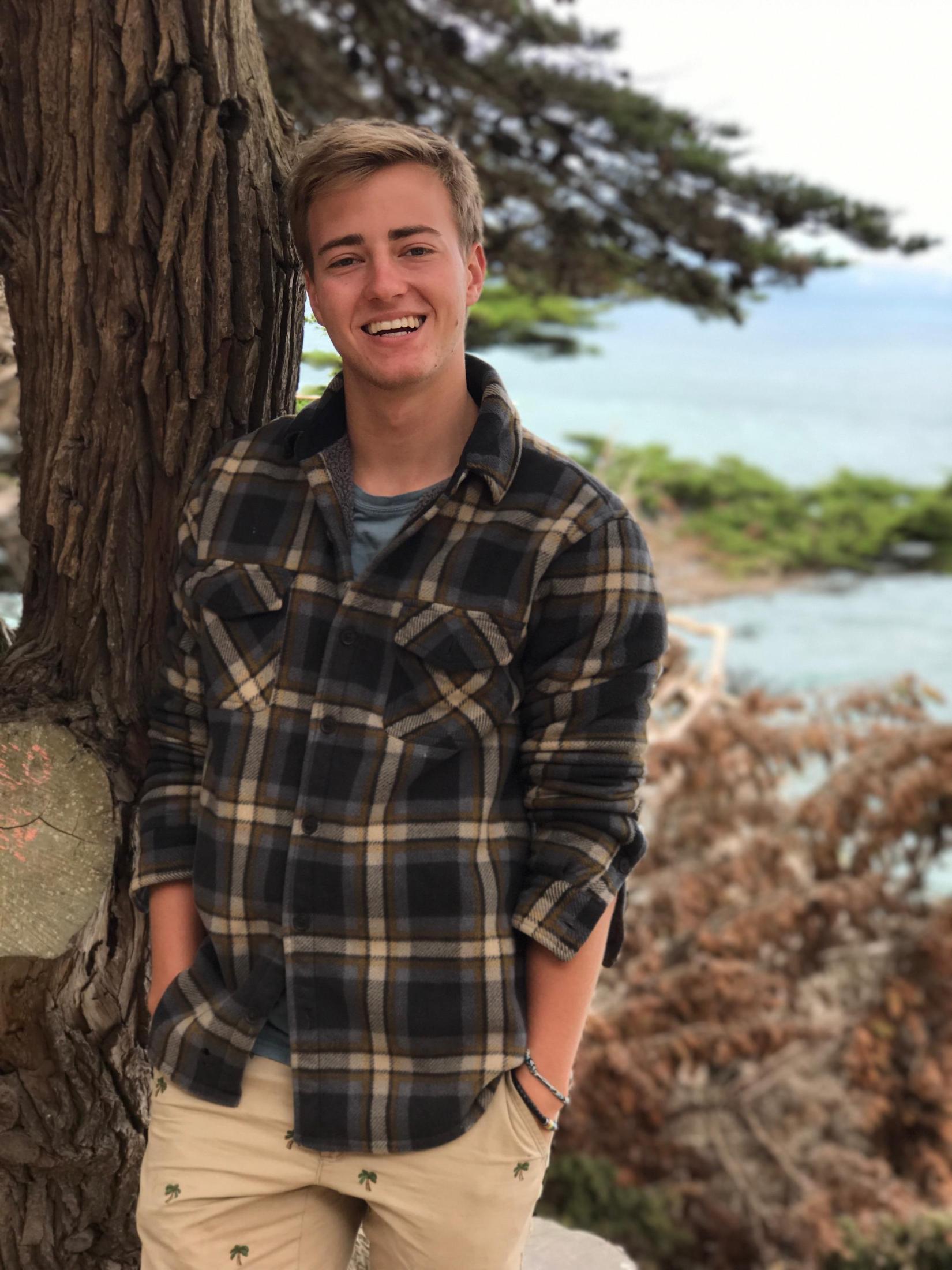 Sean Tighe (Undergraduate Student)
Sean is a fourth year Genetics and Genomics major with plans to attend medical school after graduation. Sean's previous work was in plant genetics. Currently, he is expanding his research experience to include equine genetics. His research focuses on utilizing bioinformatics to find a genetic link for Occipitoatlantoaxial Malformation (OAAM) with support from the Arabian Horse Foundation.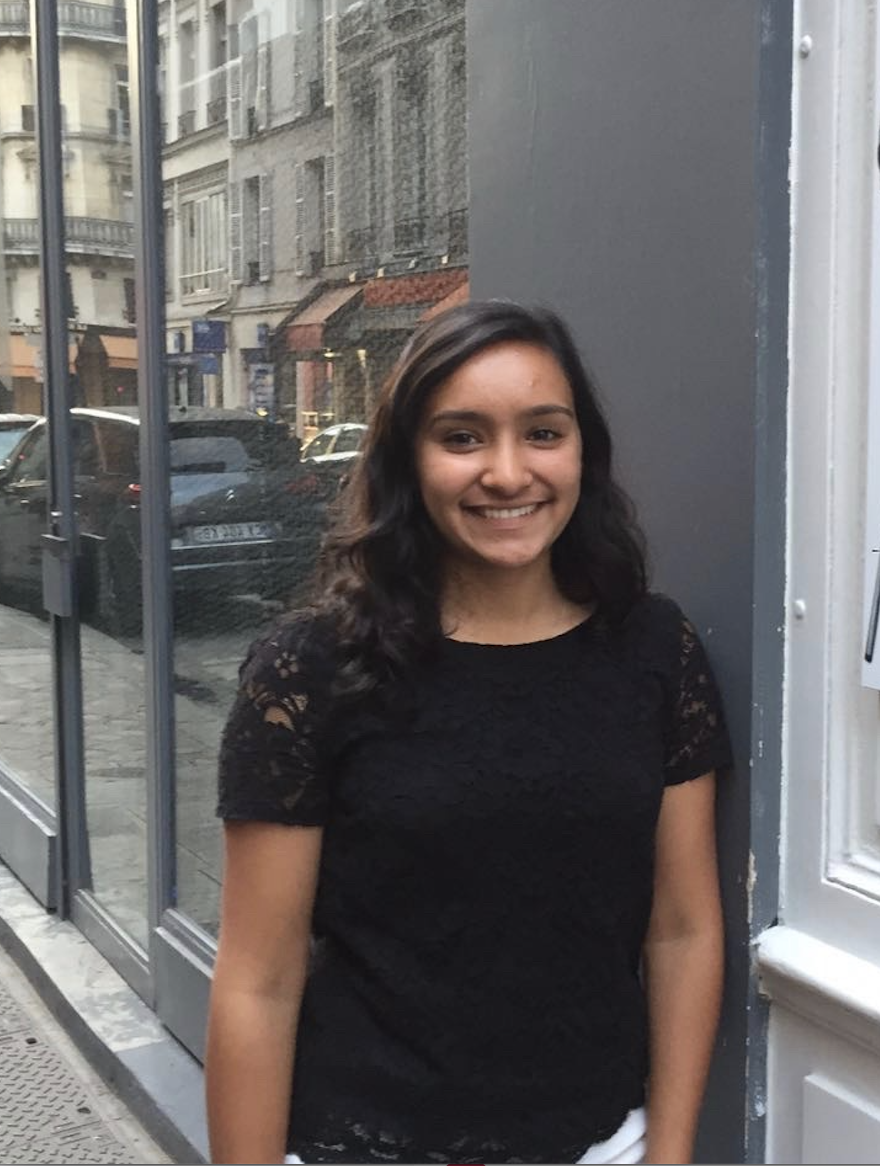 Rachel Poulo (Undergraduate Student)
Rachel is a second-year Animal Science major at UC Davis from a first-generation Indian family. Her grandfather was a famous veterinarian in India and watching his work inspired her to pursue the same career goals. Rachel is part of the Vet Aide club and has had experience with several types of animals including dogs, cats, goats, raptors, and other wildlife. She recently interned at the Vet Med Teaching Hospital in the Ophthalmology department. In the Finno lab, Rachel is analyzing a genome wide association study to investigate Juvenile Idiopathic Epilepsy in Arabian Foals. She is working in collaboration with Brittni Ming-Whitfield and Dr. Monica Aleman. After graduation, Rachel wants to pursue veterinary school and possibly a specialization soon after.