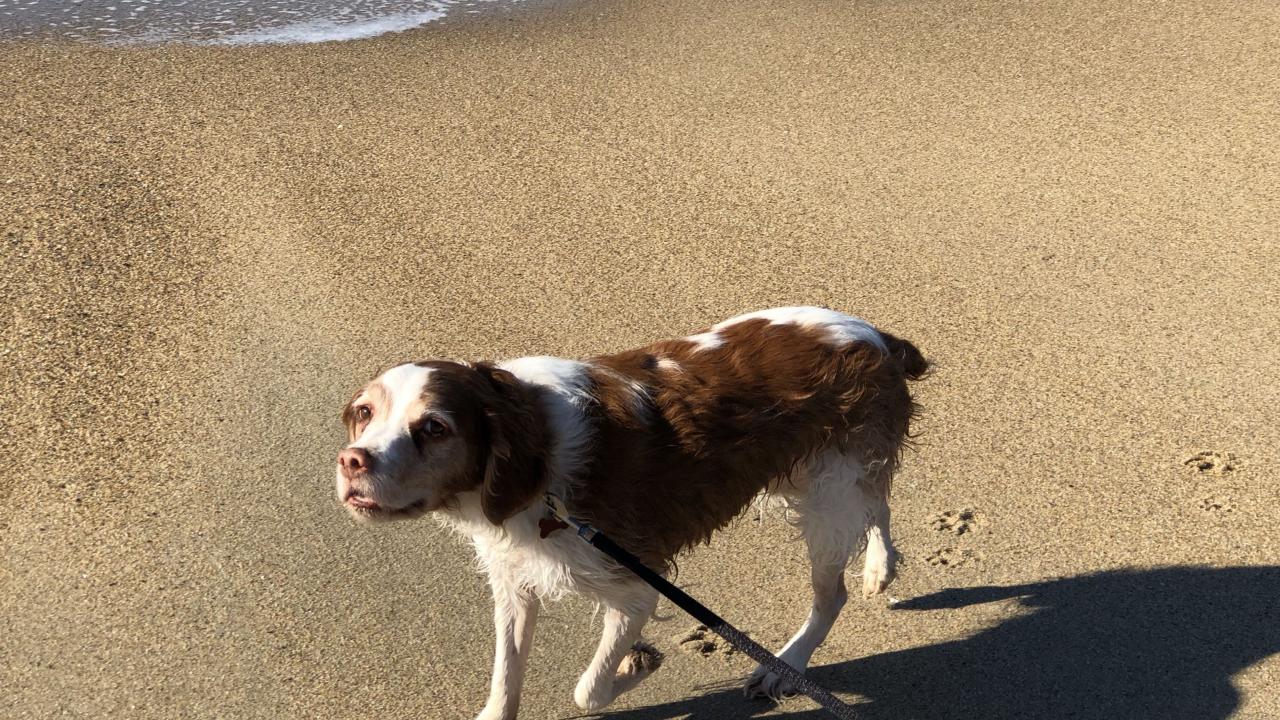 Earlier this year, pet owners Glen and Renee shared with us the story of their dog Trooper, who was diagnosed with cancer. In their words, here is his inspiring tale…
#   #   #
We met our Brittany spaniel in 2009 when he was 8 weeks old, after waiting patiently for a litter from a breeder. Our 8-year-old son named him Trooper, and he has become an integral part of our family.
In November 2018, his local veterinarian noticed some lumps resulting in a surgical biopsy, which indicated a form of sarcoma, likely an aggressive and life threatening diagnosis. Fortunately, Trooper had no visible symptoms and did not know he may be sick, however this began our stressful medical journey with Trooper.
We contacted the UC Davis veterinary hospital to get access to the comprehensive skills, knowledge, and resources available at this institution. We proceeded through many visits with progressive diagnostics that still resulted in a confirmation of the sarcoma diagnosis.
At the hospital's Oncology Service, we received the devastating prognosis that in this situation an animal typically only survives 6-18 months depending on the treatment options. Our family wanted to continue whatever was necessary to support Trooper prolong life with an acceptable quality of life. However, the aggressive treatment would require limb amputation and a lifetime of chemotherapy. Trooper's doctor presented that we could be eligible for funding from the Petco Foundation pet cancer treatment program to assist us in the mounting medical costs. This decreased our financial stress and really helped us focus on what is best for Trooper.
Progressive diagnostics discovered anomalies in his liver and lymph nodes indicating possible disease advancement, and thus reducing viable treatment options. We concluded that many actions under consideration would result in great discomfort for Trooper, potentially disabling outcomes, and result in a painful remainder of his life. We decided on a different approach to try a limited trial with chemotherapy to test whether there would be any productive response to the drugs. Surprisingly, on the day the chemo was to begin, the doctors determined the original mass had reduced in size making them question the diagnosis again. Subsequent checkpoints again confirmed the original mass was unchanged or decreasing, and we paused any further treatment. The medical team concluded that Trooper is not behaving like they would expect given the diagnosis and we should adopt a watchful waiting monitoring approach. This positive status in great contrast to expectations.
During our UC Davis engagement, we proceeded through a number of consultations with the medical team via email, phone, and in person. We feel fortunate to benefit from all of the available resources, as the medical team exceeded our expectations with their engagement, availability, commitment, and compassion. Further, the additional funding provided by the Petco grant really made a positive difference in our ability to proceed with the activities. Our journey has been demanding emotionally since we were told Trooper might not survive to celebrate his 10th birthday back in March. We are treasuring the time now available and hopeful that Trooper will continue on this positive path for a longer future.
#   #   #
It's now been more than a year since the original diagnosis, and Trooper continues to do well. His family looks forward to celebrating his 11th birthday in March 2020.
Trooper's family qualified for financial assistance at UC Davis through a generous grant from the Blue Buffalo Foundation's support of the Petco Foundation pet cancer treatment program at the UC Davis veterinary hospital. The grant helps support treatments for domestic companion animals suffering from cancer. The project is designed to support pet parents of modest means or pet parents whose pets provide a service to others.
Category
Tags