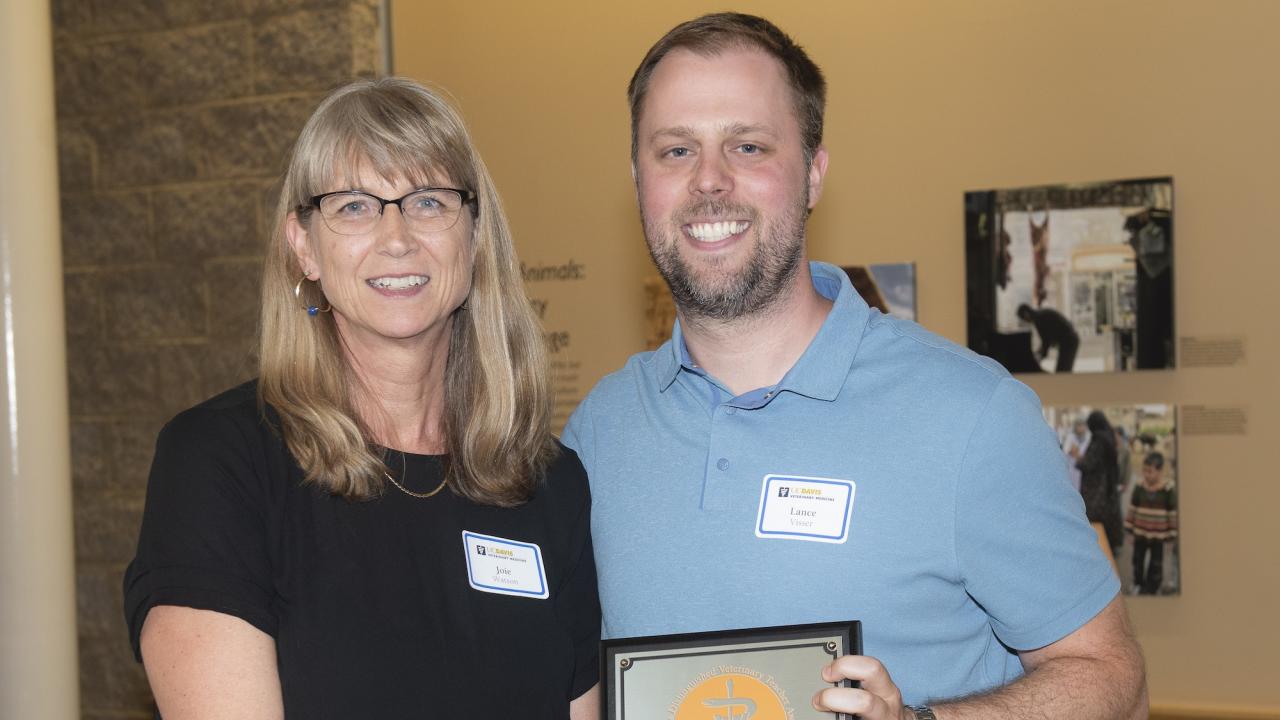 During the fall faculty reception on September 13, Dr. Lance Visser was recognized for excellence in teaching cardiac physiology and clinical cardiology in the classroom and the clinic.
An associate professor in the Department of Medicine and Epidemiology and chief of Cardiology Service, Visser received his DVM and M.S. (2010) from Michigan State University, completed an internship in Small Animal Medicine and Surgery at North Carolina State University, and a residency in Cardiology with a second M.S. degree at the Ohio State University (2014).  He joined the Davis faculty in September 2014.
Teaching in VET408 and VET433C, Visser provides students with a solid working knowledge of cardiac physiology while making the content relevant and interesting. He developed a series of ECG unknowns for the second year students, designed to assist learners with basic skills needed to analyze an ECG tracing. Visser receives exceptional teaching evaluations from veterinary students and it is clear they appreciate his efforts to make a complicated topic more manageable. Many students mention his effective use of humor and historic references to engage their learning. Students consistently comment on his organization, approachability and accessibility, including availability for office hours. 
Visser is also recognized as an exceptional clinical teacher. He has designed image-based presentations to augment the one-on-one teaching he does throughout the clinic day. Strongly reflected in cardiology rotation comments is Visser's compassion for both student learning and well-being. Students describe, in glowing terms, the positive learning environment he fosters. Visser has been named the favorite small animal clinician for three consecutive years. He is an effective and thoughtful teacher whose talents have made a positive impact on students, residents and peers.