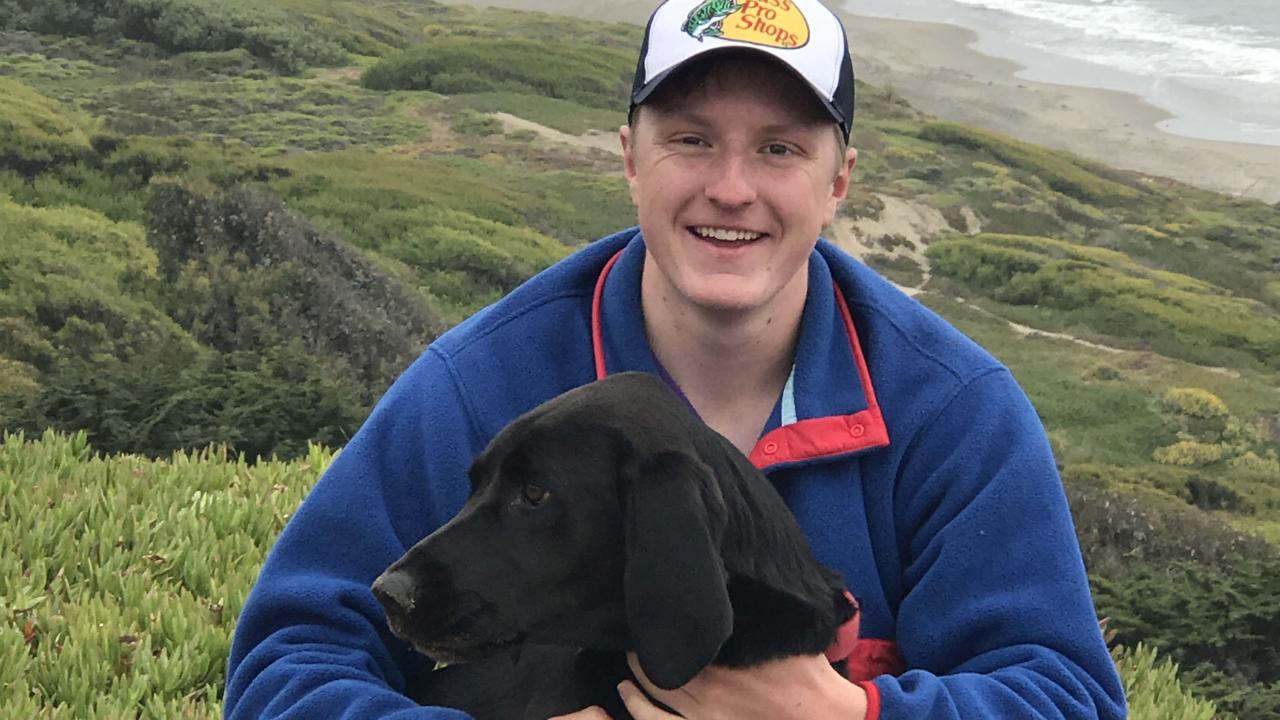 Barclay, a 5-year-old lab Labrador retriever, has loads of personality and is happiest when he is retrieving something for you, whether it's a ball, a toy, or a random stick that he finds. He is particularly known for his dog hugs in which he puts his paws on your shoulders and lays his head gently down on your chest – unexpected gentleness from such a big dog. And, like most Labs, he can sometimes be naughty and get into food if you turn your back for a second. On occasion he has eaten strange things like a cantaloupe, skin and all, and even a bag of dried lentil beans.
Last December, Barclay's owner noticed a lump on the back of his neck. A biopsy and CT scan revealed that it was a cancerous tumor.
"We were fortunate enough to get a referral to the UC Davis veterinary hospital through Barclay's oncologist," said Barclay's "grandmother" Marcy. "Once at Davis, we were embraced by the wonderful team of professionals, and a treatment plan progressed quickly."
Barclay was evaluated and deemed a good candidate for surgical removal of the tumor. He was scheduled for surgery the same week as his initial visit to UC Davis. During surgery, veterinarians successfully removed the tumor. Once Barclay's surgical incision healed, he began radiation therapy.  
Barclay qualified for financial assistance at UC Davis through a generous grant from the Blue Buffalo Foundation's support of the Petco Foundation pet cancer treatment program at the UC Davis veterinary hospital. The grant helps support treatments for domestic companion animals suffering from cancer. The project is designed to support pet parents of modest means or pet parents whose pets provide a service to others.
"Radiation was a long process and lasted five days a week for four weeks," said Marcy. "We were very grateful for the Petco/Blue Buffalo financial assistance that helped with the cost of his radiation. Since we were without pet insurance, the costs were high and out of our range. This assistance gave us the peace of mind that Barclay would get the radiation treatment that he needed, rather than the level of treatment that we could have afforded."
Barclay is now back to chasing balls and sneaking food in the kitchen. Barclay and his owner (Marcy's son), an officer in the Air Force, have since moved to Colorado, where he is now stationed.
"Without the surgery and radiation, Barclay would not still be with us," Marcy added. "We love Barclay and cherish the time with him. We hope that he has a long dog life still ahead. We owe a debt of gratitude to the many doctors and staff at UC Davis who cared for Barclay, and we were comforted by their expertise. We also appreciate the Petco/Blue Buffalo grant for allowing us to complete the necessary post-operative radiation. Thank you UC Davis veterinary hospital for giving us more time with our precious Barclay."
#   #   #
Category
Tags