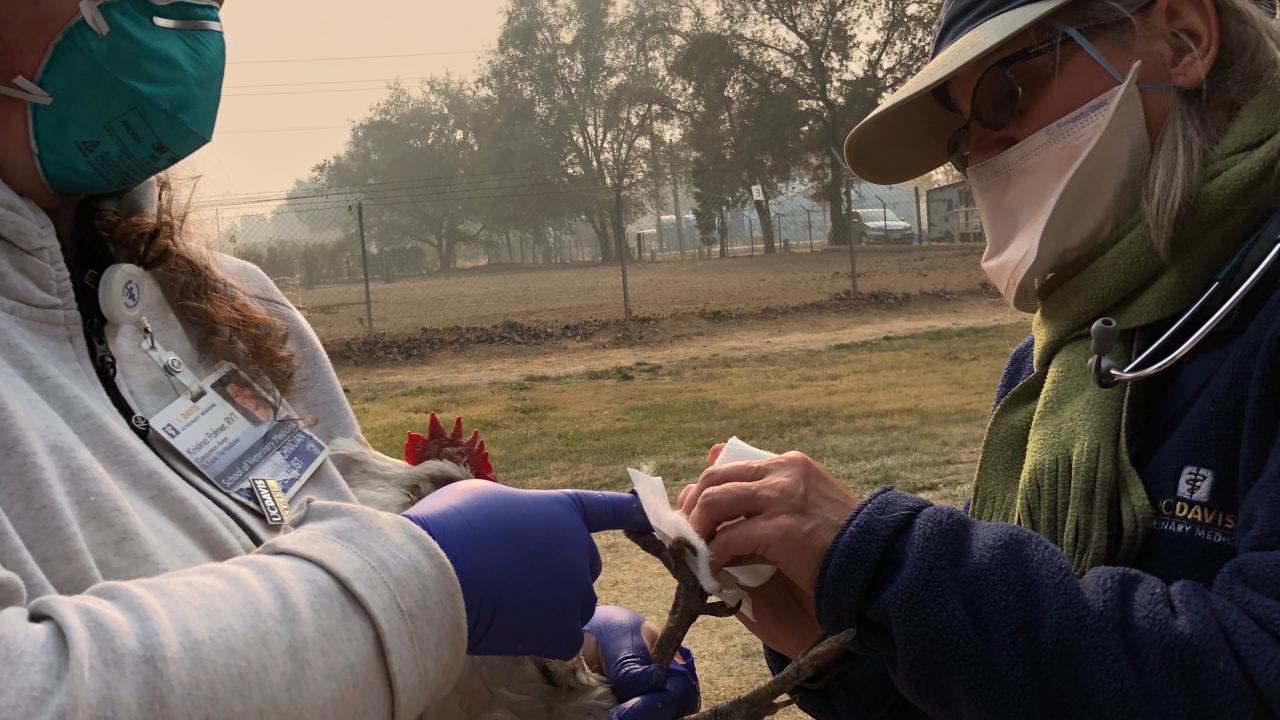 Written by Dr. Michelle Hawkins—director of the California Raptor Center and professor, UC Davis School of Veterinary Medicine
I will never forget where I was when I heard about the simultaneous wildfire outbreak in Northern and Southern California on November 8, 2018. I was sitting in the reception area of my own doctor's office when I heard someone say "Oh no, not again." A wildfire had broken out near Chico, California, and in less than a few hours it had grown to 5,000 acres. By the time I was leaving the doctor's office one hour later, the number of acres in the "Camp Fire" had doubled. The fire was named "Camp" based on the road name from where the fire began.
We watched in horror as the news rolled in that the town of Paradise, CA, was incinerated and several other towns in the area were severely affected. I have lived in Northern California for over 20 years, and sadly the news of wildfires and their destruction in our state have become way too commonplace. But this was the first time I remember hearing terms like "total incineration" being used to describe the devastation.
As a bird veterinarian and a local community member (Paradise is about 1 hour from where I live), I wanted to find some way to help. Soon the UC Davis School of Veterinary Medicine Veterinary Emergency Response Team (VERT) was mobilized while smoke began to blanket all of Northern California. At that point, the California Raptor Center brought in our resident birds and sent our volunteers home to minimize their exposure to the thick smoke. Thanks so much to our dedicated CA Raptor Center team for their hard work making the birds comfortable inside our education trailer!  We didn't receive any burned wild birds through the Center - the birds most likely sensed the fire and flew as far and fast from it as they could. The birds in most danger of being affected were the ground-dwelling birds such as poultry and domestic waterfowl, so I turned my attention there.
The Veterinary Medical Teaching Hospital (VMTH) at the University of California, Davis School of Veterinary Medicine began accepting burned animals right away. Most of the patients were cats, since they tend to hide in a panic and are left behind in disasters compared with dogs that often stick close to their humans. The first bird patient, a goose, was brought to the Companion Avian And Exotic Animal Service at the hospital from the Butte County Fairgrounds. The Fairgrounds housed the livestock and birds being cared for by the North Valley Animal Disaster Group (NVADG). Several chickens with very severe burns were brought to our Service at the VMTH that week for treatment.
One of our long-time technicians, Kristina Palmer, RVT, VST and I decided to drive to the fairgrounds that Saturday to offer our help.  We met with Dr. Lais Costa DVM, MS, PhD, DACVIM, DABVP, who was coordinating the efforts at the Fairgrounds for VERT. She informed us that there were no VERT team members there with bird experience - so she was very happy to put us to work!
What I saw that first day at the Fairgrounds was simply overwhelming. At that point, close to the peak of intake, there were over 500 chickens, turkeys, ducks and geese from the fire areas at the Fairgrounds. This was the largest number of birds ever rescued from a California fire area. Usually, poultry and waterfowl are left to "shelter in place" - meaning firefighters and rescue workers take in food and water daily and leave it for animals if they appeared healthy and there was adequate shelter for the animals to hide from predators and the elements. But Paradise, CA was truly incinerated - there was no shelter left.
Some birds had already been triaged by a large animal veterinarian and their wounds treated. But those vets also had numerous horses, ponies, donkeys, goats, sheep, pigs and llamas needing their attention as well. So, we really had to triage each and every bird to ensure all birds needing treatment were identified, and daily treatment plans were made for each bird that could easily be followed by the NVADG volunteers.
I saw birds with bizarre burn patterns - only on one side of the head, only on one wing - one bird only had burns under one wing. Many birds had foot/leg burns with or without other burns. Most of the birds were thin and dehydrated. Amazingly, there were very few birds showing signs of respiratory distress then. I am still not sure how many birds we evaluated that day - the line for treatment never seemed to end and with the day coming to a close it seemed we still had hundreds of birds to evaluate. We visually checked the rest of the birds to make sure no others required emergency care that night.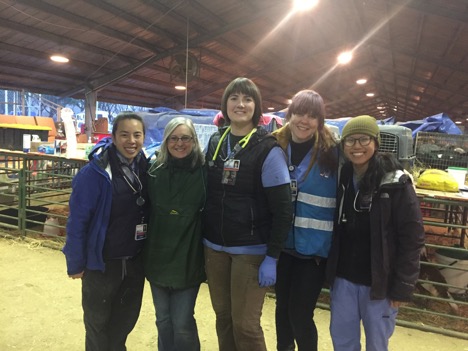 Dr. Costa helped organize "Team Avian" and each day after that several VERT veterinary students helped me with evaluations, treatments and organization of the bird areas. I was so impressed and proud of all these students! A few had bird experience, but most students had little to no experience with birds. It was so rewarding to teach vet students bird handling and restraint and how to perform physical examinations and administer appropriate FARAD-approved treatments to the different species.  We were concerned about the potential for infectious disease outbreaks in such a large population of stressed birds, and so we set up an isolation area where suspicious birds could be evaluated and treated, and established a work flow algorithm to minimize cross contamination and maximize biosecurity. Dr. Costa helped us out by monitoring the isolation population so I and "Team Avian" could practice good biosecurity measures within the general population. At the height of care, our treatment board had over 40 birds needing daily treatments. 
After 10 days of working closely with VERT and NVADG, intake was reduced to a trickle and treatment plans were completely transferred to NVADG for continued care. I continue to communicate with the NVADG supervisors about patients even today, almost 2 months after the fire. Any birds developing new problems or with non-healing wounds are brought to the VMTH now for evaluation and treatment. It was heartbreaking to visit with owners that came to visit their pet birds - some came to visit every day because they had lost everything else and their birds were the only thing they had left. Sadly, many birds and other animals are still being held at the Fairgrounds because their owners don't have anywhere to take them, or have not yet been found. Today there are still over 200 birds that have not been claimed.  
I am so humbled and proud to have been a part of the UC Davis School of Veterinary Medicine Camp Fire VERT team. I will continue to provide support as long as it is needed, and only wish I could do more for our neighbors in Paradise, CA. If you wish to support the efforts of the amazing animal volunteers still helping care for these animals today, please visit the NVADG (https://www.nvadg.org ) and/or the UC Davis VERT (https://iawti.vetmed.ucdavis.edu ) websites for more information.