Surgeons Help Acutely Paralyzed Dog Walk Again
Dog owner Rob Beasom and his wife were out of town when they received a frantic call from their dog sitter. Barley, their 3-year-old male French bulldog, severely hurt himself while jumping off the couch, rendering him paralyzed in his back legs. Beasom immediately made plans to return home and called Barley's primary veterinarian. After Beasom described the situation, the veterinarian told him to take Barley to the UC Davis veterinary hospital.
Upon Barley's arrival at UC Davis, critical care specialists in the Emergency Room consulted with the Neurology/Neurosurgery Service, as Barley's acute paralysis certainly involved a spinal issue.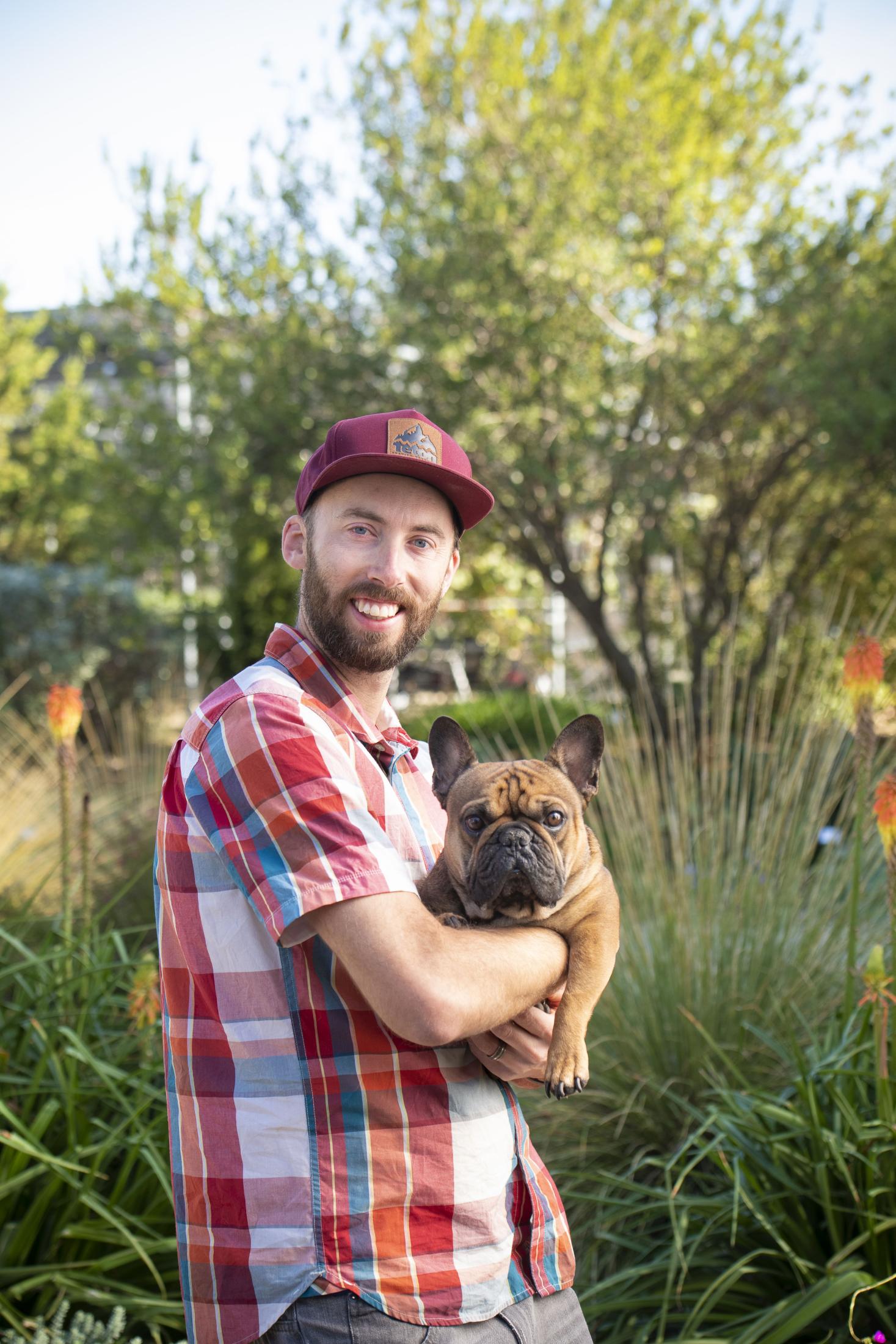 The neurologists' examination of Barley showed him to have pain in his lower back region, consistent with an injury affecting the spinal cord in the region between the third thoracic vertebrae (upper to middle back) and third lumbar vertebrae (lower back). Barley's care team then enlisted the help of the Diagnostic Imaging Service in hopes that a CT scan would pinpoint the exact area of his injury. The scan did just that, revealing a herniated disc at L3-L4 resulting in compression of the spinal cord – the cause of the paralysis. The imaging also showed evidence of intervertebral disc disease (IVDD) which was causing degeneration at multiple disc sites.
On duty with the neurosurgeons that day was Dr. Karen Park, a second-year small animal surgery resident. While surgery residents primarily spend their time with the Orthopedic Surgery and the Soft Tissue Surgery Services, they also rotate through the Neurology/Neurosurgery Service to be trained in routine neurosurgery. Dr. Park would take the lead on Barley's case and see him through discharge and follow-up appointments.
"One of the reasons why I wanted to become a surgeon is because the surgeries are not limited to one area; and as a surgeon, there is so much more to a patient's care and owner communication aside from the surgery itself," said Dr. Park. "There's a lot of involvement in the patient care aspect to a case both before and after surgery. As surgeons, we are involved with both internal medicine and critical care aspects of cases, and (as residents) we train with other specialties, like neurology/neurosurgery with Barley's case."
Multiple specialties and specialists working together under one roof sets UC Davis apart from most veterinary hospitals. While many hospitals will have a dozen or so specialty services, UC Davis has more than 30, making it the most comprehensive veterinary hospital in the country. As the hospital looks to expand and transition to the Veterinary Medical Center (VMC) over the coming decade, those opportunities for collaboration will increase and become more efficient. And more animals like Barley will benefit.
Barley's care team was confident they could correct his immediate problems with surgery, but his IVDD is a degenerative disease that could continue to cause spinal cord compression issues in the future. IVDD affects the cartilage discs between the vertebrae, which normally act as a cushion between each vertebra. As the disc becomes mineralized or calcified over time, the abnormal disc material in the center herniates, and it extrudes out towards the spinal cord. This results in compression, bruising, and sometimes bleeding around the spinal cord and subsequent neurological signs, such as Barley being unable to move his hind legs.
Dr. Park and neurology/neurosurgery faculty member Dr. Chai-Fei Li performed a hemilaminectomy surgery that relieved the compression of Barley's spine. During the procedure, surgeons drilled/opened a "window" in the lamina portion of the vertebrae. This procedure preserved the structural integrity of the spinal column, but allowed the surgeons access to clean out the disc area that herniated against the spine. Once that debris was cleaned out, Barley's spine was no longer compressed, allowing the spinal cord and nerves to his hind legs to heal and eventually function properly again.
Drs. Park and Li also performed a procedure called a fenestration at nearby disc spaces to remove the abnormal disc material that is at risk for future herniation. While this will not completely prevent future disc herniation, it may reduce the risk.
Barley recovered well from his surgery. He was mildly ambulatory with good motor function in both hind limbs after three days of hospitalization. Dr. Park ordered strict cage rest for four to six weeks. While the majority of Barley's recovery will occur in the first two to three months, it can take up to six to nine months for the spinal cord to completely heal from an injury.
Six weeks after surgery, Barley visited Dr. Park for his follow-up appointment. She is happy to report that Barley's recovery is going well, and he can gradually return to normal activity at home, starting with 10-15 minute walks a few times a day. However, jumping off the couch and rough play are still off limits for several months and to be limited for the remainder of his life.
As part of the VMC project, UC Davis will construct an entirely new Small Animal Clinic, expanding the size and scope of the current hospital. This will open new training opportunities for residents like Dr. Park, allowing them more experience in procedures like Barley's surgery, and continue to push the limits of veterinary medicine.
#   #   #
Primary Category
Tags