Surgery and Radiation Successfully Treat Husky's Tumor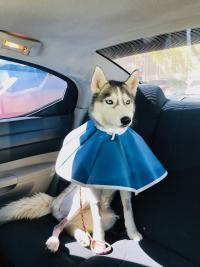 Jerico, an 8-year-old female Siberian husky, began growing a mass on her rear limb. When owners Rita and Victor Martinez shared the news with a friend—a medical doctor at UC Davis—he referred them to the UC Davis veterinary hospital.
"He spoke very highly about the program and gave us the peace of mind that Jerico would be in good hands," said Rita.
The Oncology Service diagnosed Jerico with a grade 1 soft tissue sarcoma. X-rays and ultrasound showed no signs of the cancer spreading to other parts of her body, so the Martinezes chose to pursue surgery to remove the tumor followed by 14 rounds of radiation therapy treatments.
The Martinezes qualified for financial assistance through a generous grant from the Blue Buffalo Foundation's support of the Petco Foundation pet cancer treatment program at the UC Davis veterinary hospital. The grant helps support treatments for domestic companion animals suffering from cancer. The project is designed to support pet parents of modest means or pet parents whose pets provide a service to others.
"Jerico received great care while at UC Davis," Rita said. "She is now back to her energetic happy self."
Going forward, Jerico will be continually monitored every 3-6 months for recurrence of the cancer.
#   #   #
Primary Category
Tags