Vallejo K9 Officer Undergoes Successful Surgery at UC Davis
"Case of the Month" – May 2022
K9 Officer Groot, a 7-year-old male German shepherd with the City of Vallejo Police Department, has always been an active and healthy partner for Officer Dynelle Jones. His work is an important public service—he assists her with suspect apprehensions and is trained to detect firearms and ammunition—so she was concerned for his health recently when he vomited his food and a small piece of plastic, as well as being lethargic and heaving constantly. She brought him to the UC Davis veterinary hospital's Emergency Room, where veterinarians found his condition to be more severe than Jones had initially suspected.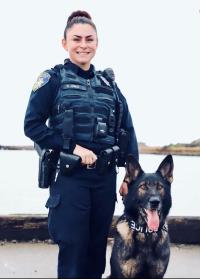 After an initial examination in the ER, Groot was seen by the Diagnostic Imaging Service, which performed x-rays and an ultrasound of his abdomen. Tests showed Groot's spleen to be enlarged and his stomach filled with gas and fluid.
German shepherds and other large breed dogs are susceptible to a condition called a gastric dilitation-volvulus (GDV), where their stomach fills with fluid and air and rotates on itself (commonly referred to as "bloat"). Clinicians suspected that Groot may have suffered a GDV that had untwisted prior to arriving at the hospital which caused trauma to his intestines, in addition to possible inflammation of his stomach from plastic ingestion. When a dog's stomach fills with air, pressure is placed on the surrounding vessels, possibly reducing blood flow to the heart. Because of these potential scenarios, the Anesthesia and Soft Tissue Surgery Services were brought in to perform an exploratory surgery.
Surgeons found a twisted spleen, which they removed, and passed a gastric tube to empty Groot's stomach. Finally, they performed a gastropexy, which involves permanently suturing the stomach to the abdominal wall or diaphragm to prevent a future GDV.
Groot was hospitalized for two days and recovered well. Jones reports he was off his medications quickly and is resting comfortably at home.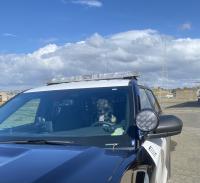 "I am so appreciative of how amazing UC Davis was with Groot," Jones said. "I wasn't aware of how serious his condition was when we first arrived. The staff was phenomenal working with me through this."
Groot and Jones have been partners with the City of Vallejo Police Department since his arrival in 2018. He accompanies Jones every day on duty and lives with her. Jones said Groot has been cleared to return to duty following a few weeks rest.
As with most police departments, the City of Vallejo Police Department does not have a health care fund established for its K9 officers. To that end, the UC Davis School of Veterinary Medicine established the Faithful Partner Fund in 2015 to assist with the medical costs of treating K9 officers.
Please consider a donation to the Faithful Partner Fund to help more dogs like Groot who selflessly serve the people of California.
#   #   #
Secondary Categories
Tags