Dr. Jane Sykes, chief veterinary medical officer of the William R. Pritchard Veterinary Medical Teaching Hospital (VMTH), and Joy Hoover, hospital administrator, hosted the 2018 hospital staff awards ceremony Friday, June 1st. Faculty and staff gathered to recognize colleagues for their outstanding efforts and achievements.
"You are all outstanding, highly appreciated individuals and we would like to thank you on behalf of the entire VMTH for all that you do for the hospital and the broader community," Dr. Sykes said. "Without you, our staff, we would not have a clinical program in which others can learn, teach, provide patient care and develop new knowledge."
Valerie Wiebe – 2018 Rachel Smith Award
Valerie Wiebe was recognized with the prestigious Rachel Smith Award for her dedication to patient care and outstanding client service. She is known for her positive approach to service, as well as, supporting the staff, faculty, residents and students with respect and compassion. She goes above and beyond to ensure that clients receive the information and medications they need for their animals. She is knowledgeable, hard-working, organized, patient, and exhibits humor and grace on a daily basis.
Rachel Smith was the lead staff member in the VMTH Clinical Pathology Laboratory for many years; working alongside Dr. Oscar Schalm to develop the field of veterinary hematology.  In 1985, on the occasion of her retirement, this award was established to honor her outstanding dedication and commitment to the hospital.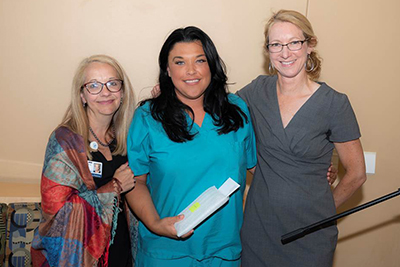 Soli Redfield – 2018 Client Services and Hospital-Wide Administrative Support Award
Soli Redfield was recognized for her positive attitude, demonstrated compassion and empathy for hospital patients, and her efforts to ensure both patient and client comfort in as stress-free an environment as possible. Her dedication to her work and innovative efforts to support the multitude of large animal services on a daily basis is appreciated by all – clients, students, residents, clinicians and staff. In addition to her wonderful patient care and support, she also takes responsibility for cleaning and returning personal items (halters, blankets, belongings) to owners who have lost their horses. The impact of these final efforts is extremely thoughtful and appreciated by clients in their time of grief.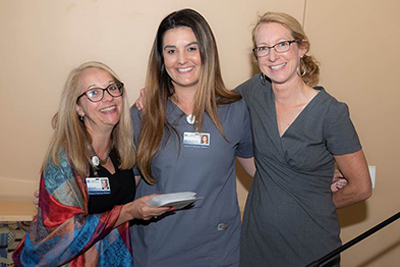 Michelle Connell - 2018 Laboratory, Pharmacy, Central Service and Diagnostic Imaging Award
Michelle Connell was recognized for her hard work to coordinate the imaging caseload between radiography and fluoroscopy, provide patient support for imaging including C-T and ensuring that the maximum information is obtained from these imaging modalities. She is polite, positive and very proficient in her duties. Her can-do approach and interactions with patients, residents and faculty is lauded, as is her skill in animal handling, sedating and positioning for best imaging results. Connell is an excellent teacher of students knowing when to let them figure things out themselves and when to intervene and provide assistance. She is able to strike just the right balance between camaraderie and professionalism.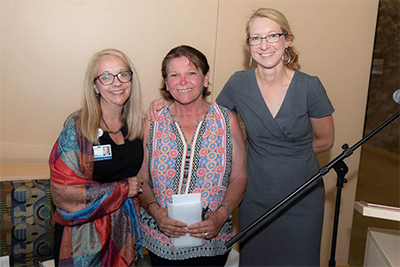 Barbara Thorne – 2018 Large Animal Clinic Staff Award
Barbara Thorne was recognized for her expertise and contributions to the teaching, service and accurate medical information captured on field visits. She sets the professional tone of the field visit including expectations of timeliness, preparedness (equipment, supplies) and safety for animals, students and clinicians. She assures quality bovine and small ruminant reproductive diagnoses and treatments of hundreds of patients per farm visit during palpations or ultrasounds. She teaches students what it's like to be a client, what they expect of their veterinarian, and the impact of real-world economics on treatment plan recommendations. Thorne is viewed as a safe, nonjudgmental source of information, advice and moral support for students; trusted by clients and clinicians alike.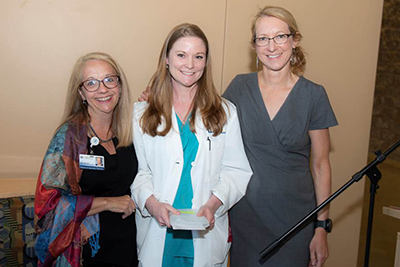 Karen Haflinger-Moody - 2018 Small Animal Clinic Staff Award
Karen Haflinger-Moody was recognized for her knowledge and expertise as a surgical nurse as well as her caring and empathetic approach to patient care and client communications.  She is known as being super organized, accurate, respectful, proactive and always asks exactly the right questions. She supports students in their learning and demonstrates a positive attitude and professional demeanor essential to success. She is calm, adept at dealing with conflict, and offers suggestions at just the right time, in just the right way. Haflinger-Moody is always prepared and takes steps to learn new procedures in advance, to both support the hospital team and provide the highest level of patient care possible.
Danielle Carrade-Holt and Rob Warren – Team Star Award
Danielle Carrade-Holt and Rob Warren were recognized with a Team Star Award for their outstanding efforts associated with this year's Picnic Day at Vet Med event. They planned, organized and coordinated all of the activities demonstrations, tours, booths, displays and volunteers for this open house event, which was bigger than in past years. They worked for weeks in advance to oversee arrangements, recruit volunteers, and develop consistently branded signage, advertisements, maps and the website. On the day of the event they both arrived very early to provide extensive set-up, oversight and clean-up to ensure the day's success for visitors and the school's team members.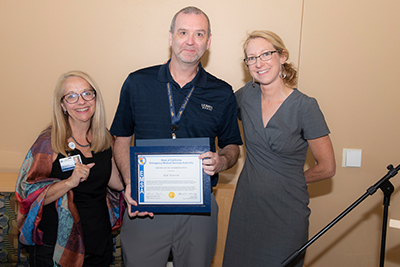 Rob Warren - State of California, Emergency Medical Services Authority - Certificate of Commendation
In October 2017, Northern California experienced unprecedented fires that burned at least 245,000 acres. Seventeen wildfires broke out throughout Napa, Lake, Sonoma, Mendocino, Butte, and Solano counties. These fires included the Tubbs Fire (which grew to become the most destructive wildfire in the history of California), the Atlas Fire, Nuns Fire, and others. Our communities' medical systems were tested to their limits. 
This commendation was presented to Rob Warren for his contributions to the overall school efforts to support animal emergency medical response. He promoted outstanding communications within the school, with our teams in the field, with state and county first responders, as well as, promoting the collective efforts to the media and the public to keep them informed. His efforts were also instrumental in raising more than $200,000 to pay for animal fire victim patients receiving veterinary care at the VMTH.