White Coat Ceremony
The white coat is the symbol of clinical service and care. At other schools, students only participate in didactic education in the first years of their training. Their white coat ceremony then occurs during their transition to the clinical phase of their education. At UC Davis, you will be able to work with patients and gain clinical skills in your first year. Therefore, you will take the School of Veterinary Medicine student oath, receive your white coat, and be welcomed into the veterinary profession by the dean in this ceremony that begins your professional education.
---
White Coat Ceremony
Friday, August 18, 2023 - 3:30 p.m.
The White Coat Ceremony will be held at the Robert and Margrit Mondavi Center. Students are allowed up to four guests. Wristbands will be required for admission into the venue for all students and guests (including newborns), and will be distributed to students upon check-in for Prologue. Students may allocate wristbands to guests at their convenience. The event will be live-streamed for those who are unable to attend in person. The recording can be accessed through Facebook and Youtube after the event. 
Students are encouraged to dress in business casual attire during the ceremony.
LOCATION AND DIRECTIONS
Mondavi Center for the Performing Arts
523 Mrak Hall Dr, Davis, CA 95616
(Google Maps Directions)
PARKING
The main parking structure is located on Hilgard Lane, just south of the Mondavi Center building. 
A printable map of the area, including the passenger drop-off route, can be downloaded from here.
Instructions for complimentary parking for the White Coat Ceremony can be found in Canvas.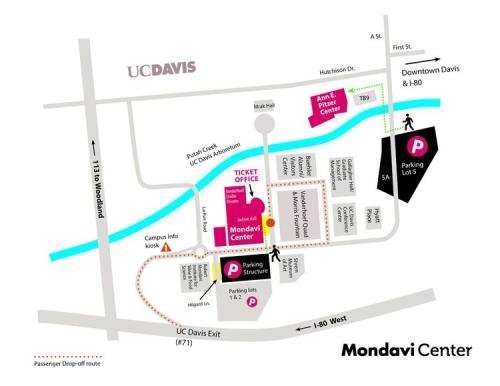 Please note: Pets will not be allowed at the ceremony
---
Reception
Friday, August 18, 2023 - 5:00 p.m.
Immediately following the ceremony, join us next door at the Buehler Alumni Center for small bites, and music to celebrate! 
LOCATION AND DIRECTIONS - Walter A. Buehler Alumni Center: 530 Alumni Ln, Davis, CA 95616 (next to the Mondavi Center building)