Cheryl Yashar - Australia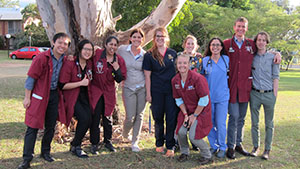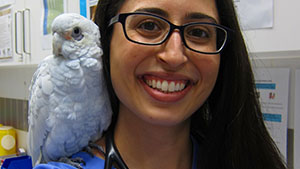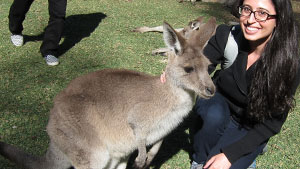 Last summer, I had the unique opportunity to extern at The University of Queensland School of Veterinary Science teaching hospital in Queensland, Australia. While there, I worked alongside and learned from Dr. Bob Doneley, avian specialist and head of the avian and exotics service at the school, and Dr. Stephanie Shaw, wildlife veterinarian.
My desire to pursue avian medicine with an emphasis on parrots provided my initial motivation to travel to Australia, as the country offers distinctively high pet parrot ownership demographics in addition to a diverse range of parrot wildlife, including cockatoos, lorikeets, and "true parrots." I enjoyed interacting with and learning the unique medical needs of a multitude of avian species, including everything from kookaburras to red-tailed black cockatoos to wedge-tailed eagles. In addition to being engrossed in the many avian cases in which I participated, I was fascinated by the non-avian exotic animals we treated of species endemic to Australia, such as wallaby and kangaroo joeys, sugar gliders, and echidnas.
My enthusiasm for expanding my knowledge of avian veterinary medicine was met with a wide variety of hands-on clinical opportunities with parrots that improved my proficiency in avian handling and physical examinations, diagnostics, and treatments. I also observed and assisted with technically demanding surgeries and procedures performed by Drs. Doneley and Shaw. Fortunately, as an academic teaching hospital, the clinic's veterinary team is particularly well positioned to provide an enriching student experience. I found this positive learning environment advantageous on a daily basis, as the doctors and technicians offered practical learning opportunities wherever possible in the clinic.
The clinicians' desire to teach also proved apparent in the classroom setting, as Dr. Doneley invited me to attend an avian practical laboratory class he instructs at the University of Queensland for veterinary students. During this session, I had the opportunity to practice avian handling, physical examination, injections, catheter placement, and fracture splinting and bandaging techniques.
The teaching hospital offered the additional benefit of interacting and building friendships with University of Queensland veterinary students completing the clinical year of their veterinary educations. Collaborating with senior students through both case presentations and informal discussions created additional learning opportunities and mutually beneficial exchanges of knowledge.
In my free time, I would watch in wonder as the wild lorikeets, galahs, and cockatiels skillfully navigated the skies in my backyard. On the weekends, I traveled to respected wildlife sanctuaries and zoos, such as Currumbin Wildlife Sanctuary and Australia Zoo, where I expanded my understanding of and interacted with many of Australia's awe-inspiring native wildlife. After completing my externship, I engaged in the once-in-a-lifetime experience of exploring the underwater world of the Great Barrier Reef.
Overall, my time in Australia proved a truly unforgettable journey, filled with learning, new connections, and exploration in one of the most breathtaking countries in the world. I am deeply grateful to the Office for Global Programs for your support in advancing my knowledge of avian veterinary medicine. Thank you!
Tags