Devin von Stade - Mongolia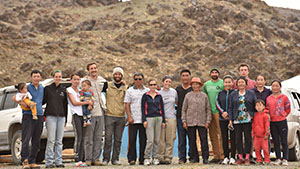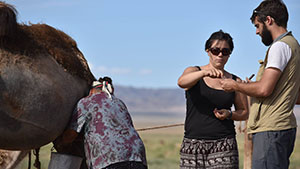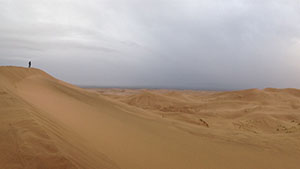 This summer I realized a dream I had left on the backburner for over a decade, exploring Mongolia with one of my best friends. Inspired by old National Geographic articles and pieces of historical fiction and non-fiction alike we had declared it the ultimate personal adventure goal. Having grown up (a little) since then, I briefly considered that my excitement at the prospect was perhaps misplaced, that now as a scientist my idea of adventure no longer applied, but I was so very wrong.
An adventure for me is an unusual experience where I face natural and cultural challenges, where I encounter new animals while camping under a foreign sky; an experience where preconceptions are broken down and questions have to be answered from scratch. This idea is as much entwined with the fantasy of youth as it is with a scientific approach. I went to Mongolia to test a field microscope as part of my summer STAR research project where I was assessing the capabilities of a low-cost digital microscope for veterinary tele-medical applications and preconceptions would only hold me back.
We were an interesting research team: three veterinary students with independent research projects and their veterinary advisor, a biomedical engineer/ cinematographer (my childhood friend), two field agents for a non-profit, a driver/ geologist, a translator/ photographer and a score of supportive individuals along the way from research staff and rural veterinarians to street-wise liaisons.  We had coordinated our goals to involve mostly the same animal sample sets so that we could maximize the amount of data we got on any individual, share resources and save time so that we could do everything we needed in the limited time we had; as with any plan involving so many factors, we had to adapt much of it as one challenge after another popped up.
Half of our time was spent piled into two SUVs, one filled with people and equipment, the other people and Bankhar puppies, the national livestock guardian dog that the Mongolian Bankhar Dog Project (bankhar.org) is working on reestablishing as a buffer between pastoral herders and the endangered carnivores of Mongolia (such as Snow Leopards). We would pick up a local veterinarian on our way to the herders that would be adopting a puppy, to meet with them and their family in their ger. First we would talk about the weather, the upcoming festival and family relations for a bit through our translator while drinking hot salted milk tea and indulging in cheese curds and candies, or if our timing was right, a soup of previously dried goat and noodles. Our translator would ensure that we followed customs and would help us talk comfortably with the family before we would begin to discuss business. This would often happen three to five times in a given day before and sometimes after getting blood, milk and fecal samples from their livestock and dogs. The sun wouldn't set until around 10pm so we not only started early, but worked late, camping under the stars. When we were waiting for herds to return from pasture we would go for hikes in the hills or play frisbee with the kids. Around the fire at night we would hear from our local veterinarians about how veterinary practice has changed in the country over the past decades, about how they were once paid be the government to give care in rural areas, one woman having spent decades traveling the Govi on camel back from one herd to the next to offer care, but now with the practice privatized almost all younger veterinarians were staying in the city where they could make a living wage.
The other half of our time we spent in Ulaanbaatar, the capitol city where most of the veterinarians were now staying to work. There we processed our samples and began our analyses at the national veterinary diagnostic laboratory. When I didn't have my eyes glued to the microscope or hands at a sink, diligently staining blood smears, I was out with the others, exploring, or grabbing a bite at restaurants that served spiced food and vegetables, both absent from the countryside diet. Often we would be joined with contacts from the lab or others we worked with and I got to pick their brains about how Mongolia was developing, where it was headed and what the veterinarian's role in all of this would be.
This was an amazingly multifaceted experience, filled with adventures I have and will continue to learn from. I am very grateful for the SVM International Externship Fund's help in realizing a decade's worth of dreaming with a lifetime's worth of experiences.
Tags