Sarah Tirrell - Thailand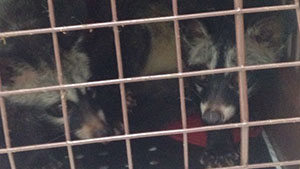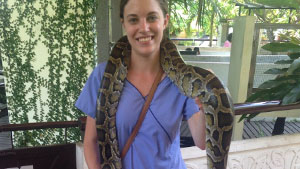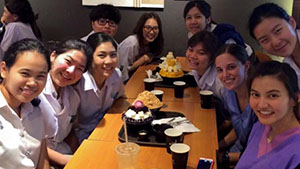 This summer I returned to one of my favorite places in the world – Thailand, the land of smiles. My goal is to practice veterinary medicine in Thailand, so I was extremely excited to participate in a veterinary externship at Chulalongkorn University's Small Animal Teaching Hospital in Bangkok, Thailand. I was not disappointed by my experience; I was able to expand my knowledge of veterinary medicine, practice some clinical skills, explore the differences between veterinary medicine practices in Thailand and in the United States, and make some new friends.
During my externship, I was able to assist the hospital's veterinarians in four different specialties. I spent 3 days a week in General Medicine with Dr. Kaew giving various injections, restraining patients, drawing blood, running some blood tests, and practicing other clinical tasks. Since she spoke fluent English, I was also able to discuss cases with her and ask questions about veterinary education and practice in Thailand. Through these conversations I was able to learn about disease patterns in Bangkok, how Thai culture affects the standard of care, and how Thai veterinary school differs from America. One of the most interesting things I learned was that during the four years that Dr. Kaew has been practicing, she has only euthanized three patients. Palliative care is a major focus of Thai veterinary medicine and euthanasia is usually only performed in extreme trauma cases.
For the rest of the week, I was able to choose a specialty to work in. During the first week, I helped Dr. Sun in the Exotics ward. While there, I saw a wide variety of animals, including rabbits, geese, snakes, birds, turtles, sugar gliders, and even a pair of palm civets! I was able to learn restraint techniques for each of these species and observe their unique medical problems and treatments. During the second week, I rotated through the obstetrics/gynecology/reproduction specialty with Dr. Nest. My time there was unique because I was able to spend the half of my time in the examination room and the second half in surgery. This allowed me to see dogs, cats, and rabbits diagnosed with reproductive problems, examined pre-surgery, or followed up after surgery during the first day, and then observe the same surgeries the next day. During my last week, I visited the ophthalmology department and worked with Dr. Bow. My favorite part of my time there was meeting many Thai veterinary students, who were extremely friendly and happy to explain the cases to me.
After my externship, I was able to travel to Kanchanaburi, a province known for the Bridge on the River Kwai and its many waterfalls. Better yet, it was also famous for its seafood! Spending a few days hiking through the forest and eating delicious food with friends was the perfect way to finish up my summer.
The time I spent in this externship was an immensely educational and invaluable experience. In addition to strengthening my technical skills and medical knowledge, this trip has confirmed my passion to practice veterinary medicine in Thailand. The people I interacted with and the knowledge I gained during this externship will help me to pursue this goal and become a successful veterinarian in Thailand. I am tremendously grateful to the Office for Global Programs for giving me this opportunity!
Tags