Taylor Calloway - Sri Lanka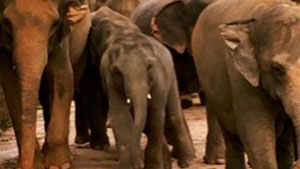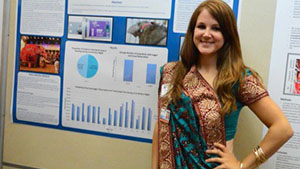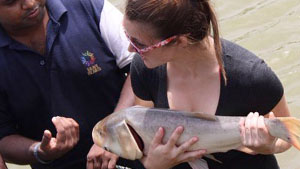 Last September, I sat down at my computer with the goal to find opportunities to travel and conduct research the following summer. I discovered five possible mentors to contact and immediately we began setting up meetings to explore various opportunities. After each meeting I was introduced, and then reintroduced, to Dr. Woutrina Smith. This prompted me to ask her for guidance.  After much thought she guided me to Dr. Eranda Rajapaksha in Sri Lanka to start a preliminary research project and become part of a new One Health Intensive Field Course in Sri Lanka.
I admit that at the time, I did not know Sri Lanka was even a country.  I realized that if I was able to be a part of this exciting project, I would be immersing myself in a completely new cultural experience.
Dr. Eranda Rajapaksha, a veterinarian master student of his, Dinusha, and I worked together to study the nocturnal lying patterns of orphan elephant calves at Uda Walawe's Elephant Transit Home. This rehabilitation center houses semi-captive orphaned elephants until they can be reintroduced into a national park. With the help of Dr. Vijitha Perera, we were able to compare nocturnal visual observations with a new idea of positional data loggers. This study demonstrated that elephants spend roughly half the night lying down and half their time standing. Also, the new data loggers performed similarly to the gold standard visual observation method and hold promise for future use in captivity and wild elephant settings.
Although I originally thought I would be focused solely on conducting this research and playing with elephant calves in my down time, I found that I was able to explore many historical sites, temples and towns.  I was also able to spend lots of time interacting with local people and animals.
By participating in the One Health course, I saw a significant amount of this fabulous and vast country. We were able to talk with the people of Sri Lanka, examine what they did daily and the true problems their nation is facing.  I was able to step out of my veterinary background and talk about gender roles, waste management, food and dairy management, environmental issues, rabies, human diseases and practices as well as government politics.  My eyes were opened to the fact that there is more than veterinary work that needs to be accomplished and, along with others, I can help influence this.
After my trip, I was left with the belief that the people of this country deeply influenced me, more than any other facet of this trip.  I was able to stay with multiple host families and work with Sri Lankan students during the course and my research.  I am amazed by their shared strong nationalism, yet even many neighbors maintain different traditions and customs.
I was fortunate to have been able to see much of the country, conduct a research project that I am still extremely excited about and involved in, while also expanding my own cultural knowledge of different people and customs. This past summer is one I will cherish forever.  In the future, I plan to take any and all opportunities to travel and to learn more about veterinary medicine, research and culture.  As cheesy as it sounds, Sri Lanka has changed the way I view life and I am forever thankful to the people that helped me with this experience.
Tags