Janice Lee - Australia
Dr. Doneley popped his head into the student study room. "We're ready for the wallaby radiographs now," he said casually. Hardly any of the other students looked up from their records as I scrambled for my camera and notebook, reminding myself that spontaneous hyperventilation is notably off-putting, regardless of what country one is in.
This summer, I interned with the Avian and Exotics veterinary team at the University of Queensland Small Animal Hospital. Under the mentorship of avian specialist, Dr. Bob Doneley, I delved into the rich diversity of Australian wildlife on a daily basis. Throughout the day, local wildlife organizations and good Samaritans contributed to a unique caseload, indeed. Within the first week, I had assisted in physical examinations of a colorful array of endemic birds: cackling kookaburras, white cockatoos, rainbow lorikeets, and rose-breasted galahs to name a few. In addition to avian species, marsupial patients such as koalas, quolls, and wombats were often admitted with a wide range of injuries and diseases. In this setting, I quickly learned that preparation and flexibility often go hand-in-hand in order to provide optimal care in a wildlife and exotics service.
Often, wildlife patients required special procedures. One of the most memorable cases of my internship was a wedge-tailed eagle, the largest raptor species in Australia, that required pin placement following a suspected bullet wound to his left wing. Every aspect of Sir Weginald's care, from proper handling to unerring focus at each step of his surgery, required careful coordination between members of the veterinary team. For me, this case represented the efficacy of patience, individual preparation, and strong communication in providing the best treatment for patients.
In addition to wildlife patients, the Small Animal Hospital received a steady flow of scheduled exotic pet appointments. As an intern, I assisted senior students on their clinical rotations during each step of the diagnostic process. For each patient, we interacted personally with the client, obtained a comprehensive medical history, and conducted physical exams. We then assisted the veterinarians and technicians with any additional diagnostics. Every morning and afternoon, we were responsible for providing patients with food and medication, and occasionally, were tasked with proposing treatment plans ourselves. By immersing myself in this hands-on learning environment, I quickly understood the importance of designing species-specific anesthetic plans and diligent monitoring in reducing stress for the animals. Moreover, I was constantly impressed by the veterinary team's ability to treat each case on an individual basis. Within minutes of sterilizing the procedures room after a guinea pig dental they would be scrubbing up for a python debridement or opening up another surgery pack for a chicken toe amputation. Regardless of the situation, they focused their attention on each patient with renewed dedication and compassion.
Surrounded by such a rich diversity of species every day, I learned the importance of a curious and open-minded approach to healing. While the caseload was unique to Australia, the main issues assailing wildlife – deforestation, infrastructure development, and loss of habitat – are not confined to the other side of the Pacific. Therefore, I leave Queensland with a renewed understanding of the commitment it takes to return each individual animal to its natural habitat, as well as a deeper understanding of the role of veterinarians as advocates for coexistence with wildlife.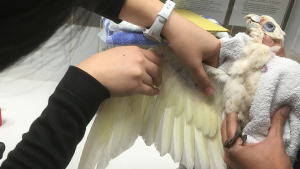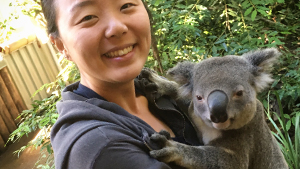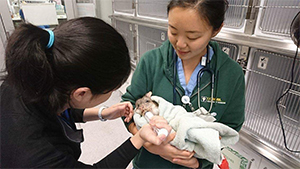 Tags