Kelly Morello and Monica Milstein - Australia
This past summer, Monica Milstein and I crossed the equator to venture to the University of Queensland (UQ), Australia, in the pursuit of an avian and exotics clinical externship. Not only did we return from some of the best six weeks of our lives with unbelievable memories, but also a clearer view on how we wish to share our passion for veterinary medicine. It all started after attending the 2015 International Summer Externship Presentations at the UC Davis School of Veterinary Medicine, where veterinary student Cheryl Yashar presented her experience working in Australia. Sitting in the audience, Monica and I felt empowered to pursue our long-time dreams of traveling to Australia and explore a facet of veterinary medicine we had never before: the world of avian and exotic species. With Cheryl's help, we contacted her incredible mentor Dr. Bob Doneley, an avian and exotics veterinary specialist and associate professor at the UQ School of Veterinary Science. Under his guidance, we spent four weeks at the UQ VETS Small Animal Hospital treating everything from talkative rainbow lorikeets to sassy brushtail possums, learning the intricacies of exotic anesthesia, observing surgeries far outside our previous experience, and meeting some of the most welcoming citizens on the continent.
For the entirety of our externship, Monica and I found ourselves faced with a new set of challenges every day. The average morning began with catching a boobook owl in a butterfly net and then giving an angry bearded dragon an enema. By nightfall, we could be found radiographing a sugar glider or performing an ultrasound on a black-headed python. Every minute in between was an opportunity for learning and creativity, provided by each endearing client, unruly patient, and understanding colleague. Day in and day out, Monica and I become sponges for lessons in handling, treatment, and disease diagnosis for an expansive list of species. Dr. Doneley urged us to be highly hands on with each case, while the teaching hospital environment itself was full of opportunities to collaborate with rotating 5th year veterinary students, interns, residents, and faculty. Each service was enthusiastic about working up difficult cases and sharing current research projects. However, I feel it is important to note that if not for the profound patience of veterinary nurses Bec de Gier and Gary Fitzgerald, Monica and I would have returned with more than a few claw marks, teeth imprints, and missing appendages (turns out fingers can be confused for a delicious snack).
On our days off, we were able to visit the Currumbin Wildlife Sanctuary and Hospital, Stradbroke Island, Brisbane, and the Gold Coast. When our externship came to a close, we took a 17-day road trip from Brisbane to Cairns, stopping each night to camp under the stars in a national park or sleep in a beachside hostel in a coastal town. We explored the platypus pools of Eungella National Park, trekked across the Carlo Sandblow of Great Sandy National Park, ocean rafted our way around the Whitsunday Islands, dove into the depths of the Great Barrier Reef, and much more.
In short, our Australian externship experience was a fascinating journey into the world of international medicine, avian and exotics species, and the wonderful Australian culture. As a result, we have returned with a passion for exotic species and international medicine that will help guide our next three years in veterinary school. This experience meant a great deal to us, so thank you to the Office for Global Programs for making this dream a reality!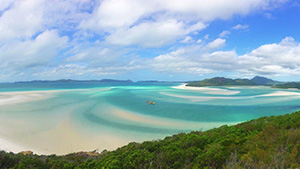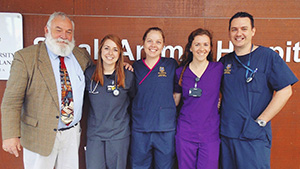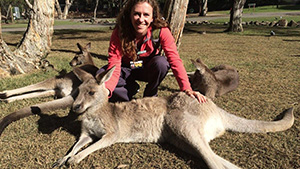 Tags