Kristin Little - Sri Lanka
Kristin Little - Sri Lanka
As I sifted my way through my first year of veterinary school, I heard time and time again that the veterinary degree is one that can lead you down a seemingly unlimited number of paths. While I was unsure of exactly where I wanted my career to take me, I knew that I wanted to learn more about the One Health field and research that extends beyond the clinical realm.
With the goal of gaining research experience, working with a species new to me, and traveling overseas, I reached out to Dr. Pat Conrad of the Office of Global Programs, who discussed with me different international partnerships that the SVM faculty have. I was lucky enough to get connected with my co-mentors, Dr. Eranda Rajapaksha and Dr. Woutrina Smith, who have a well-established research partnership in conjunction with the University of Perideniya and UC Davis SVM. Thus, for the summer of 2017, I had the immense privilege of living in Sri Lanka for 8 weeks while working on an elephant behavior and welfare project and gaining exposures to One Health veterinary research.
For my project, which is nested within a larger elephant welfare study by the Rajapaksha research group, I analyzed videos of captive elephants and performed ELISA assays on their saliva to determine the relationship between their behavior and salivary cortisol levels. The goal of this study is to describe the effect of chronic stress on captive elephants and ultimately develop recommendations to improve their welfare. Since elephants play such a central role in Sri Lankan history, religions, and tourism, studies like this are invaluable in bridging the gap between historical culture and the goal of improving animal welfare.
I had the great fortune of residing in a home stay recommended by my mentor. Not only was this an incredibly immersive cultural experience, but I got to live with a fellow UC Davis veterinary student (who is now my great friend!), Shannon Smith. Since both of our mentors have hosted veterinary research students from UC Davis over the years, they truly made our stay in Sri Lanka exceptional. Not only did they have wonderful recommendations for where to travel on the weekends, but they gave us many chances to work alongside Sri Lankan veterinary students as they completed their fourth year research projects.
Throughout my time in Sri Lanka, I assisted in the treatment of a tusker elephant with blood parasites, surveyed the welfare of feral donkeys, hiked/climbed numerous cultural monuments and national parks, volunteered with elephants at Millennium Elephant Foundation, toured a sea turtle hatchery, woke up before 4am to follow an elephant on his journey to a religious festival, worked through language barriers, visited an elephant rehabilitation center, drank countless cups of black tea, and more. Not only did I learn a ton about elephants and behavioral research thanks to the incredible mentorship of Dr. Rajapaksha, but I discovered a lot about myself as a scientist and as a traveler. I will forever be thankful to my mentors and the Office of Global Programs for empowering me in this once-in-a-lifetime experience.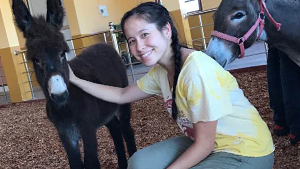 Tags