Monica Milstein - Namibia
This last June and July I spent six weeks at the Cheetah Conservation Fund (CCF) in Namibia conducting herd health surveys on the CCF's and neighboring community goat herds. My project was a baseline assessment comparing herd health and prevalence of brucellosis in the CCF herd compared to community farm herds. Brucellosis is a zoonotic disease passed through raw milk, with the strain in goats and sheep being particularly virulent in people; Brucella melitensis results in poor herd production parameters in affected animals and respiratory disease in affected humans. The CCF is home to model meat and dairy goat herds, which are used to educate local farmers about management and preventative health techniques. The surrounding Otjiherero people raise predominantly meat goats, specifically the Boer goat, with the sale of culled animals providing food and income. Dairy goats can provide a steady income and food source for families, so the CCF is promoting their use through their model farm. It was therefore important to conduct brucellosis surveys to understand whether or not the disease was endemic in the region.
The first couple weeks of my project were spent monitoring the CCF dairy and meat herds twice a day, checking for animals with lameness, respiratory disease or any other signs of illness. After morning assessments, I discussed any ongoing and new cases with the staff veterinarians, at which point we would perform indicated treatments. Much of our time was spent treating animals with hoof abscesses from acacia thorn puncture wounds or upper respiratory tract infections. As the boer goats began to kid, I got hands-on neonatal care and playtime with adorable baby goats. I gained invaluable experience handling and restraining both goats and sheep, and practicing venipuncture. I was also fortunate enough to assist with other veterinary procedures involving the CCF's livestock guarding dogs, captive cheetahs and scat detection dogs. The CCF's livestock guarding dog breeding program is a huge part of the organization's daily veterinary work and included activities from neonatal puppy care to pregnancy checks to vaginal cytology. Another aspect of my days was to perform cheetah and goat fecal flotation analyses quantify the parasite burden and determine if treatment was required. Overall, I had a very well-rounded veterinary experience, working with multiple species across numerous disciplines under the guidance of three veterinarians.
After working with the CCF goats and running my brucellosis tests, I set out into the surrounding community farms for the next part of my project. With the help of Richard, a CCF local translator and education outreach coordinator and Dr. Makamba, a CCF veterinarian, we were able to collect blood from 200 goats and conduct 20 owner management surveys. From here I returned to the CCF laboratory and finished testing all the blood samples for brucellosis antibody. It was during this data collection I was able to fully appreciate how fluid research can be and how difficult it is to coordinate multiple groups of people, but perseverance often leads to success. I was also able to see first-hand how predation severely impacted certain farmers, evidence of human-wildlife between farmers, livestock and wildlife alike.
On days off I enjoyed self-guided safaris of the CCF property and in nearby Etosha National Park with fellow international veterinary students. Seeing the diverse wildlife present in Namibia gave me appreciation of how much conservationists are doing to preserve unique and threatened species, but also how complex the issue of human-wildlife conflict can be. I am so grateful I had the opportunity to work internationally in rural farming communities, meet veterinarians and animal-lovers from across the globe, and provide valuable information to the CCF to improve their education and outreach program. I hope this is only the beginning of my international work as a veterinarian-to-be and can't wait to return to Namibia. Thank you to the Office for Global Programs for helping make this experience a wonderful one!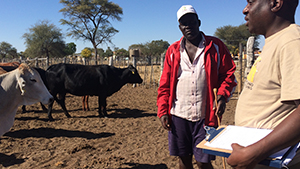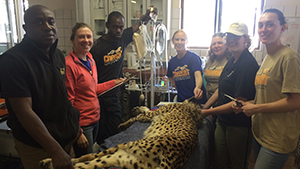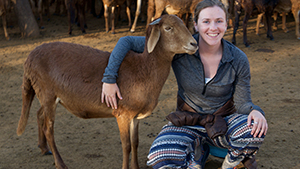 Tags