Monica Plank -  South Africa
I have always had a passion for wildlife and conservation. To experience a biodiversity hotspot like Kruger National Park in South Africa was always a dream of mine. With Africa in mind, I began to meet other students who had international research externships through the STAR program and the Office for Global Programs, and I began plotting the course of my summer. Through Dr. Conrad, I was put in touch with Dr. Amanda Berrian who is currently working on her PhD in the Mnisi community of South Africa. Her research uses a One Health approach to create a community-based educational program designed to reduce infectious disease transmission between humans, domestic animals, and wildlife. It would be the objective of my STAR project, to do an impact evaluation of the educational program that was implemented three months prior to my visit.
The Mnisi community is unique because it is on the border of the Great Limpopo Transfrontier Conservation Area. Their location creates complex challenges for conservation due to the human-domestic animal-wildlife interactions. Additionally, the community struggles with a lack of infrastructure and has little education about infectious disease transmission. In this community public health promotion is critically needed and has the potential to not only impact livelihoods but also conservation goals.
I was thrilled to have the opportunity to be involved with a conservation project that aims to empower communities—an aim that must be central to any conservation plan. I was also interested to explore how I, as a future veterinarian, may be able to impact humans, animals—wild and domestic—and the environment as a whole. After months of preparation, I set off for the longest international trip of my life. Fortunately my husband, Charles, was able to join me for 6 of the 8 weeks I would be abroad. Nothing could prepare us for all that South Africa had in store.
We were stationed at the Hans Hoheisen Wildlife Research Station within the Orpen Gate of Kruger National Park—a place where your neighbors are lions, hyenas, elephants, and hippos (to name a few). Every day we took dirt roads all around the Mnisi community to various villages conducting interviews and surveys with the local participants of the educational program. I also worked with amazing people from the Mnisi Community Programme who I would have been lost without. They did all the translating and navigating, and it was a joy to get to know them.
Not only did I have the research experience in the communities, but I was also able to volunteer and gain large animal clinical experience in the Hluvukani Animal Clinic—a rural animal clinic in the heart of the community and clinical rotation for final year veterinary students at the University of Pretoria. In addition, I built lasting relationships with veterinary students and researchers from around the world every night around the braai pit and under the brilliance of the wild African night sky.
This adventure was priceless. I saw the most breathtaking sites of my entire life and felt connected to some of the most incredible animals in their natural habitat—a feeling a will never forget. I feel very privileged to have experienced not only the wildlife of South Africa, but also to have been immersed in the culture of the surrounding community. I now have a first-hand understanding of the living conditions of the people and can better empathize with their plight and be able to contextualize conservation issues. I will always remember that conservation is complex and that to effect change there must be careful consideration of communities and their fundamental needs. I have so many people to thank for making this trip possible, but I especially want to thank the SVM International Externship Program for encouraging veterinary students, like myself, to strive and grow as professionals through international experiences.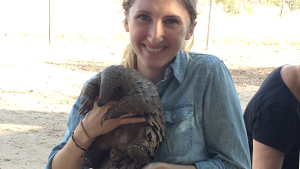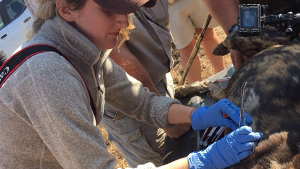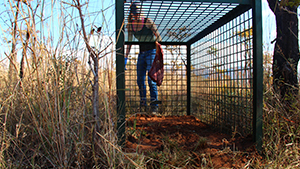 Tags