Monica Plank - South Africa
Since my first experience in South Africa last year, the wild has been calling. Fortunately, the brilliant people that I met last year while working on my One Health STAR project - Declan Morris and Jeanette Wentzel - were willing to have me return to assist their PhD projects. Declan's project focuses on comprehensive leopard conservation on Loskop Dam Nature reserve in the Highveld of South Africa. Jeanette's project focuses on disease dynamics of wild carnivores on Manyeleti Nature Reserve, bordering Kruger National Park in the Lowveld of South Africa.
My project developed into two parts. Part one focused on assisting Declan in his leopard captures and data collection on Loskop. The second part targeted protozoal pathogen testing on the 200+ carnivore samples that Jeannette's project has collected over the last two years, including lion, leopard, cheetah, hyena, African wild dog, jackal, and civet. It worked out well to include both projects because I gained experience with both field and laboratory work. This painted a more complete picture of the demands of a conservation focused PhD. I was fortunate to receive the new Global Feline Health Fellowship through the Office of Global Programs to make my summer research possible.
The leopards on Loskop Dam are known for cheekily breaking down young researchers' spirits. Our objective for the summer was to trap and sample at least five new individuals on the reserve, in order to get the most comprehensive assessment of the population. Based on camera trap data, we knew there were new individuals and their relative home ranges. We were hopeful that we could trap them, and began strategically setting cages. The process is quite complex: the cages have to be placed along the home range route of the desired individual, disguised so as to not intimidate the leopard, baited with enticing morsels, and dragged with nauseatingly smelly innards to draw the leopards to the cages. Once set, we went out every morning at 0500 to check the cages, with the plan to call in the wildlife veterinarian to sedate, sample, and release the animal, if caught. We tried valiantly for weeks; however, even with our best efforts, the leopards were not keen to cooperate.
Although we did not trap a leopard, we managed to keep us busy. We tracked an already collared leopard and downloaded her data when her collar was malfunctioning. We also worked on diet analysis and placing more camera traps in uncharted regions of the reserve. It was a great experience and taught me valuable lessons in the adaptability and extreme persistence research requires. I also experienced the tragedy of finding a leopard fall victim to the ongoing conflict between leopards and farmers.
The second part of the project aimed to explore the protozoal pathogen burden of wild carnivores and their life cycle in wildlife. We aimed to specifically look at Toxoplasma gondii, Neospora caninum, Besnoitia, and Sarcocystis. In addition, I evaluated blood smears of all the various carnivore species to look for tick-borne blood diseases including Babesia and Erlichia. We then compared the ticks collected from the individuals and evaluated whether their disease burden aligned with the collected ectoparasites. We further tested the FIV/FeLV burden of the Loskop leopards in comparison to the carnivores of the greater Kruger areas and noted some interesting differences. We also evaluated the scat samples of the leopards to identify their primary diets via hair cuticle analysis.
As a bonus, I was fortunate enough to spend a few days shadowing the wildlife veterinarian in the area. I was able to gain invaluable insight into the daily life of a wildlife veterinarian in South Africa and see him in action. I assisted with an African wild dog darting and involved with the distemper vaccination study. I was also extremely privileged to help with the treatment and release of a confiscated pangolin from an illegal market — a wonderful success story involving law enforcement, wildlife veterinarians, and wildlife management teams. I was further involved with jackal and mongoose captures, a lion census on a private reserve to estimate populations and ecological impact, and a poached rhino necropsy.
I have so many people to thank for making this trip possible, but the support of the Office for Global Programs has been absolutely wonderful. I feel grateful to be part of a veterinary school and community that puts value in global collaborations — I have learned and grown exponentially as a veterinary student and global citizen because of this opportunity. Thank you.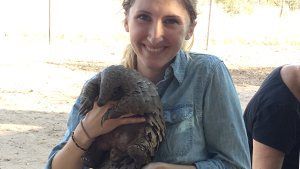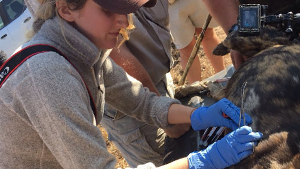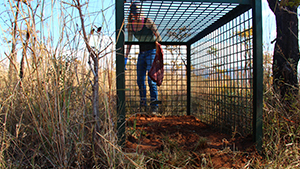 Tags