Shannon Smith - Sri Lanka
Shannon Smith - Sri Lanka
In the first few months of vet school, I developed two criteria for the summer of 2017: 1) an international experience and 2) a non-domestic species. I met with Dr. Woutrina Smith and spoke with Dr. Pat Conrad – both directed me to the fabulous husband-and-wife team that is Dr. Eranda Rajapaksha and Dr. Saumya Wickramasinghe. They received their veterinary degrees at the University of Peradeniya (UP) in Sri Lanka but completed PhDs at UC Davis before returning to UP to lecture in the Faculty of Veterinary Medicine. They have hosted UC Davis SVM students before for summer research projects in Sri Lanka. When I heard about the possibility of a project studying the Asian elephant, I was hooked. I started to develop an elephant microbiome project that became the beginning of a larger collaboration between Dr. Wickramasinghe and Dr. David Mills, from the UC Davis Food Science & Technology department. It was a happy coincidence that Kristin Little also developed a summer research project in Sri Lanka – we ended up living in the same homestay and traveling together on the weekends all over this beautiful country.  
The goal of my Students Training in Advanced Research (STAR) project was to determine what beneficial bacteria inhabits the elephant gastrointestinal tract. I collected elephant fecal samples from the Elephant Transit Home in Udawalawe National Park, where orphaned elephant calves are rehabilitated and released back into the wild.  In the UP microbiology lab, I gained laboratory skills such as DNA extraction, PCR, and gel electrophoresis, all while navigating the difficulties of conducting research in a foreign country.
During our time in Sri Lanka, Dr. Rajapaksha and Dr. Wickramasinghe made it a priority that Kristin and I be exposed to the many projects that are going on at UP. We were able to participate in a feral donkey population survey on Mannar island, observe a myoelectric study to address dairy cow welfare, and follow an elephant being transported across the country to a Buddhist festival to study stress levels in working elephants.  We also spent a day with the UP large animal ambulatory service, not understanding a word of Sinhala, but glad to be along for the ride to local family farms. I thoroughly enjoyed meeting Sri Lankan veterinary students, assisting them with their projects, and sharing and comparing vet school experiences with them.   
The interdisciplinary mentorship from both UC Davis and UP faculty was also incredibly valuable. I am interested in a career in One Health, zoo medicine, and wildlife conservation. Before the STAR program, I had limited research experience, so I thought STAR would be the perfect way to gain mentorship in that area and to explore what it means to work in this field. This research collaboration that I began has the potential to inform future elephant microbiome research and has exciting implications for species conservation. I would never have expected that the summer of 2017 would be the summer of baby elephant poop – a huge thank you to STAR and the Office for Global Programs for making this possible!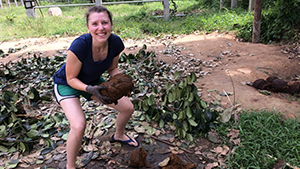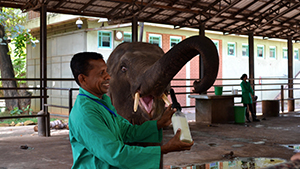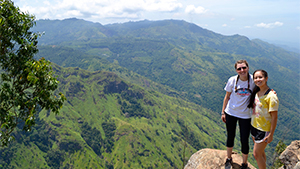 Tags