Sophie Charlton - Tanzania and Rwanda
I spent much of my first year at vet school wondering whether I was in the right place, with the curriculum weighted so heavily towards clinical practice, and my interests lying elsewhere. Hoping to resolve this dissonance, I sought insight into international work in the One Health field, something I imagined myself enjoying. Having fallen in love with the animals of East Africa during a summer at the Lilongwe Wildlife Centre in Malawi, the Rx One Health Course in Tanzania and Rwanda caught my attention. A few months of planning later, I had a summer set up with a STAR Project integrated nicely with the course.
Our first two weeks in Tanzania were so busy that I almost forgot about my backpack, which had decided to spend an extra week in the Abu Dhabi airport. Luckily, the course was a mixture of students from all around the world, and a local student helped me find surprisingly elusive underwear in the Iringa market. The course was exactly what I had been missing in the lecture hall—experiences out in the field learning about the unique challenges and opportunities that come with the human, animal, and environmental health interface. The 21 students represented a wide variety of fields, so that working together mirrored these One Health collaborations. We met the official veterinarian for Ruaha National Park, and then joined his team for a day driving around the park, which is slightly smaller than the country of Rwanda, conducting giraffe skin lesion surveillance. We hiked through crops towering over our heads to the middle of a farm, where we viewed the bee hives being used as an elephant fence while also providing an extra income source. We spent an evening around a bonfire sharing a freshly slaughtered goat with local Maasai people (suspending my vegetarianism for one night). Our days were packed and diverse, with never a dull moment.
The second two weeks in Rwanda provided a more in-depth look into the Kinigi community, located on the edge of Volcanoes National Park. We toured hospitals and met with community health workers, learning how the government has taken steps to improve distribution and utilization of health care. We visited sites representing every level of the dairy industry, from homes with one or two cows, to collection centers and processing plants. We also visited the park headquarters to learn about the many issues surrounding the animals spilling over into the community, from gorillas to elephants to buffalo. At the end of our month, we came together and brainstormed ways to approach these challenges in a holistic manner. We had the unique privilege of presenting our final ideas to a mixture of government representatives and stakeholders. As the group traveled around the countries, we spent hours together in bumpy land cruisers, airplanes (with just one cancelled flight debacle), and remote lodges. We learned just as much from each other while forming life-long friendships. That is not to say we did not learn from our mentors, as I could not imagine a more inspiring and hard-working group to have led us.
Following this eye-opening overview of One Health, I returned on my own to Tanzania to begin my STAR Project, investigating the prevalence of and risk factors for bovine tuberculosis in pastoralist communities bordering protected lands. I joined the Health for Animals and Livelihood Improvement (HALI) Team, a collaborative program between UC Davis and Sokoine University of Agriculture (SUA). I went out into the field with my Rx One Health classmate and HALI research assistant, Mwokozi, and veterinarian Goodluck Paul. There, I learned the challenges of conducting research with nomadic people, who by definition do not stay in the same place, how to get blood from a bull that acts like a buffalo being restrained by two people, and that Maasai goats and sheep are not as easy to distinguish as one might think. I enjoyed my time in the field so much that I considered accepting when one of the Maasai pastoralists offered to send 20 cows to my parents if I would stay in Namelock village forever. However, I had research to finish, and I took our hundreds of vials of blood to SUA. I discovered that the bovigam test is slightly stressful when you have exactly enough supplies to test your 360 cows, making mistakes and power outages the enemy. Luck allowed for a mostly successful, but twice as long as had been scheduled, time in the laboratory. Many of those hours were spent entering information on excel and explaining to the lab interns that my dog Maisy was indeed my best friend and sleeps on my bed.
The research experience complemented the course, as I got to apply my new knowledge and take part in every step of the research, beginning to end. I also made the most of my free weekends, and visited nine parks in three countries. Highlights included trekking all day in the Bwindi Impenetrable Forest of Uganda to be met by a charging silverback gorilla and his playful babies, and camping in the Serengeti where lions hunted and killed a buffalo just feet away from my tent, both blurring the lines between terrifying and awe-inspiring. While I expected to be awed by the magnificent animals, the opportunity through my research to be welcomed to Maasai bomas in a non-tourist situation and share conversations over lunch felt just as special. This summer opened my eyes to the many other possibilities outside of clinical practice, and introduced me to a variety of inspiring mentors doing important work around the world. Seeing the results of their passion has renewed my motivation to follow my own, and I am confident that I am in the right place to do so.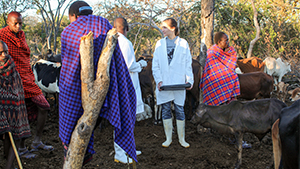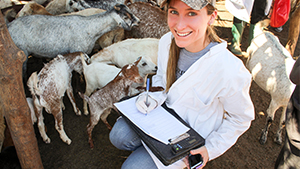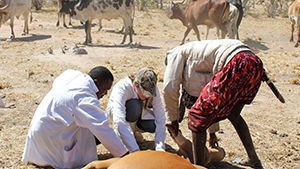 Tags